A Brief History of Music at Banff Centre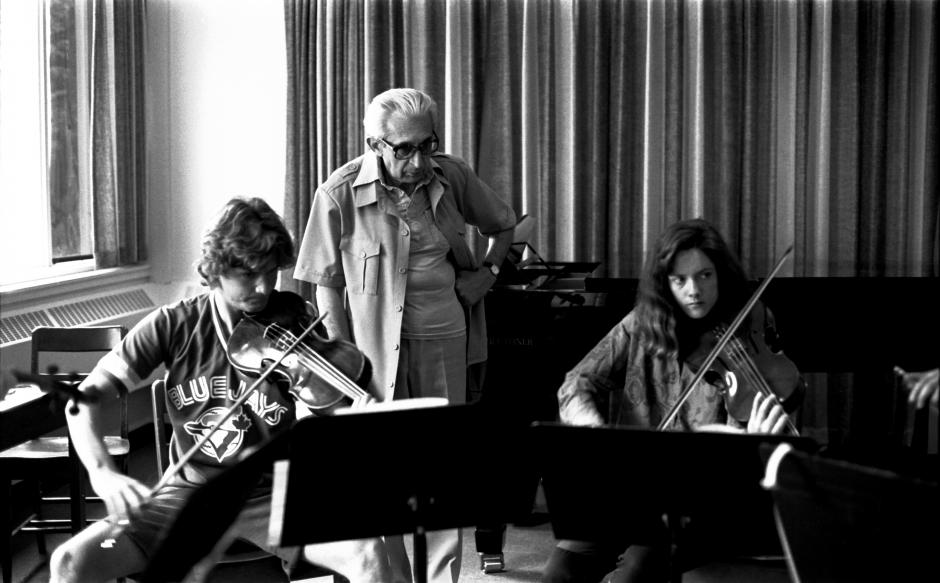 Beginnings of a proud legacy
Music programs have a long history at The Banff Centre, starting in 1936 with a two week course in musical composition, interpretation, and performance for piano. Piano master classes were added in 1942, given by Max Pirani from London, England. 
In 1937 a course in choral music was added and summer programs in Banff continued with piano and voice. Financing of the programs was made possible by a grant from the Carnegie Foundation of New York to the Department of Extension of the University of Alberta, then under the direction of Donald Cameron, to develop a Fine Arts Program. 
In 1951 strings and operatic singing were introduced and the Music Department was responsible for Voice and Opera Programs until 1974, at which time they came under the direction of the Theatre Department. Classes for children in the Suzuki method were introduced in the mid-60s by Thomas Rolston who was then teaching at the University of Alberta. In 1965 Rolston was appointed head of the strings program in Banff. Brass and woodwinds classes followed.
The seventies and eighties
In 1970 Dr. David Leighton took over from Donald Cameron as president of The Banff Centre and together with Thomas Rolston and Neil Armstrong, who came to Banff in 1971, focused on specializing the music programs. Emphasis was placed on a faculty who were the finest possible practicing artists in their field with a strong commitment to teaching. The student body was reduced and the Banff Summer Arts Festival was established.
The "Academies" and master classes
In 1972 the first six-week Academy of Chamber Music session took place including a piano master class with Gyorgy Sebok, a piano chamber music academy for pre-formed ensembles, organised by Lorand Fenyves and Isobel Moore Rolston, and a String Quartet Academy with the Hungarian String Quartet as faculty. The violinist of the quartet was Zoltan Székely, long-time friend of Béla Bartók. From 1976 to 2001 (the year of his death) Székely lived at The Banff Centre as the first artist in residence. Many of the young artists who came to study with him in Banff have become leading musicians in their field.
By the 1970s the Centre's master classes were attracting the finest talents from anywhere. In 1974 master classes in percussion with George Gaber, and in guitar with Alirio Diaz, Oscar Ghiglia, and Michael Lorimer, were added.
In 1975 master classes in piano, strings, woodwinds, and brass were combined into the Music Performance Program, under the direction of artistic director Thomas Rolston.
Between 1975 and 1981 the original members of the Canadian Brass led the Academy of Brass program.
Orchestral activities
In the mid 1970's a Special Program for Gifted Youth, the Composers Workshop, and The Canadian Chamber Orchestra were established. For two summers funding from the Alberta Government permitted the Calgary and Edmonton Orchestras to work in Banff, providing concerto opportunities and the reading of new works by young composers. Guest conductors for the orchestras included Boris Brott, Victor Feldbrill, Lucas Foss, Sidney Harth, Uri Meyer, Thomas Rolston, Simon Streatfield, Walter Susskind, Klaus Tennstedt, Georg Tintner, and James Yannatos.   
Participants in the Composers Workshop worked with faculty which included Robert Aitken, Violet Archer, Jean Coulthard, Malcolm Forsyth, Serge Garant, Bruce Mather, Oskar Morawetz, William Schuman, and Gilles Tremblay.
In 1974 an annual Festival of Youth Orchestras was established by Neil Armstrong. For 20 years, young musicians from across the country attended, many returning for subsequent programs. The jazz program also commenced in 1974 under the direction of Oscar Peterson and Phil Nimmons. More information on jazz program history.
Creation of the fall and winter program
During his first years in Banff, David Leighton began to formalize the planning process for a year-round operation in the arts, an idea endorsed by several national reports. Resulting from recommendations from these reports and from discussions with leaders in the arts from across Canada, the first music residency program began in the fall of 1979. Under the direction of Thomas Rolston, this unique program was seen to fill a world-wide gap in the training of musicians by freeing them from institutionalized learning and providing from 4 to 26-week residencies to musicians and composers for self-directed project time with artistic and career guidance. It was called The Advanced Studies in Music. Musicians were given the opportunity to explore and discover themselves.
Faculty during the first year included Janos Starker, Igor Oistrakh, Josef Suk, Menahem Pressler, Anton Kuerti, the Borodin and Fine Arts Quartet, among others. The fall/winter program is now called the Career Development Residency.
Additional activities during the 1980s:
1983 the triennial Banff International String Quartet Competition was created.
Short-term summer residencies were added following the success of the fall/winter residency.
A vocal chamber music program was directed by Thomas Muraco.
The International Symposium on the Arts was hosted in Banff by Neil Armstrong, bringing more international attention to The Banff Centre.
A music touring program was introduced, "Music from Banff."
North American music audition tour was expanded to include London and Paris.
Celebration in 1981 of the centenary of Bartók's birth with distinguished guests from Budapest. President David Leighton acted as moderator for a panel discussion on the influence of folk music on the compositions of Bela Bartók.  Panel included Zoltan Székely, Bela Bartók Jr., Laszlo Somfai (head of the Bartók archives at the Franz Liszt Academy), and Janos Karpati (musicologist and head librarian at the Franz Liszt Academy).
By the late 1980s more emphasis was placed on short-term residencies from 3 to 10 weeks duration; guitar, percussion, and brass master classes were discontinued as musicians were encouraged to attend these residencies. Established institutional instrumental teaching was removed as participants created their own artistic plan in consultation with Thomas Rolston and faculty. Within existing master classes, the emphasis was placed on the thorough study of the solo repertoire, culminating in solo public performances with large ensembles. The woodwinds and brass programs combined to form the Academy of Winds.
In 1989 Isobel Moore Rolston was named artistic director of the music program.
The nineties
By 1991 more intensive programs were introduced and the length of all programs was adjusted. More performance opportunities were created and collaborations were established with several Bow Valley organizations. Concerts were scheduled regularly in the Banff Springs Hotel's new Convention Centre and Cascade Ballroom and a Baroque Series was presented at Banff's Anglican and United churches. In 1991 weekly Sunday afternoon concerts commenced in Canmore's Creekside Hall and weekly summer evening concerts took place at the Lake O'Hara Lodge, west of Lake Louise. Concerts continue to be scheduled regularly in Banff's Anglican Church and Canmore's Creekside Hall, in addition to new locations opening in the Bow Valley.
Creation of a community outreach program
In 1993 an advisory committee met to review and evaluate all music programs at The Banff Centre. One of the major recommendations was that the music program should train musicians to go out into the community to perform for a wide range of audiences, give shared performances, and lead creative workshops with community groups.
Generous federal and provincial funding permitted musicians to train in Banff during the winter session of 1994 in the first Professional Musicians' Skill Enhancement Program (later called Music Makers). The musicians then spent three weeks giving concerts and workshops to students and community musicians in Alberta communities. This program continued with annual school tours until 2005, and in 2006 actor Alon Nashman and the Tokai String Quartet were at The Banff Centre to create a full theatrical production of The Snow Queen for elementary schools.
From "audio" to "sound"
In 1994 the audio program was added to the music program, and the department name was changed to Music & Sound. The audio program during the 1970s and 80s had been within other departments at The Banff Centre, supporting the work of artists in various disciplines. Stephen Temmer was a frequent visitor at this time, giving workshops in recording.
During the 1990s audio work study residencies were created for emerging and professional audio engineers to have supervised experience with the production of CD, concert, and studio recordings for resident artists and to provide audio for video productions with other Banff Centre programs. During the late 1990s "Sound" began to attract experienced audio engineers and partnerships were made with the Stanford University, and McGill University as Banff's visibility as a post-graduate research centre increased.
Short, intensive workshops and seminars were offered and co-productions developed with the Canadian Broadcasting Company, EMI, Marquis Classics, Centrediscs, Analekta, and Bravo. In 2003 Banff hosted the Audio Engineering Society's International Conference.
Banff's internationally-recognized audio programs continue to attract talented individuals with diverse artistic and technical backgrounds from around the world, and to provide a rich and unique resource to resident musicians with the possibility of including demo recordings and commercial recording projects into any music program.
Additional events during the 1990s

During the 1990s, in addition to regular year-round programming, Music & Sound hosted several special events:
1994 and 1995 4-week winter jazz orchestra residencies.
1995 10-week winter residency for Aboriginal Women's Voices resulting in a CD.
1995 summer Afrocuban Festival of Music and Culture.
1996-1998 piano technical residencies. 1998 the Piano Technicians Guild Pacific Northwest Conference was hosted by Music & Sound.
1996 and 1997 summer choral workshops.
1996 First Jury of the Honens International Piano Competition, continues to present.
1996 Music & Sound Building was opened, providing beautiful studios equipped with concert-level grand pianos, two performance stages, and numerous well-equipped practice huts located in the building's nearby trees.
1997 3-day cello festival for young cellists from Vancouver and Calgary, continues biennially to present.
1997 3-day Alberta Youth Orchestra Symposium, continues annually to present.
1998 5-day International Horn Summit.
1999 "Women-Land-Spirit Sacred Web Project."
In the spring of 1999 and summer 2001, Music & Sound programs were evaluated by Canadian Heritage assessors, resulting in very favourable comments and eventual funding from the office of the Minister of Canadian Heritage. The impact of The Banff Centre on the professional development of musicians in Canada was considered by the assessors to be without parallel.
The 21st century
As the 21st century opened it was evident that the impact of Music & Sound programs on the professional development of musicians in Canada was considered to be without parallel and that it had changed musicians' way of thinking. At The Banff Centre, teachers became colleagues rather than "master teachers" and musicians were realizing the importance of their art form in the world.
In the summer of 2000 a special choral project was organized. The Canadian premiere of Krzysztof Penderecki's "Credo" and the world premiere of Imant Raminsh's "Recordare" were presented during the Banff Summer Arts Festival with singers from Calgary and Vancouver and an orchestra formed from resident musicians, visiting artists, and Calgary musicians. The North American premiere of Penderecki's "Sextet" was also featured during the festival.
Musicians such as Edgar Meyer, Jens Lindemann, Alain Trudel, and Gary Kulesha became available to work with and inspire all summer participants. Guest composers continued to come to Banff perform their works with participants.
Continued world recognition of the uniqueness of The Banff Centre's Music & Sound programs brought an expansion of relationships with funding councils in other countries, allowing many musicians from Mexico, England, Australia, and Sweden to attend Banff music programs.
In addition to regular programming the following special events were hosted by Music & Sound:
Chamber Music Festival for ensembles from Mount Royal College Conservatory,  Calgary, 2001.
Workshop for University of Calgary wind ensemble, 2001.
31st Annual Conference of the International Double Reed Society, 2002.
Song in Collaboration program, 2002 and 2003.
Harp Festivals, 2002 and 2005.
24th Annual International Conference of the Audio Engineering Society, 2003.
Youth Jazz Orchestra workshops, 2003 and 2004.
In 2004 after nearly 40 years with The Banff Centre, Tom and Isobel Rolston retired from full-time activity. Many of their dreams were fulfilled in the four decades that saw the Centre's music programs grow from a humble beginning to a program recognized around the world as a unique learning environment where musicians can expand their artistic insights through interaction with distinguished visiting artists and with each other.

Music & Sound now hosts over 500 musicians from all over the world each year, presents over 200 concerts annually on stages both on and off campus, and produces between 30 and 35 CDs a year. Alumni of music programs are teaching across Canada and around the world, performing on international concert stages, recording for top classical and jazz labels, and contributing to many of the world's leading orchestras and chamber ensembles.
In the fall of 2006, one of these alumni, Canadian violinist and violist Barry Shiffman, was named The Banff Centre's director of music programs and executive director of the prestigious Banff International String Quartet Competition (BISQC). Co-founder of the St. Lawrence String Quartet (SLSQ) and one of Canada's pre-eminent musicians, Shiffman has a long association with The Banff Centre. Having participated in Banff's Gifted Youth Program as a youngster, he returned for summer studies in chamber music and master classes with Lorand Fenyves. As part of the SLSQ, he participated in a summer residency in 1991. Following the quartet's first prize wins at the 1992 BISQC and at the Young Concert Artists Competition in New York, Shiffman returned to The Banff Centre as a member of the music faculty on several occasions.
In the spring of 2010, Henk Guittart, co-founder of the Schoenberg Quartet and one of Europe's most sought-after professors of chamber music, joined Shiffman as the co-artistic director of Music. Guittart was appointed director of Fall & Winter Music Creative Residencies, while Shiffman continues to serve as director of the Summer Music Programs and as executive director of BISQC. A violist who has performed all over the world, Guittart is a highly-regarded viola teacher, chamber music coach, and conductor.
Between the fall of 2012 and 2014, Barry Shiffman served as interim artistic director for classical music, Fall-Winter. From 2014, programming shifted to have artistic directors leading individual unique programs.
What's Next?
In spring 2016, Banff Centre announced that following the visionary tenure of Barry Shiffman, Banff Centre alumni Claire Chase and Steven Schick will take on the position of co-artistic directors of Summer Music from 2017. We're please to confirm that Shiffman will continue in his role as Executive Director of the iconic Banff International String Quartet Competition.