Deepening relationships by sharing personal stories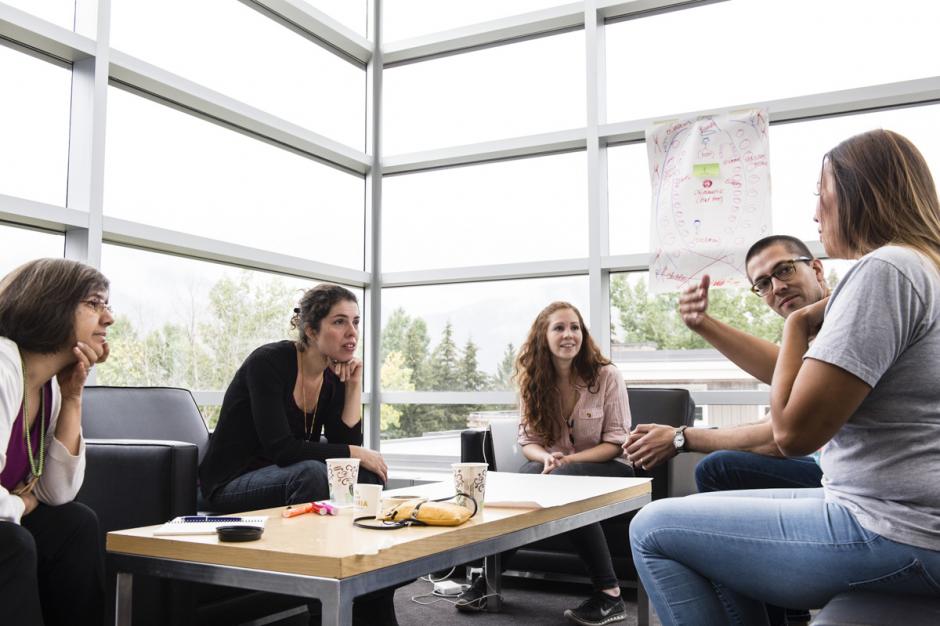 Carol Anne Hilton is the first member of her family in three generations who didn't attend a residential school.
Raised in foster care with her brother and separated from her two oldest siblings, her traditional name is Wakatush ("Big Sister"), continuing a long line of eldest daughters in her ancestry to hold a name which gives influence in the community. Standing at the front of a conference room, this is how Hilton introduces herself to fourteen other cultural innovators — people who use traditional knowledge to inform innovative design, research, and business practice.
She tells the story of looking for her first job. As a scruffy fourteen-year-old living in a small town with not much work available, she decided to try her luck at the only native store in town which sold art, crafts, and t-shirts. She didn't know anyone at the store, but slunk over to the desk and mumbled "May I have a job, please?" The store owner looked Hilton up and down and said, "I want you to go outside, tie your hoelaces, tuck in your shirt, stand up straight, speak clearly, and ask me for a job again." When a tidier Hilton returned inside, she looked the store owner directly in the eye and in her clearest voice asked, "May I have a job please?" The clerk replied, "Of course you may have a job." 
Hilton tells the group that she hasn't slouched since. "That was the day I learned that it is important how you represent yourself. That lesson has carried me through; the importance of representing who you are and where you come from." 
In addition to finding a job that day, Hilton found her family. After working in the store for a few weeks, she and the store owner discovered a connection; it turned out that she was Hilton's biological aunt, and became the link to reconnecting with her family from whom she had been separated many years before. 
Only after sharing her personal story does Hilton go on to tell the group about her business practice and share examples of her work. As she describes her mandate to increase options for First Nations people and communities, it becomes clear how the thread of her past is woven through her work today. In sharing her personal stories, she was able to connect others more clearly to the heart of her work.
Over the five days of the Cultures-Based Innovation Symposium, fifteen designers, anthropologists, innovation consultants, and Indigenous activists each took time to share their personal stories and backgrounds, before they went on to present their work. The participants, who hailed from across the Americas (Chile, Canada, Brazil, Jamaica, Mexico, and USA), also went on group field trips, lingered over meals together, and, above all, spent time getting to know one another. 
Elizabeth (Dori) Tunstall, founder and director of the Cultures-Based Innovation Initiative, wonders why so many conferences are based solely on the principle of sharing ideas instead of deepening relationships among the participants. She says the intention of the Cultures-Based Innovation Symposium is to break down the focus of other conferences that are centered exclusively on the work, and not who you are as an individual. 
Instead of the typical two minute conference introduction in which presenters report their geographical base, their job title, and a laundry-list of accomplishments, Tunstall suggests that sharing a profound background of yourself creates an intimacy among the participants, allowing them to collaborate deeply once the conference comes to an end.
Even though people came from such diverse backgrounds and work in totally different fields, at the end you could see a common weaving theme around what people did and how they applied their humanity to their work. I thought that was really powerful.
Carol Anne Hilton, Cultures-Based Innovation Initiative participant
How does Tunstall know this connection has occurred? She explains how one member of the original symposium passed away a couple of weeks ago and fellow participants sent messages of love and fond memories, sharing how special he was. Even participants who attended a different symposium — people who had never met the man, but were connected through the network — shared messages and reached out to support those who had worked with the researcher. 
"All of the people in the network collaborate together, work together, and find strength in each other," says Tunstall. "It's not uncommon for a participant to be working through the middle of the night wrestling with a problem, and to receive a ding on Skype from another fellow checking in. These late-night conversations begin by sharing the challenges and the frustrations they're facing." 
Tunstall says that despite the practical and academic nature of how these conversations start, they somehow always end with laughter. In that moment the researchers are able to be vulnerable in a way that they cannot in a typical professional relationship. "[Finding that true connection with others] nourishes your soul to allow you to keep doing the work. That's what it means."
So what makes Cultures-Based Innovation the perfect field to try this experimental relationship-based conference structure? The goal of the symposium is to expand the global network of scholars/practitioners with an interest in Cultures-Based Innovation, defined as a set of innovation methodologies that use traditional ways of knowing to drive transformative innovations that directly benefit communities of high cultural wellness, yet who may experience social  and economic distress. 
In their extended introductions, more than one presenter remarked, "In my work, I feel so lonely." As participants tell the stories of their backgrounds, a theme emerges: these are people who moved a lot during their childhood, many to different countries where they had to learn to speak a new language as they adjusted to a new home. Even the participants who didn't move around during their childhoods had their own unique upbringing; the majority of the Canadian fellows grew up on a reserve where their own parents had been displaced to residential schools. 
"We are the misfit kids. We are on the margins of margins but we're doing good work," Tunstall says. "As individuals, who tend to be out of step with the rest of the world, to have a group of people all over the world who get it — that you're understood. This is so nourishing and confirming."
For Hilton, this was proven true over the five-day symposium. While she is well-accustomed to presenting her work to an audience (the day after her presentation, she gave a talk at the 65th Annual Oilmen's Conference with the Right Honourable Paul Martin as her copresenter), she rarely has the timeframe to present in depth why she does the work she does; to share her residential school legacy and how that made her see what's possible for her clients' transformations. She was glad to have the time to hear the other presenters' stories as well. "I found it absolutely powerful to spend time with people in a really different way."
Hilton says that although participants were confused by the open-ended model at first, they left Banff understanding the benefit of hearing personal stories — the deeper your knowledge of the person, the more you can understand the work.
"Even though people came from such diverse backgrounds and work in totally different fields, at the end you could see a common weaving theme around what people did and how they applied their humanity to their work. I thought that was really powerful."
Contact Us
For questions, please contact:
Email:
leadership@banffcentre.ca
Phone:
1.888.255.6327
107 Tunnel Mountain Drive
Box 1020, Stn. 43
Banff, Alberta
T1L 1H5 Canada
Cultures-Based Innovation Symposium