Investing in leaders for social change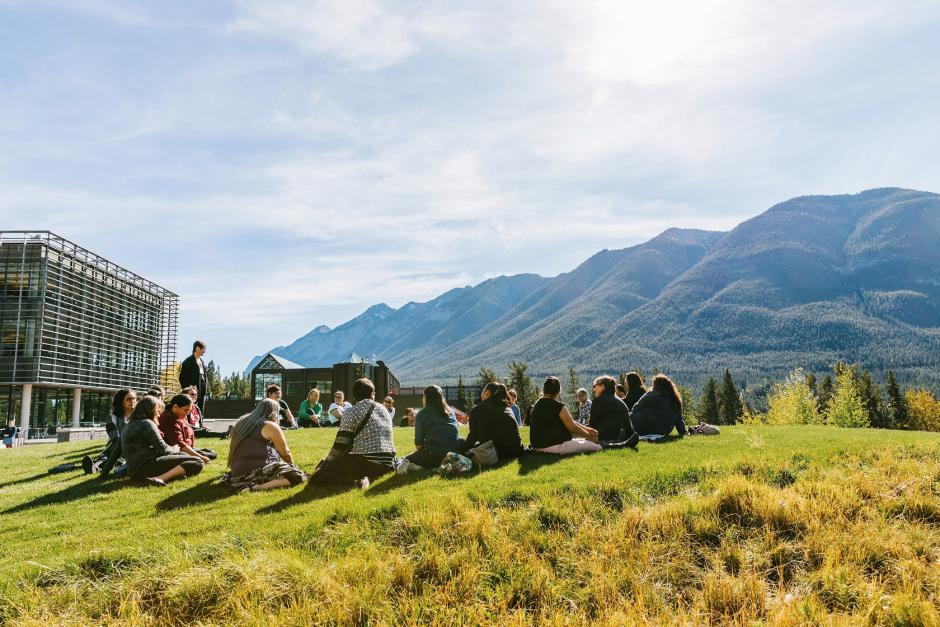 BANFF, AB, February 26, 2019 – Banff Centre for Arts and Creativity today announced that the Suncor Energy Foundation is making one of the largest gifts ever received. The transformational support will secure the future of Indigenous Leadership and Leadership for Social Impact/Innovation programs at Banff Centre over the next five years. The partnership builds on Banff Centre's 16-year long relationship with the Suncor Energy Foundation to provide the spaces, places, and learning experiences for leaders to become more effective activators, creators, and drivers for positive social change. The gift will support educational programs under the Peter Lougheed Leadership Initiative at Banff Centre, founded in 2014 in honour of the late Premier Peter Lougheed.
"We believe the leaders of today and tomorrow need to be values driven and have a strong sense of culture and community not only to survive, but to thrive," said Janice Price, President and CEO of Banff Centre. "This transformational gift from the Suncor Energy Foundation will empower the next generation of leaders to move communities forward, and help them navigate a wide spectrum of social, economic, and environmental conditions that are becoming more complex in today's society." 
"Strong leaders who can navigate complexity are essential for building resilient communities that can adapt and thrive through change. Banff Centre has a proven track record of world class programming that inspires bold leadership," said Eric Axford, Chair of the Suncor Energy Foundation Board. "We've been impressed by the impact and success of the Getting to Maybe program over the past three years, and the excellence in Indigenous Leadership programming that has been developed over 45 years. Through this gift, our hope is more leaders have the opportunity to develop the perspectives and capabilities needed to create connections and spark a bright future for all Canadians."
Suncor Energy Foundation's gift of $10 million over five years will help to strengthen  and expand the reach of Indigenous Leadership and Leadership for Social Impact/Innovation programs at Banff Centre through investing in applied research, enhancing program design and development, attracting world-class faculty, and ensuring broad access to all learning experiences through scholarships for participants from remote and under-served communities. 
Together with the Suncor Energy Foundation, Banff Centre aims to: 
Build on the success of Banff Centre's Getting to Maybe program, an annual 28-day residency that bridges deep personal transformational leadership with social innovation education. Getting to Maybe was built in partnership with Banff Centre and Waterloo Institute for Social Innovation and Resilience. The future of this programming will allow for both deeper engagement, through a modular, multi-year approach for an adjudicated cohort, as well as more accessible and integrated opportunities for new participants and alumni to experience this critical content, through modules open to the broader public. 
Expand Indigenous Leadership programs created and led by Banff Centre Director Brian Calliou and Associate Director Alexia McKinnon to attract more diverse participants from Indigenous communities, ensuring the most timely and relevant programming possible to keep pace with changing demographics. Banff Centre is an internationally recognized Centre of Excellence for Indigenous Leadership education, with programs first being offered in the 1970s. 
Increase access to Leadership programs through scholarships for Indigenous leaders, and non-profit and socially-minded entrepreneurs, including those who don't fit into the traditional not-for-profit/registered charity category. Banff Centre is committed to providing world-class educational opportunities to people from under-served communities. 
Continue to develop and deliver critically important Truth and Reconciliation through Right Relations programs for both Indigenous and non-Indigenous participants across sectors.
Integrating the power of the arts, the wisdom of Indigenous practice, and the extraordinary beauty of Banff National Park, Banff Centre's Leadership programs prepare and empower participants to make an impact in a rapidly shifting world. Programs provide a safe but innovative hub for experimentation, while sharing knowledge and new approaches alongside world-renowned faculty, thought leaders, and other passionate and committed community leaders and change-makers.  
Banff Centre for Arts and Creativity is generously supported by many individuals, corporations, and foundations. Banff Centre is also grateful for the funding from the Government of Alberta, through Alberta Advanced Education, Alberta Infrastructure, and the Alberta Foundation for the Arts. Leadership programs are developed with support from the Peter Lougheed Leadership Initiative. 
To learn more about Leadership programs at Banff Centre, visit banffcentre.ca/leadership 
About Banff Centre for Arts and Creativity: Founded in 1933, Banff Centre for Arts and Creativity is a learning organization built upon an extraordinary legacy of excellence in artistic and creative development. What started as a single course in drama has grown to become a global organization leading in arts, culture, and creativity across dozens of disciplines. From our home on Treaty 7 territory in the stunning Canadian Rocky Mountains, Banff Centre for Arts and Creativity aims to inspire everyone who attends our campus – artists, leaders, and thinkers – to unleash their creative potential and realize their unique contribution to society through crossdisciplinary learning opportunities, world-class performances, and public outreach.