Banff Musicians in Residence Open Concert: ANEW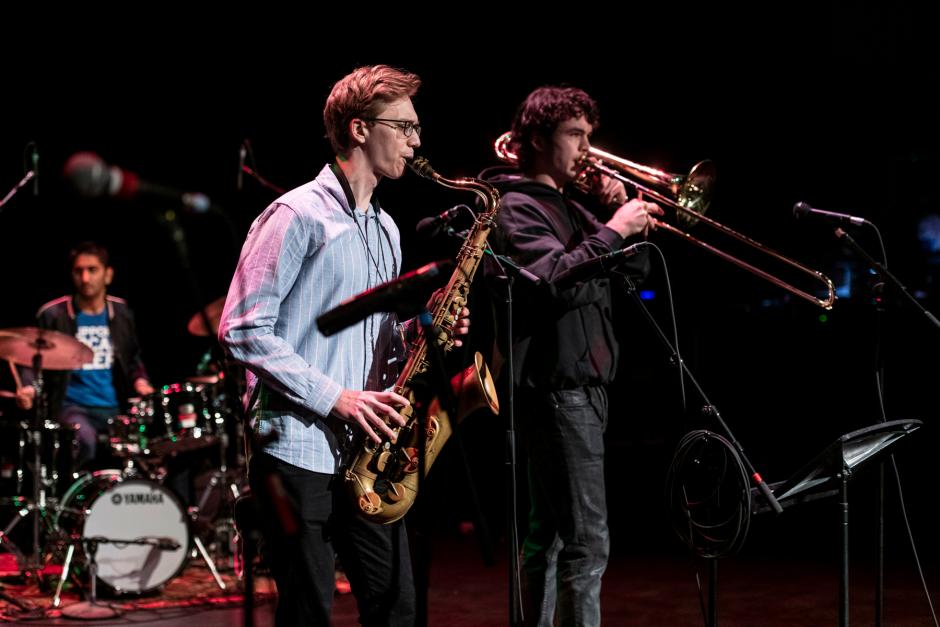 Renowned faculty mentors, Juno Award-winning rapper Shad and pianist Megumi Masaki bring together Banff Musicians in Residence singers, instrumentalists and creators from across Canada and around the world to explore meeting points across cultures and genres, fusing traditional with the new.
Program Curation and Repertoire
Artist biographies are included in the House Program.
1. HENDRA (Sarah McCabe & Liam Elliot)
***content advisory***
Adulthood, I Love You, Shipping Forecast (2022)
Composer: Sarah McCabe
Three songs are woven together into a single piece. It touches on themes of death, suicide, and mental illness, but ultimately is a love letter to our beautiful brains.
2. Christine Choi
Sonata No. 2 for solo violin in A minor, op. 27
1. Obsession
2. Malinconia
Composer: Eugène Ysaÿe (1923)
Ysaye wrote 6 sonatas for solo violin in 1923, inspired by an analogous collection written by Bach.  Each one is dedicated to a violinist he admired.  The 2nd sonata is dedicated to his friend, Jacques Thibaud, who warmed up every day with the Prelude from Bach's Partita in E major.  The first movement of Ysaye's sonata, "Obsession," reflects Thibaud's dedication, weaving quotes from the Partita as well as the dies irae motif.  The second movement, "Malinconia," ends with the dies irae, after a lifetime's worth of regret is expressed in a gentle, lilting dance in the siciliano rhythm.  
3. Kate Weekes
***content advisory***
Floating Face Down (2018)
Composer: Kate Weekes
This song was inspired by a CBC Radio piece that explored the task of collecting the bodies of suicide victims from the Thames River.
Sinking Ship (2021)
Composer: Kate Weekes
I paddled the Keele River in the Norwest Territories and made an offering of myself to the river just before it entered the Mackenzie.
4. PIU (featuring Sarah McCabe)
Heart of the Forest
Composition by Priyanka Chakrabarti 
This dynamic piece is set within Indian raga music, with elements of electronic synthesis (digital and analog), lush soundscapes, and improvisational vocals and viola to emote the voice of the forest. 
5. Beau Nectar
Loggerhead Shrike (2021)
Tulip (2021)
Composers: Emilie Lebel & Marie-Claude Sarault
The two songs we're performing this evening are from our upcoming 2024 English album inspired by ecofeminism. You'll hear a song about the loggerhead shrike (bird) and the tulip performed via playful personification. 
6. BRUXANTE
Bruxante (2023)
Composer: Federico Isasti
Bruxante is a drums and electronics set that takes the Argentinian spoken word tradition as the starting point. Drums and voice roles into the music, changing constantly, outlining a path in which word and sound relate in many different ways.
7. Vox Rea
Damn (Unstuck)
Composer: Vox Rea
This is a song about grief and the multi-generational affect of addiction on our family.
Dose Me Up
Composer: Vox Rea
We wrote this song about our experience growing up as young girls in the music industry. But really it's about overcoming existential angst by embracing both the joy and the pain that comes with a life fully lived.
8. Abigail Lapell
"Anniversary Song" 
Composer: Abigail Lapell (2023)
This is a new work in progress, developed during the Banff Centre 2023 BMiR residency. Part of a series of love songs, it will be included on an upcoming recording project. 
"I Can't Believe" 
Composer: Abigail Lapell (2020)
This song was written during the Banff Centre's 2020 International Songwriter Residency, and appears on the 2022 album Stolen Time.
9. Shad
Untitled 1 & Untitled 2 (2023)
Composers: Kobango / Portzen / McKenna / Epperson / Isasti
Assembled this week and for this performance only, this set aims to showcase Hip-Hop in the collaborative and exploratory spirit of the Banff Centre – incorporating improvisations and brand new musical ideas.