Banff Musicians in Residence Open Concert: DIALOGUES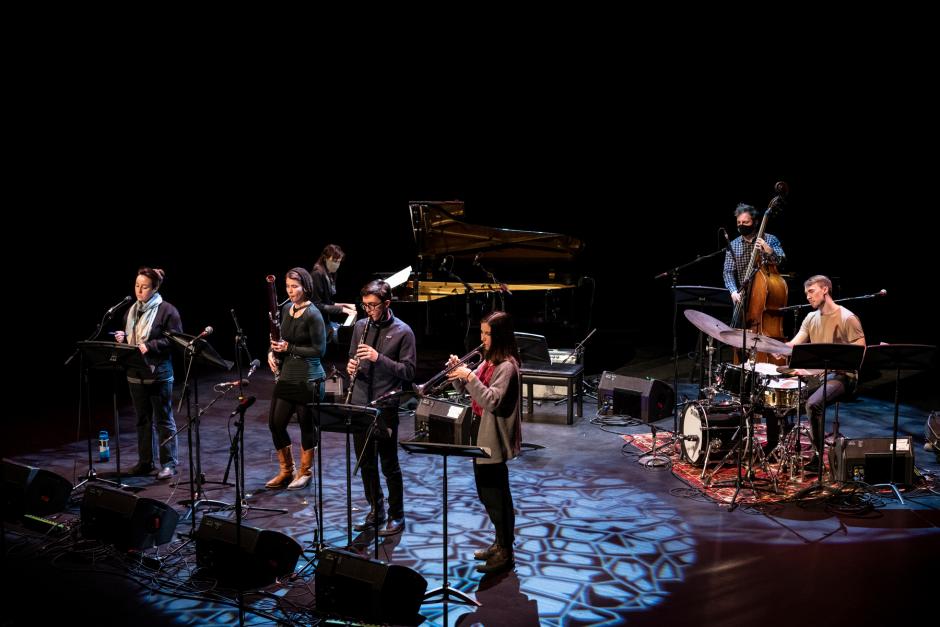 Celebrated faculty mentors, composer and singer tUkU and pianist Megumi Masaki in musical dialogue with adventurous changemakers and artists from the Banff Musicians in Residence program. Music and language are woven together to reflect diverse artistic expressions and build community.
Program Notes and Repertoire
Artist biographies are included in the House Program.
Program Notes Concert 3
1. Martin Daigle & Ben Portzen
Parallel/Series (2023)
Composers: Martin Diagle & Benjamin Portzen
Ben & Martin imagine a piece that started before they step on stage, and will end after. This improvisation is one fragment of that whole."
2. Duane Forrest:
Sunrise in Jasper (2023)
Composer: Duane Forrest
A song in progress, Sunrise in Jasper is the title song of Duane's upcoming album with the same name. It's about the sun rising on the dark history of Canada.
Only God can save us (2023)
Composer: Duane Forrest
Speaks to the systemic barriers, inequality and violence perpetrated against minority communities throughout our history and present day Canada.
 
3. Sebastian Hutchings
Hauntings/Belongings (Excerpt) (2023)
Composer: Sebastian Hutchings
This is an excerpt from the introduction to a longer work that is a biomythography opera. 
4. John Wort Hannam
Hurry Up Kid (2021)
Composer: John Wort Hannam
This song is about the passage of time and the speed at which it seems to accelerate as my son gets older. I love each stage but I wish I could hang on to each for just a little while longer
OTHERSIDE OF THE CURVE (2023)
Composer: John Wort Hannam
This song was written in gratitude for being able to hunker down during Covid with the people I love and the ones who love me. The last verse celebrates exactly what we are finally able to do tonight - gather. 
5. Lauren DeRoller
Sitting Still (2023)
Composers: Lauren DeRoller, Etienne Mason, & Benjamin Portzen
This is an excerpt from a work in progress, called "THE FIRST TIME I MET YOU," it's an electric-acoustic music and storytelling show.
6. Niña Dioz
Nubes (2017)
Composers: Niña Dioz & Shigeto
Nubes is a song that will take you high up in the clouds with this irresistible fusion of edgy, latin-hip hop beats and Caribbean percussions.
Magdanlena (2019)
Composer: Niña Dioz
Magdalena is an anthem for the people that don't fit the box. Is an anthem about believing in yourself even when others have doubted you. A powerful uplifting song that features latin trap with an orquesta flavor. 
7. tUkU
Yellow (2000)
Composer: Coldplay
Light (2020)
Composer: tUkU
Change (2021)
Composer: tUkU
itsokayweregonnabealright (2020)
Composer: tUkU