A Brief History of Literary Arts at Banff Centre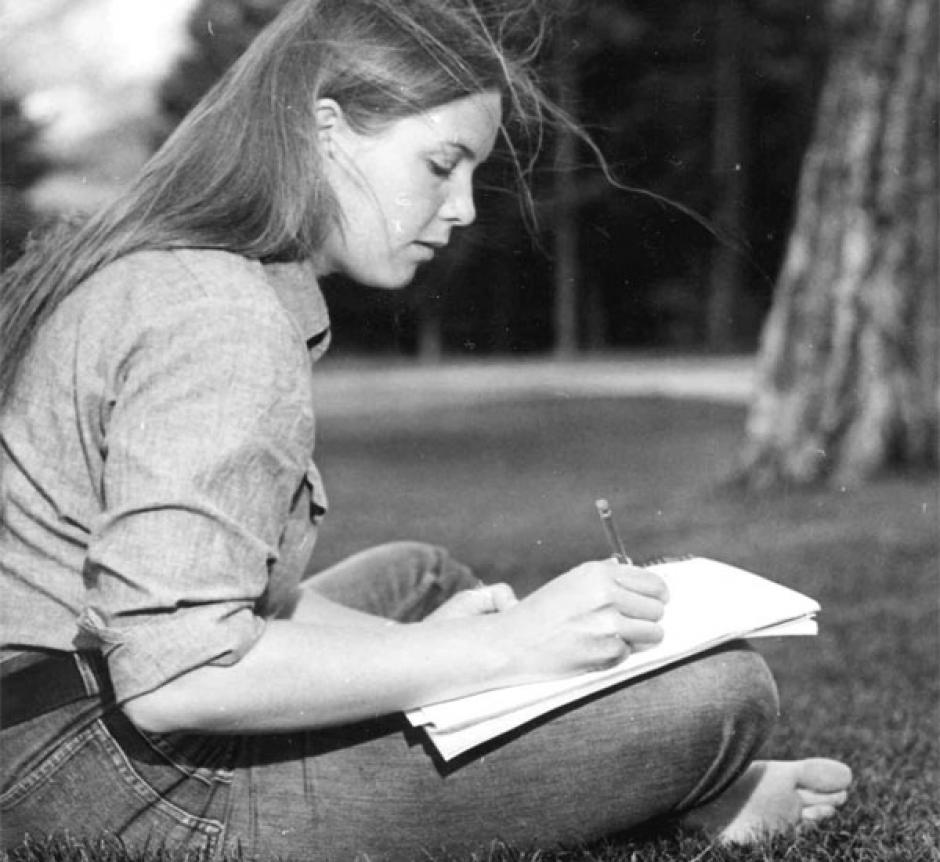 Banff Centre for Arts and Creativity was founded in 1933 in the Canadian Rockies, and has offered writing programs since 1937 when playwriting was introduced into the Theatre Arts program. A single course in short story writing was offered in 1944, in tandem with the 10-day Alberta Writers' Conference at Banff. Faculty in those early years included Hugh MacLennan and Mavor Moore. 
In the 1950s and 1960s, there were varied courses in creative writing each summer. Writing students and faculty lived, worked, and learned within Banff Centre's creative community of painters, actors, directors, dancers, and musicians. Alberta-based Robert Kroetsch and George Ryga both attended writing programs at the Centre during this era before becoming established Canadian authors. These courses were their first connection to the professional world of writers and artists.  
W.O. Mitchell became deeply involved with Banff Centre's writing initiative in the mid-1970s, and he went on to lead and formalize the creative writing workshops and programs until he retired in 1987. Under Mitchell, Banff Centre raised its literary profile considerably and continued to attract national and international students and faculty to its evolving programs. 
Over the last three decades, Banff Centre has established innovative and vital writing programs that continue to support and train emerging and leading writers of fiction, non-fiction, poetry, and experimental work. These programs include Literary Journalism, Banff International Literary Translation Centre, Mountain and Wilderness Writing, Spoken Word, Writing Studio, Emerging Writers Intensive, and more. Banff Centre Literary Arts also offers an outstanding roster of thematic intensive residencies each year for writers of all levels. 
For a list of highlights from the history of Literary Arts programs at Banff Centre please scroll down to the dateline. 
Learn more about Banff Centre's current Literary Arts programs. 
1930s
1937: The first writing course offered at Banff Centre is playwriting, which was introduced into the theatre arts program.
1940s
1944: A single course in short story writing is offered at Banff Centre, in tandem with the ten-day Alberta Writers' Conference. Attendees include Robert Gard, Gwen Pharis Ringwood, John Patrick Gillese, and Elsie Park Gowan. Faculty in these early years include Hugh MacLennan and Mavor Moore.
1946: E.P. Konkle heads the theatre arts program at Banff Centre and would be professor of drama at the University of Texas at Austin for many years.
1947: Author and McGill University professor Hugh MacLennan teaches at Banff Centre. One of his students is novelist and poet Robert Kroetsch. MacLennan would receive five Governor General's Awards between 1945 and 1959 for his works in fiction and non-fiction. The Tragically Hip song, Courage, is written about one of his works.
1947-1954 : Norman Corwin teaches at Banff Centre most of these years in the writing section of theatre arts, including a course titled Playwriting, Short Story and Radio Writing. Corwin went on to have an extraordinary career, winning two Peabody Medals, an Emmy Award, a Golden Globe Award, and earning an Academy Award nomination for screenwriting. In 1993, Corwin was inducted in the U.S. National Radio Hall of Fame. A short documentary about his career and life, A Note of Triumph: The Golden Age of Norman Corwin, won the 2006 Academy Award for Best Short Documentary.
1950s
1959: Wilfrid Eggleston teaches at Banff Centre for most years from 1959 to 1971. He founded the Carleton School of Journalism in 1947 and served as its director until 1966. He is considered one of the founding minds of journalism education in Canada.
1960s
1966: Harry J. Boyle teaches writing at Banff Centre from 1966 to 1972. In the 1950s and 1960s Boyle became a leading producer and figurehead at CBC, creating programs that linked Canada together. In 1968 Boyle became the vice chairman of the Canadian Radio Television and Telecommunications Commission (CRTC) and in 1975 was appointed chair. In 1978 he was made an Officer of the Order of Canada.
1970s
1972-1974: Al Purdy and Jack Ludwig teach writing at Banff Centre. Purdy became one of Canada's most celebrated poets.
1974: W.O. Mitchell begins teaching at Banff Centre and would become the head of the creative writing initiative. Mitchell has his own method of teaching creative writing called "Mitchell's Messy Method."
1980s
1981: The Banff Publishing Workshop is founded by Yuri Rubinsky, who brought top publishers and editors to Banff, to teach the next generation of book publishers in Canada. The program is widely regarded as being influential in professionalizing book publishing in Canada, and the workshop would run for about a decade at Banff Centre. Co-chairs in the 1980s included Douglas Gibson and Robert Macdonald; Gibson went on to become the publisher of McClelland and Stewart.
1982-1986: A journalism program is offered at Banff Centre with faculty including John Bentley Mays from The Globe and Mail, Julius Novick from The Village Voice, and Harold Schonberg of The New York Times.
1983: Margaret Laurence attends Banff Centre as guest faculty.
1985: The Leighton Artists Studios are created as a safe haven for artists in a secluded forest area on Banff Centre's campus, comprised of eight cabins. It immediately attracts Canada's leading artists and writers to work on projects.
1987: Adele Wiseman becomes director of the writing program at Banff Centre. Wiseman won a Governor General's Award and was a highly respected novelist.
1989-1992: Robert Fulford becomes chair of Banff Centre's arts journalism program, which evolved into the literary journalism program. He was editor of Saturday Night Magazine and a columnist for National Post.
1990s
1991-1999: Rachel Wyatt becomes director of the writing program at Banff Centre. Wyatt is the author of four novels, two works of short fiction, and has written over a hundred radio dramas that have been produced by CBC and BBC. She would be awarded the Order of Canada in 2002.
1992: Alberto Manguel becomes chair of the arts journalism program. Manguel has edited numerous anthologies of writing, and is the author of several books and essays, including the 2007 Massey Lecture, which was published as the book City of Words.
1997: Why Are You Telling Me This: Eleven Acts of Intimate Journalism, edited by Banff Centre writing faculty Heather Elton, Barbara Moon and Don Obe, with an introduction by Alberto Manguel, is published, featuring writing from Banff Centre literary alumni.
1998: Meltwater, a collection of fiction and poetry from Banff Centre alumni, is published.
1999: Rip Rap, fiction and poetry from Banff Centre literary alumni, is published. The collection is edited by Edna Alford, Don McKay, Rhea Tregebov, and Rachel Wyatt.
2000s
2000: Intersections: Fiction and Poetry from The Banff Centre is published and is an excellent record of the program's alumni from this era.
2000: Author and writing educator Greg Hollingshead becomes director for Banff Centre's Writing Studio program, which he leads for 18 years until 2017. Writing Studio is a unique program that offers strong editorial support to writers and poets over five weeks of intensive work-time with guidance and opportunities to read to the public.
2003: Banff International Literary Translation Centre (BILTC) is founded by Linda Gaboriau, which is a unique program in North America. Authors who have taken part to have their works translated in the BILTC program include Margaret Atwood, Yann Martel, Ann-Marie MacDonald, Lawrence Hill, Madeleine Thien, and Rawi Hage.
2005: Sheri D. Wilson founds Banff Centre's Spoken Word program and would direct it until 2012. Over those years faculty included Anne Waldman, Bob Holman, Louise Bernice Halfe, Brian Brett, Lillian Allen, Regie Cabico, D. Kimm and Victor Hernàndez Cruz.
2008-2014: Steven Ross Smith, the poet, performer and arts journalist, serves as Director of Literary Arts at Banff Centre.
2009: Cabin Fever: The Best New Canadian Non-Fiction with an introduction by Marni Jackson, chair of Literary Journalism at Banff Centre, is published featuring non-fiction pieces created at Banff Centre's Literary Journalism program.
2009: Journalist and author Ian Brown becomes the Rogers Chair for Banff Centre's Literary Journalism program and serves in that role until 2017.
2012: Poet and performer Tanya Evanson is appointed program director of Banff Centre's Spoken Word program.
2014: Devyani Saltzman, author and founding curator of Luminato Festival's literary program, is appointed director of Literary Arts at Banff Centre.
2016: The Historical Fiction intensive residency is led by author Lawrence Hill.
2016: The Art of Stillness intensive residency features author and essayist Pico Iyer and musical group Arcade Fire's Richard Reed Parry.
2017: The Frontline: Environmental Reportage residency features guest faculty Naomi Klein, who was interviewed at Banff Centre for a live audience by Frontline's program director Curtis Gillespie.
2018: Calgary's former Poet Laureate Derek Beaulieu is named Director of Literary Arts.
" The success of the program was apparent from the first summer…a galaxy of Canada's writing stars fulfilled short-term teaching contracts: Irving Layton, Henry Kreisel, Alice Munro, Ken Mitchell, Margaret Atwood, Tom Wayman, Sylvia Fraser, Rudy Wiebe, Robert Kroetsch, Phyllis Webb, Alastair MacLeod, Sid Marty, and Eli Mandel, among others. Jack McClelland, the founding publisher of McClelland and Stewart was a regular visitor to campus.  "
David Leighton, Artists, Builders and Dreamers: 50 Years at the Banff School