A Brief History of the Playwrights Lab at Banff Centre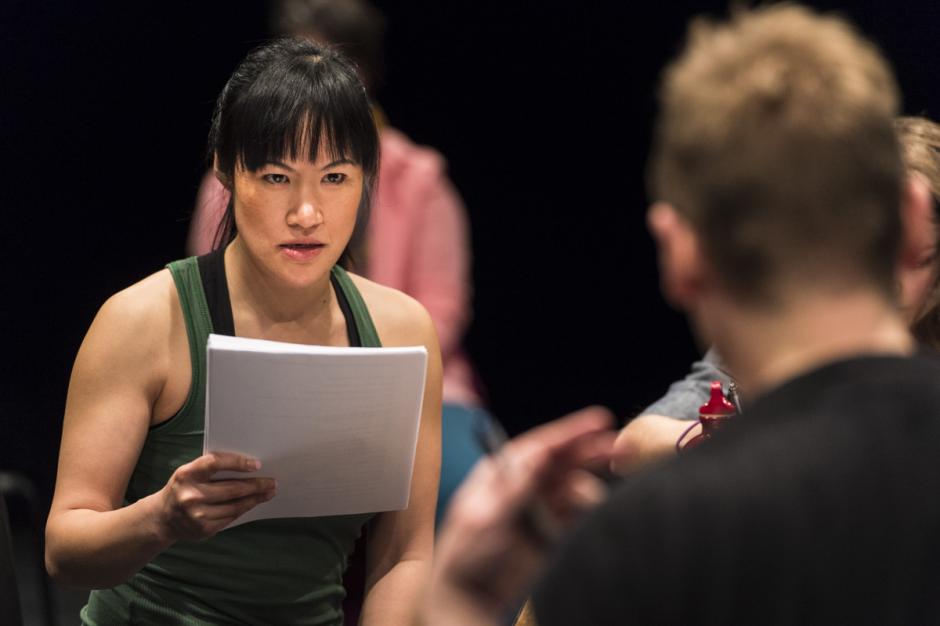 Banff Centre for Arts and Creativity has been training artists since 1933 in the Canadian Rockies and has offered drama and playwriting programs in some form since that first year.
The Banff Playwrights Lab, formerly The Banff Playwrights Colony, was created by playwrights Tom Hendry and George Ryga in 1974, to support the development of new plays in Canada. Since then, hundreds of plays have been written, created and workshopped at Banff Centre by leading playwrights from across the country and beyond. Its alumni include more than 500 playwrights plus dramaturgs, actors and directors, and it is one of the longest continuously operating writing programs at Banff Centre.      
Over the past 40 years the Playwrights Lab has evolved under the direction of its program heads, including Sharon Pollock, Fran Gebhard, John Murrell, Kim McCaw, Bob White, Keith Turnbull, Linda Gaboriau, Maureen LaBonté and Vicki Stroich.
In 2013, Artistic Director of Nightswimming and dramaturg/director Brian Quirt became Lab Director. In collaboration with current Lab Dramaturg Jenna Rodgers, he has since made inclusion and equity central to the curation, programming, participants and projects. Brian has also expanded the role of international guest artists, extended the range of collaborators available to support the Lab's interdisciplinary activities, and added Banff Centre's Margaret Greenham Theatre to the Lab's facilities, enabling participants to use this 200-seat theatre for creation sessions and workshop readings.
The Playwrights Lab now supports up to 50 artists each year. Plays workshopped during the Lab are performed across Canada and around the globe. During the 2018/19 season, for example, 37 plays developed at the Lab between 2013-2018 are on stage and on tour across Australia, Canada, Hong Kong, the United States, England and Denmark, for a total of more than 50 runs.
For current program information about the Banff Playwrights Lab, please visit our programs page.
For highlights of the Banff Playwrights Lab over its history, please scroll down.
1930s
1933: The University of Alberta's Department of Extension established the Banff School of Drama, and nearly 200 students paid a dollar apiece to enroll in the two-week summer course. Two summers later, when additional courses were offered in painting, creative writing and playwriting, the Banff School of Fine Arts was born.
1933-1940: Two of western Canada's most significant theatre pioneers had strong ties to this program: Elizabeth Sterling Haynes (of Edmonton's Sterling Awards) and playwright Gwen Pharis Ringwood.
1970s
1970: A five-week course in playwriting is offered, taught by Sylvan Karchmer, a playwright and fiction writer from the University of Houston. This was "a practical Workshop course dealing with the composition of the one-act play for the stage and the half hour radio and television play."
1973: Playwright George Ryga joins Karchmer that summer, and the course becomes "Advanced Playwriting." With the cooperation of the school's Drama Division, a performance element was added.
1974: Tom Hendry arrives and starts the Banff Playwrights Colony. During this inaugural edition, eight playwrights worked on 10 new plays. Hendry is one of this country's most important figures in drama, having co-founded the Manitoba Theatre Centre, Toronto Free Theatre, and the Playwrights Co-op (now the Playwrights Guild of Canada).
1974-1976: Hendry was Playwright-in-Residence at Banff, and he established a model for all succeeding Playwright residencies by adding a company of actors to the program and by establishing a national mandate. Two years later, there was no longer an application process or a playwriting course — instead, the Colony invited playwrights to attend based on nominations from Canadian theatre professionals from across the country. The Colony quickly became a significant force in the development of text-based theatre and its success through the 1970s can be traced back to those initial years: the founders and first directors of the Colony were playwrights.
1977: Playwright Sharon Pollock takes over from Tom Hendry as director, and during her time the Playwright-in-Residence position was changed to Program Head. The 1977 Banff Centre brochure stated that the "Colony…fulfills a much-needed function by providing material resources and personnel for pre-rehearsal work on new material."
1977-1982: Over Pollock's seven years as director, a total of 57 playwrights participated in the Colony; each year also included three directors, a stage manager, a six member acting company, and one student writer. One of the first playwrights Pollock invited was John Murrell, in 1977, who would have a long and profound relationship with The Banff Centre, eventually becoming its Executive Artistic Director of Performing Arts. Other playwrights of note who made visits during Sharon's tenure include Brad Fraser, Allan Stratton, Michael Cook, Margaret Hollingsworth, Ken Dyba, Sheldon Rosen and Paul Ledoux.
1980s
1983: Fran Gebhard becomes Program Head; her association with the Playwrights Lab had begun seven years earlier as a member of the acting company. Playwright participants during her three years included Carol Bolt, Sally Clark, Conni Massing, Joy Coghill, Frank Moher, Nicola Cavendish, Mary Vingoe and Don Hannah, with John Murrell as playwright in residence each year.
1987: John Murrell begins his first tenure as Program Head. It was during these years that the mandate moved away from the workshop and firmly into the development of new plays. At this time, the Lab changed its dates from summer to late spring. Playwrights included Joan MacLeod, Colleen Murphy, Michael Springate, Mary Walsh, Colleen Wagner, Marie Lynn Hammond, Charles Tidler, Clem Martini, Marie Laberge, Daniel MacIvor, Deanne Taylor, Sky Gilbert, John Krizanc, Ray Storey and Betty Jane Wylie.
1990s
1990: Kim McCaw, artistic director at Prairie Theatre Exchange in Winnipeg, becomes Program Head. Under his directorship the translation of a play from French Canada became an annual component. Two of the translators that McCaw invited to the Colony — Maureen LaBonté and Linda Gaboriau — continued to have long association with Banff Centre: LaBonté, as Colony dramaturg and co-director, and Gaboriau, as Colony Associate Director and as co-founding program director of the Banff International Literary Translation Centre. During Kim's tenure, writers making their first visits to the Colony include Peter Anderson, Daniel David Moses, Rick Shiomi, Carol Sinclair, Shirley Barrie, Norman Chaurette, Dennis Foon, Wendy Lill, Kelly Rebar, Jason Sherman, Drew Haden Taylor, Sean Dixon, Michael O'Brien, Morris Panych, Mansell Robinson, Arthur Milner, John Roby, Michael Miller, Michel-Marc Bouchard, Tomson Highway, Daniel Danis, Ian Ross, Catherine Banks, Jean Yoon, Anne Chislett, Ken Garnham, John Lazarus, and Michael MacLennan.
1997: Bob White and Keith Turnbull become Co-Program Heads. During the nineties, when operating grants were being cut to many of Alberta's public institutions, the very existence of the Colony was threatened, and a partnership was formed with Calgary's Alberta Theatre Projects (ATP) to jointly operate the Playwrights Colony.
1997-2007: Over this decade, the Banff/ATP partnership was reflected in a name change, the Banff playRites Colony, to align with ATP's playRites Festival where many Colony projects receive their premiere productions. First with Turnbull, and then with John Murrell, who returned to The Banff Centre in 1999 as head of Theatre Arts, Bob White helped to establish exciting new programs within the Colony.
2000s
2000-2006: In partnership with la Maison Antoine Vitez, the playRites Colony was host to playwrights from France; five of the resulting texts were published by the Banff Centre Press as "Voices from France." Another international partnership was formed with the Australian Council for the Arts, and from 1999 to 2005 Banff annually hosted a playwright and a dramaturg from Down Under. It also included two translation components: the international Translation Project, and the Quebec Translation Exchange, a partnership the Centre des auteurs dramatiques (CEAD) in Montreal.
2007: John Murrell retired from Theatre Arts to assume the newly created position of Emeritus Artist-in-Residence at The Banff Centre, while Maureen LaBonté and Bob White became co-directors of the Playwrights Colony. Bob White stepped down as co-director at the end of the 2009 Colony and was succeeded by Vicki Stroich, Artistic Associate – Festival, Alberta Theatre Projects.
2008: During Vicki Stroich's tenure with Maureen Labonté, celebrated Canadian playwright Daniel MacIvor is named the first Colony Senior Playwright-in-Residence. He was followed in 2009 by award-winning BC playwright, Joan MacLeod, and in 2010 by internationally acclaimed Indigenous playwright Tomson Highway.
2010s
2013: Brian Quirt becomes Director of the Playwrights Colony, working with Associate Dramaturg Leora Morris, and Senior Playwright in Residence Mieko Ouchi. The Lab initiates an annual focus area, which begins with plays engaging with outrage or outrageousness. Priorities for the Lab include women playwrights, artists of colour and Indigenous artists, interdisciplinary approaches to creating new work by including choreographers and musicians, consistent inclusion of international playwrights and guest artists, next generation artists (including a new partnership with the National Theatre School of Canada), theatre for young audiences, residencies for creation companies, and extensive partnerships with organizations across Canada and internationally to broaden the range of playwrights and artists participating in the Lab. The program also adds an annual retreat component in February offering two-week residencies to two playwrights.
2014: To celebrate the Lab's 40th edition, a reading of Tom Hendry's play Fifteen Miles of Broken Glass is recorded for the Banff Centre Archives, featuring the Lab's acting company. The focus is political plays, and the Playwright in Residence is Marjorie Chan. Jenna Rodgers joins the leadership team as Associate Dramaturg. The Lab co-commissions Anita Majumdar's The Fish Eyes Trilogy with Nightswimming, which goes on to tour to 10 cities across Canada.
2015: Playwright in Residence Jani Lauzon works with Brian and Jenna during a year of focus on interdisciplinary projects incorporating playwrights. The companies-in-residence are Signal Theatre, The Only Animal and Up in the Air Theatre. The Lab co-commissions Bryony Lavery's Slime with Cape Farewell. It premieres in 2018 in co-production with The Only Animal.
2016: Marcus Youssef, Artistic Director of Neworld Theatre, serves as Senior Playwright in Residence. Neworld is the company in residence with King Arthur's Night, which premieres in 2018 in Vancouver, Toronto, Ottawa and tours to Hong Kong. The Lab focus area is theatrical form.
2017: The Banff Playwrights Lab unveiled its new name and retired the word 'colony' as part of Banff Centre's commitment to truth and reconciliation with the Indigenous Peoples of Canada. The name change also more accurately conveys how the program has evolved over the past five years into a lab environment dedicated to exploring theatrical storytelling through interdisciplinary experiments in form and content. The Lab focuses on Theatre for Young Audiences and launches a partnership with Young People's Theatre. Marcus returns as Playwright in Residence, and goes on to win the Siminovitch Prize in Theatre in 2017. The companies-in-residence are Kaha:wi Dance Theatre and Citadel Theatre.
2018: The Lab marks its 45th edition with a focus on how playwrights are incorporating audience members as participants. Djanet Sears is the Senior Playwright in Residence; Fevered Sleep from the United Kingdom, and Theatre Replacement and Youtheatre are companies-in-residence.
2019: The Lab focus this year is on large scale theatrical projects, with Bea Pizano as Senior Playwright in Residence. Jenna Rodgers becomes the Lab's Dramaturg, and June Fukumura joins as Assistant Dramaturg.
During Brian's tenure, writers making their first visits to the Lab include Trey Anthony, Ins Choi, Jeff Ho, Anita Majumdar, Cliff Cardinal, Donna-Michelle St. Bernard, Susanna Fournier, Pamela Sinha, Sherry Yoon, Falen Johnson, Niall McNeil, Kim Senklip Harvey, Christine Quintana, Makambe K. Simamba, Tara Beagan, Catherine Hernandez, Evan Placey, Yolanda Bonnell, Rhiannon Collett, Chloé Hung, Frances Koncan, Maiko Yamamoto, Tamyka Bullen, Anika and Britta Johnson. During the 2018/19 season 37 plays developed at the Lab during Director Brian Quirt's tenure (2013-present) are presented to audiences across Canada and in Australia, Denmark, Hong Kong, United Kingdom and the United States. Eleven of those are on tour, for a total of 50 runs. The Lab is also devoted to challenging and changing the gender and cultural makeup of Canadian theatre. Twenty of those 36 productions are plays created by women; 18 are production by artists of colour.
"I first attended the Banff Playwrights Colony in 1976, when playwrights slept three to a room in Lloyd Hall, except for David Fennario, who lived in a tent in the Tunnel Mountain campground."
Frank Moher, 1976 (A Man in Wood)
"Being in the mountains, in the breathing trees and surrounded by like-minded artists from all walks of life and all over the world impacted not only me as an artist, but also as a being that is part of that nature. My work flourished being nurtured by the environment, but so did my heart, soul and mind. Miigwetch."
Yolanda Bonnell, 2018 (White Girl in Moccasins)
"Attending the Banff Playwrights Lab was an invaluable experience, not just to develop my play Model Minority, but also to be immersed in a creative environment with a group of immensely talented artists where we can exchange ideas and learn from one another. The Playwrights Lab was a magical experience that I will cherish through my career."
Chloé Hung, 2018