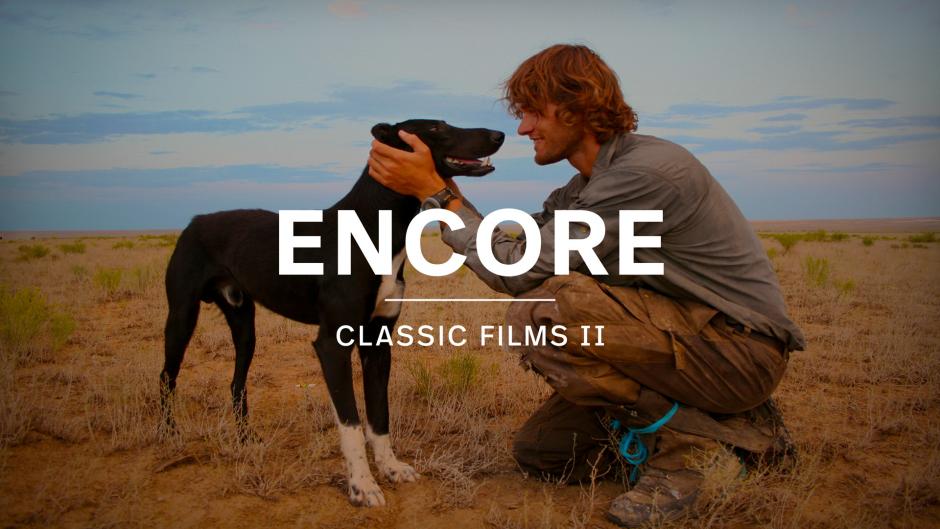 Encore: Classic Films II
Take a trip down memory lane, and to remote corners of the world!
Don't miss our collection of much-loved Festival and World Tour films from the past decade. Whether it's the first time you're seeing these films, or the tenth, these staff and audience favourites have enduring appeal. Be a part of the gripping adventures and timeless stories (again)!
Journey across the Asian steppe, float downstream to the Gulf of Mexico, climb a sea stack in Tasmania, join a highline brass band and catch up with girlfriends on the trails. The Classic Films II program has adventure and fun galore! 
See full film descriptions and details below. 
Available for rent/viewing:
December 8, 2021 - October 23, 2022
Price: $15 CAD / $12 USD
The program has a 3-day rental period (time starts ticking once you unlock the program). 
Encore Classics II - Film Program
Where The Wild Things Play
There's an ongoing dialogue of asking why aren't there more females in the adventure industry? Whether it's in big mountain skiing, climbing, or whitewater kayaking. Well it's about time we found out Where The Wild Things Play.
During an experimental pulse flow in the spring of 2014, filmmaker Peter McBride packed up his stand-up paddle board and headed to the Colorado River Delta to investigate how we use and abuse Western water - and how restoration is possible.
Awards:
Best Short Mountain Film 2014
On the Trail of Genghis Khan: The Last Frontier TOUR EDIT
Tim Cope, his band of horses, and his dog Tigon travel overland 10,000 km from Mongolia to Hungary, following the footsteps of legendary warrior and nomad Genghis Khan. Cope visits distant parts of the world rarely seen, places on the cusp of modernity yet proud of nomadic traditions. The Last Frontier captures the culmination of his stunning three-year journey, the crossing of the Carpathian Mountains.
Awards:
People's Choice Award (2011)
18 years after a catastrophic accident which left him with hemiplegia, climber Paul Pritchard returns to the Totem Pole to find out if he has recovered enough to finish the climb.
The odds are low, the risks are high – photographer Reuben Krabbe is determined to capture a photo of a skier in front of the 2015 solar eclipse in Svalbard. But the weather's bad, the guide is sketchy, the pressure is massive and the skiers just want to ski.
Awards:
Best Film - Snow Sports (2015)
Autumn 2013, Gorges du Verdon, France: The meeting of the Flying Frenchies stuntmen crew, the Compagnie 9.81 air dancers, musicians from the band Radio Monkey and the Baraka Flims team. A skillful blend of artists and high-level athletes in a symphony devoted to risk, a hymn to the void between visual performance and contemplative poetry.
Awards:
Best Film - Mountain Sports (2016)