Celebrating Indigenous Peoples: Animating Our Stories - Open Studio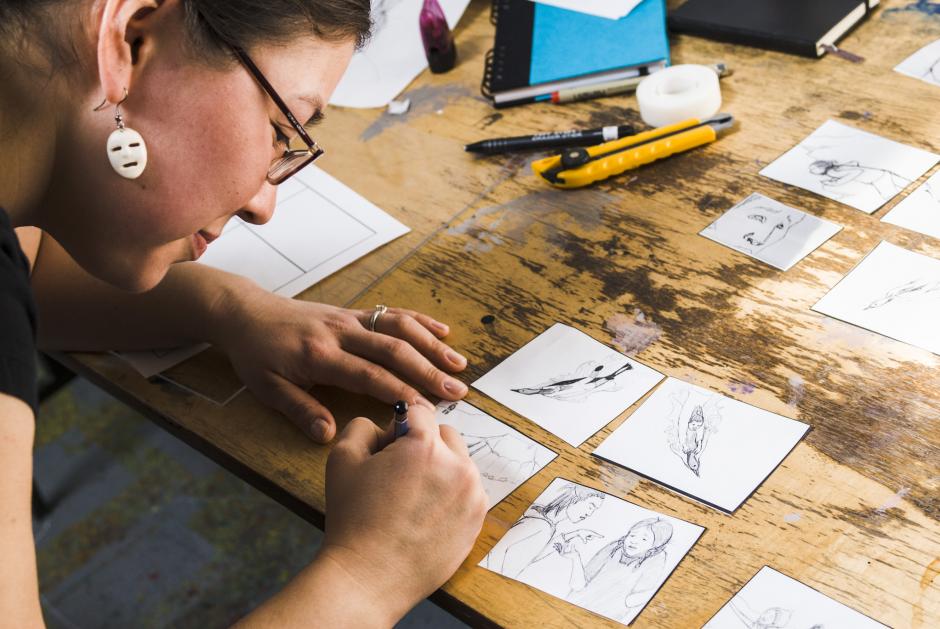 4:00 p.m. Viewing of the artist's videos, artworks, and installations
5:00 p.m. Remarks from Reneltta Arluk
Followed by readings of by Francine Cunningham, Todd Pruden, Raven Cameron, Stefanie Kuzmiski, Kaitlyn Purcell (approximately 30-45 minutes in duration)
Participant Artists: Raven Cameron, Francine Cunningham, Shawna Kiesman, Stefanie Kuzmiski, Todd Pruden, Kaitlyn Purcell
You are invited to join us in celebrating indigenous peoples throughout the month of June at Banff Centre.
An open studio to allow the public to view artists work in the Animating Our Stories Residency.
Indigenous Arts is supported by:

With support from: 


Faculty Artists
Julie Flett
Julie Flett studied fine arts at Concordia University in Montreal and Emily Carr University of Art & Design in Vancouver. She is a three-time Christie Harris Illustrated Children's Literature Prize recipient and a recipient of the Governor General's Award for Children's Literature, 2017. Julie is Cree-Métis and currently lives in Vancouver, British Columbia with her son. 
Monique Gray Smith
Monique Gray Smith is an award-winning, best-selling author and well-respected speaker and educator. Monique's first published novel, Tilly: A Story of Hope and Resilience won the 2014 Burt Award for First Nation, Métis, and Inuit Literature. Since then, Monique has had five books come out. They include My Heart Fills with Happiness, illustrated by Julie Flett and winner of the 2017 Christie Harris Illustrated Children's Literature Prize; You Hold Me Up, illustrated by Danielle Daniels and a finalist for the 2018 Canadian Marilyn Baillie Picture Book;  Speaking our Truth: A Journey of Reconciliation, a Canadian Best Seller and finalist for the 2018 TD Canadian Children's Literature Award; Lucy and Lola, with illustrations by Julie Flett - one of two novellas in The Journey Forward with Richard Van Camp and a finalist for the 2018 Burt Award for First Nation, Métis, and Inuit Literature.
Recently, Monique had her first adult novel released, Tilly and the Crazy Eights. Quill and Quire shared about the novel, "Smith infuses her novel with joy, love, and laughter." Monique has been sober and involved in her healing journey for over 27 years and is well known for her storytelling, spirit of generosity, and focus on resilience.
Amanda Strong
Amanda Strong is a Michif interdisciplinary artist with a focus on filmmaking, stop motion animations, and media art. She is currently based on unceded Coast Salish territories, also known as Vancouver, BC.  Strong received a BAA in Interpretative Illustration and a Diploma in Applied Photography from the Sheridan Institute.  With a cross-disciplinary focus, common themes of her work are reclamation of Indigenous histories, lineage, language, and culture. She is the Owner/Director/Producer of Spotted Fawn Productions Inc. (SFP). Under her direction, SFP utilizes a multi-layered approach and unconventional methods centered in collaboration in all aspects of their work.
 
Strong's work is fiercely process-driven and takes form in various mediums such as virtual reality, stop-motion, 2D/3D animation, gallery/museum installations, published books, and community-activated projects. Strong and her team at Spotted Fawn Productions are currently working on the research and development of bringing these works into more interactive spaces. Most recently she was selected by renowned filmmaker Alanis Obamsawin to receive $50,000 in post-services through the Clyde Gilmour Technicolour Award. In 2016 she received the Vancouver Mayor's Arts Awards for Emerging Film and Media Artist. In 2013, Amanda was the recipient of K.M. Hunter Artist Award for Film and Video.
Strong's films have screened across the globe, most notably at Cannes, TIFF, VIFF, and Ottawa International Animation Festival. She has received grants from the Canada Council for the Arts, Ontario Arts Council, BC Arts Council, and the National Film Board. Spotted Fawn Productions is currently developing new short animations Wheetago War and Spirit Bear. SFP's latest short animations Biidaaban (The Dawn Comes), Four Faces of the Moon, and Flood are available online through CBC Short Docs and CBC Arts.