Evolution: Chamber Faculty Concert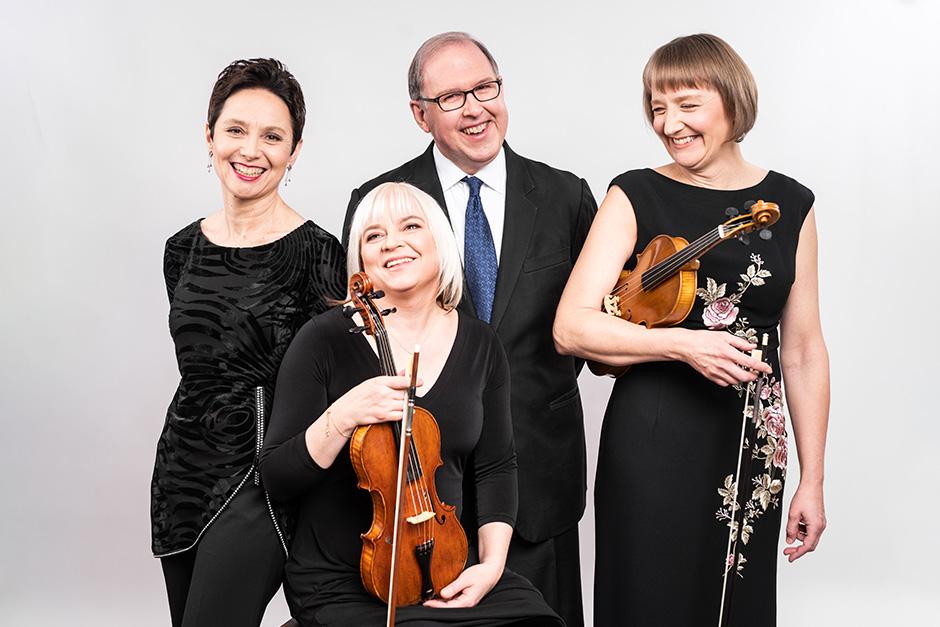 Evolution: Chamber faculty artists Eybler Quartet perform works by Bologne, Mozart, Lombardini, Jadin; Parker Quartet perform Ligeti's String Quartet No. 2; and violinist Matt Albert and violist Lesley Robertson join the Gryphon Trio for a performance of Dvořák's Piano Quintet in A major.
Program
(approx. 75 minutes plus intermission)
Quartet Op. 1 #3 in G minor -  Joseph Bologne
I. Allegro assai
II. Rondeau
Quartet No. 5 in F minor - Magdalena Lombardini
I. Larghetto
Quartet K. 458 in B flat major - Wolfgang Mozart
III. Adagio
IV. Allegro assai
Quartet Op. 3 no. 1 - Hyacinthe Jadin
I. Allegro moderato
Eybler Quartet
Patricia Ahern, violin
Julia Wedman, violin
Patrick Jordan, viola
Margaret Gay, cello
String Quartet  No. 2 - György Ligeti
I. Allegro nervoso
II. Sostenuto, molto calmo
III. Come un meccanismo di precisione
IV. Presto furioso, brutale, tumultuoso
V. Allegro con delicatezza
Parker Quartet              
Daniel Chong, violin              
Ken Hamao, violin              
Jessica Bodner, viola              
Kee-Hyun Kim, cello
Intermission
Piano Quintet No. 2 A major Op. 81 - Antonin Dvořák 
Allegro, ma non tanto
Dumka: Andante con moto
Scherzo (Furiant): Molto vivace
Finale: Allegro
Matt Albert, violin
Lesley Robertson, viola
Gryphon Trio
Annalee Patipatanakoon, violin
Roman Borys, cello
Jamie Parker, piano
---
Like what you see? 
Show your support for the Evolution: Chamber and Evolution: Classical programs at Banff Centre by donating generously to the Artists' Fund.