Evolution: Chamber Participant Concert 2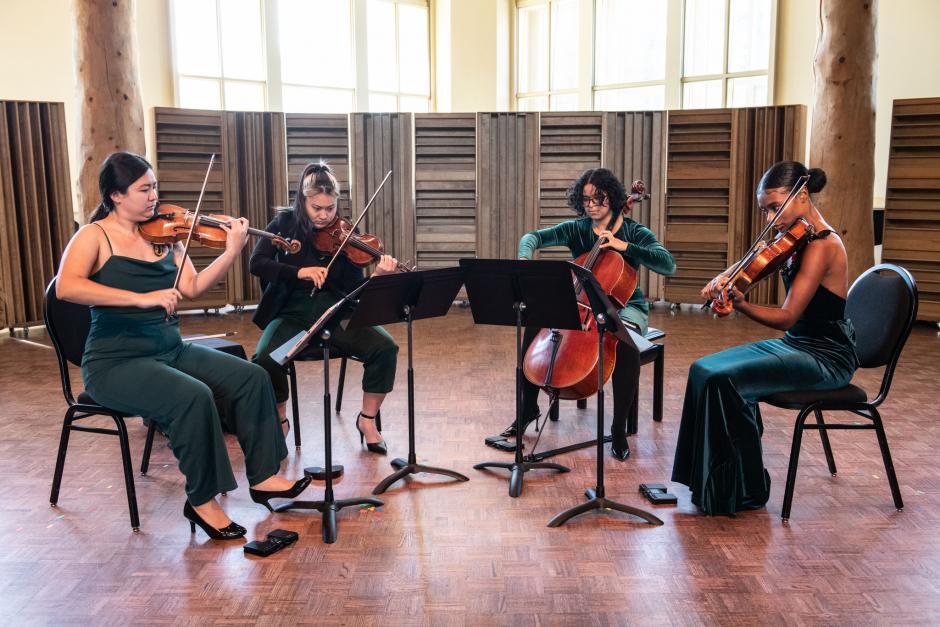 Join us for a free concert featuring Banff Centre's Evolution: Chamber program participants. 
Evolution: Chamber participant string quartets perform core repertoire and new works composed by participant composers. 
Program
String Quartet Op. 18 No. 3 (1801) - Ludwig Van Beethoven (1770-1827) 
   I. Allegro 
   II. Andante con moto 
   III. Allegro  
   IV. Presto 
Blueprint (2016) - Caroline Shaw
Two Pop Songs on Antique Poems (2014) - Dinuk Wijeratne
   I. A Letter from the After-Life
   II. I Will Not Let You Go
Thunder Bay String Quartet
Chris Stork, violin
Kimberly Durflinger, violin
John Sellick, viola
Bryce Penny, cello
Snag - Mari Alice Conrad
   I.   four wires
   II.  three wires
   III. two wires, above the horizon
The composer wishes to acknowledge fine art photographer Wes Bell, for permission to integrate three photos from his series, Snag, into the composition. See image gallery below for photos.
In my work I search for meaning and connection in the landscapes around me. I have learned that my own environment, if mindfully explored, can summon deep questions about being human and reveal beauty in the unexpected, everyday moments. I was struck by the expression of mundane beauty in the work of Wes Bell, an Alberta fine art photographer, and his photography collection Snag.
The series of photographs include black and white images of tattered plastic caught in barbed-wired fences that line the prairies of southern Alberta. Bell's images are powerful and transport me to my childhood where my parents would fly kites with me in the same open fields and blue skies of southern Alberta. Things are different now. I am no longer swaying carefree in the wind like a kite but am caught like a piece of plastic on a fence in a complex and delicate snare of memories of a time passed and the fear of what will come. Bell's collection explores similar poignant themes such as the fear of the unknown, vulnerability, grief, and loss, evoking a powerful relationship between place and human experience.
A special thank you to Wes Bell, for his permission and support to incorporate three photographs into my composition, to the Primrose and Thunder Bay String Quartets, and to the Banff Centre for Arts and Creativity Evolution: Chamber program and faculty that helped bring this project to life.
~Mari Alice Conrad, June 2023
Octet
Primrose Quartet and Thunder Bay String Quartet
Intermission
String Quartet Op. 59 No. 2 in E minor - Ludwig van Beethoven (1770-1827)
   I. Allegro
   II. Molto adagio "Si tratta questo pezzo con molto di sentimento"
   III. Allegretto, Maggiore – Theme russe
   IV. Finale. Presto
Primrose Quartet
Ryan Char , violin
Cameron Alan-Lee, violin 
Clement Pickering, viola 
Shannon Ross, cello