Evolution: Classical Participant Concert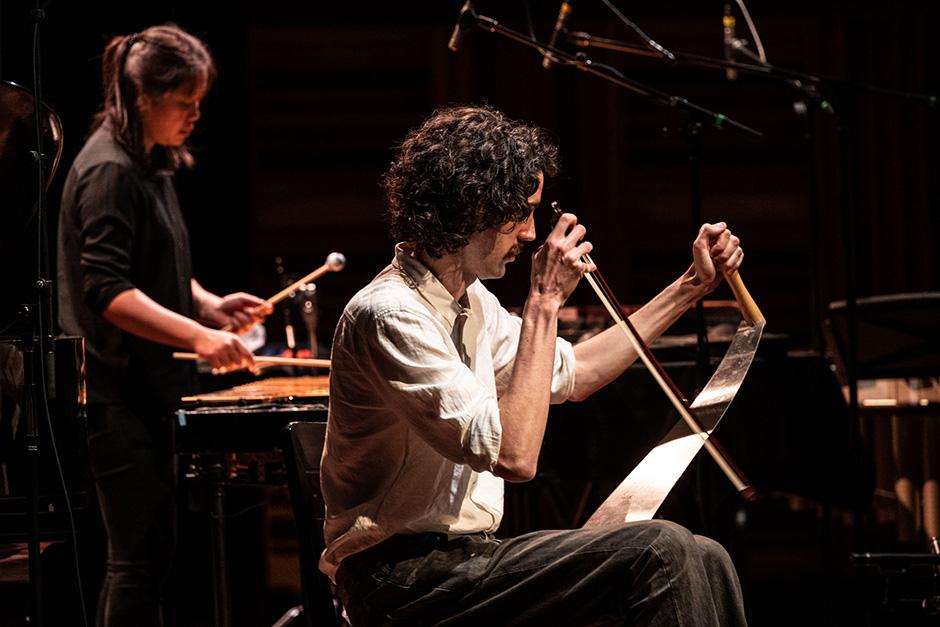 Join us for a multimedia presentation that showcases bold new approaches to classical music concert curation and production. Instrumentalists, vocalists, composers, and creators from all over the world meld tradition, innovation and new creation and showcase the evolving nature of classical music as a powerful, inspiring and engaging contemporary art form. 
Whether you are a seasoned classical music enthusiast, or simply enjoy live music and are curious about the evolving landscape of classical music, this is a live music experience not to be missed.
PROGRAM
INSTRUCTION MANUAL (part 1)
Ollie Hawker (guitar, musical saw), Scott Morrison (harp, concertina, piano), Katie Muir (visuals)
Instruction Manual presents The Instruction Manual; consisting of moral and romantic songs, both original and found, adapted to most wonderful melodies for the pianoforte, lever harp, concertina, acoustic guitar, musical saw and synthesized choir. 
Glasgow/Banff: Hawker, Morrison and Muir, 3rd Edition, 2023
"It was mostly sweet, and you were the sweetest of all"
This Hole in the Ground  -  Instruction Manual 
I, Oh, I  -  Instruction Manual
'Tis Madness  -  Henry Purcell, arr. Instruction Manual
IN CASE OF FIRE, PLAY THE LUTE TO THE COW (part 1)
Nikki Huang (percussion), Thomas Li (percussion)
Rot Blau (excerpt)  -  Jessie Marino 
Retrouvailles (excerpt)  -  Georges Aperghis
SÉAN MORGAN-ROONEY (piano)
A Few Reflect the Heart
Oiseaux Tristes  -  Maurice Ravel
Pneumaplume  -  Seán Morgan-Rooney
Wasserklavier  -  Luciano Berio
Wavephile  -  Seán Morgan-Rooney
Alborada del gracioso  -  Maurice Ravel
Ignis Beat  -  Seán Morgan-Rooney
La Vallée des Cloches  -  Maurice Ravel
Earth - Tether – Ether  -  Seán Morgan-Rooney
Artist notes:
 "The eye sees itself not, but by reflection, by some other things..."
Maurice Ravel cited this particular quote from Shakespeare's Julius Caesar as the inspiration for the title of his piano suite Miroirs. The quote describes how we do not see ourselves directly, but rather perceive ourselves in the reflections of external sources. In composing Miroirs, Ravel was seeing his own humanity reflected back at him from nature.
In this performance, four pieces written by the performer for piano and electronic track bring an extra dimension to the idea of reflection. These original works reflect the natural themes of Miroirs and communicate a personal musical response to Ravel's suite. The performer organises the suite according to the natural elements: air, water, fire and earth. With his original music and film, the performer explores how autobiographical elements can be incorporated into the classical piano recital in an artistically meaningful way.
IN CASE OF FIRE, PLAY THE LUTE TO THE COW (part 2)
Nikki Huang (percussion), Thomas Li (percussion)
Home Work & I Don't Belong To Your World (excerpt)  -  François Sarhan 
My Empty Hands (excerpt)  -  Igor C Silva
INSTRUCTION MANUAL (part 2)
Ollie Hawker (guitar, musical saw), Scott Morrison (harp, concertina, piano), Katie Muir (visuals)
It's So Bright in Here  -  Instruction Manual
Walking Song  -  Instruction Manual
Grey Funnel Line  -  Cyril Tawney, arr. Instruction Manual
You I I I Everything Else  -  Instruction Manual