"A Home Away From Home" Film Screening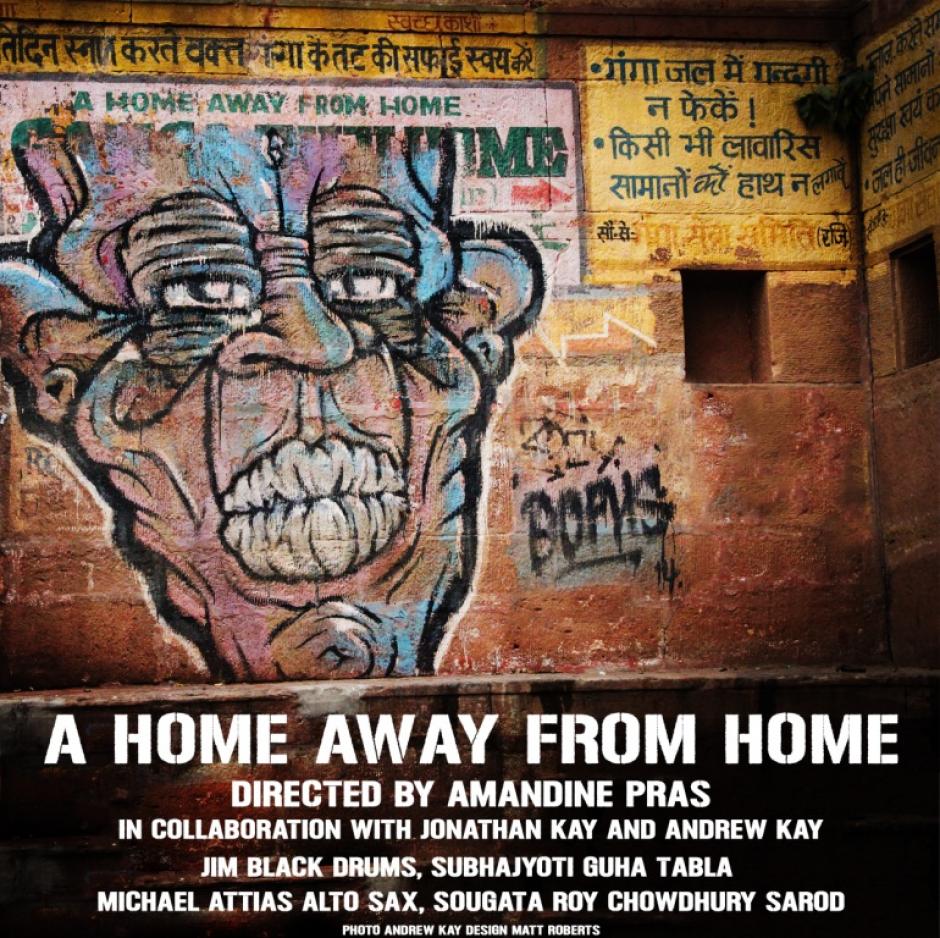 Join the Paul D. Fleck Library and Archives for this screening of the film "A Home Away From Home," presented by director Amandine Pras and collaborator Jonathan Kay. The event will open with an introduction about the project, its scope and goals, which will lead into a screening of the 50-minute long film. Following the film, there will be a Q&A with Amandine Pras and Jonathan Kay about the film; its concepts, goals, trajectory, reception, etc. At the end, Jonathan Kay will demonstrate the esjr, a rare stringed instrument, as well as his experiments between Hindustani and jazz music on the saxophone. 
All are welcome at this free event, and please feel free to enjoy your lunch inside the library.
Learn More
About the Film
In January 2015, two maestros from the classical tradition of Northern India (so-called Hindustani music) – Subhajyoti Guha (tabla) and Sougata Roy Chowdhury (sarod), freely improvise with two musicians from the New York alternative jazz scene – Michael Attias (alto saxophone) and Jim Black (drums). The film opens with a concert in quartet in downtown Kolkata, and then makes us travel within the creative process of these four world-class musicians when they first met in duet in Santiniketan, city of poet Tagore. Without being a central figure of the film, recording plays an important role in the progress of this cross-cultural experiment and enables trilogs that superimpose the music on the improvisers' individual commentaries when listening to the playback of their duet performances. These trilogs alternate with discussions about mutual influencing, shared understanding and misunderstanding, and the need for traditions to evolve.
This psychological and cultural journey was possible thanks to the involvement of Jonathan Kay and Andrew Kay, jazz graduate from Humber College in Toronto who studied Northern Indian classical music with Pandit Shantanu Bhattacharyya in Kolkata for about ten years. Inspired by the multicultural theory of musical transcendence of John Coltrane that he developed throughout cross-cultural experiences including the teaching of Pandit Ravi Shankar, the two brothers foster a novel aesthetic that expands the concept of free improvisation to other languages and philosophies. Our 2015 Indian experiment takes place at the beginning of a music revolution provoked by global exposure to performance videos via web platforms such as YouTube, a revolution that the United States and India experience at a different pace in the era of postmodernity. This film thus opens paths for deep reflection upon the potential of digital technology on globally producing and sharing music beyond musical genres.
The first cut of A Home Away From Home was premiered at the Satyajit Ray Film & Television Institute of Kolkata on Dec 12, 2017 and presented to the Indian participants of the project at the Akar Prakar Art Gallery of Kolkata with a concert on Dec 14, 2017. The final cut was screened at the Amphitheatre François Furet of The School for Advanced Studies in the Social Sciences (EHESS) in Paris as part of a seminar about globalized creation on June 18, 2018; at the Jalopy Theater as part of the Brooklyn Raga Massive in New York on Aug 9, 2018; at Cineplex Quartier Latin as part of the World Film Festival in Montreal on Sept 2, 2018; at Secret Project Robot in New York on Dec 8, 2018; and at El Club de la Musicá in Buenos Aires on Dec 23, 2018. It was recently awarded "Outstanding Achievement" in the Documentary category of the 25th season of Calcutta International Cult Film Festival (CICFF), and added in the official selection of the online Docs Without Borders Film Festival competition and of the Golden Fox Awards at the annual live screening gala of CICFF, which will be held in Kolkata in January 2020.
Amandine Pras
Amandine Pras is an Assistant Professor of Digital Audio Arts at University of Lethbridge in Alberta and an Associate Researcher at The School for Advanced Studies in the Social Sciences (EHESS) in Paris. Her research examines the impact of globalized digital technologies on worldwide audio and music practices from esthetic, cultural, and political perspectives. She started conducting an ethnography of Bamako recording studios with Ethnomusicologist Emmanuelle Olivier in July 2018. The past year, she presented her video documentary "A Home Away From Home" in Buenos Aires, the World Film Festival of Montreal, New York, and Paris, based on a cross-cultural experiment that she carried out with four world-class improvisers in West Bengal at the end of her postdoctoral residency at The New School for Social Research in New York. She completed her PhD thesis at McGill about best practices for studio recording in the digital era. Graduate from the Advanced music production program (FSMS) of the Paris Conservatoire, Amandine produced albums and curated live events with musicians as diverse as Michael Attias, Jim Black, Quatuor Bozzini, Luciane Cardassi, Daniel Carter, Zaky Diarra, Sougata Roy Chowdhury, Nels Cline, Benoit Delbecq, Mary Halvorson, Subhajyoti Guha, Tony Malaby, the Metropolis Ensemble, Andy Milne, William Parker, and Satoshi Takeishi.
Jonathan Kay
Jonathan Kay graduated from the saxophone jazz program of Humber College in Toronto. He then studied Northern Indian classical music with his guru Pandit Shantanu Bhattacharyya for about ten years in Kolkata. He started his PhD thesis at the East-West Philosophy program of the California Institute of Integral Studies in San Francisco in Sept 2018. Inspired by the multicultural theory of musical transcendence that John Coltrane developed throughout cross-cultural experiences including learning from the teaching of Pandit Ravi Shankar, Jonathan fosters a novel aesthetic that expands the concept of free improvisation to other languages and philosophies.
http://www.jonathankay.ca/