National Indigenous Peoples Day at artsPlace in partnership with Banff Centre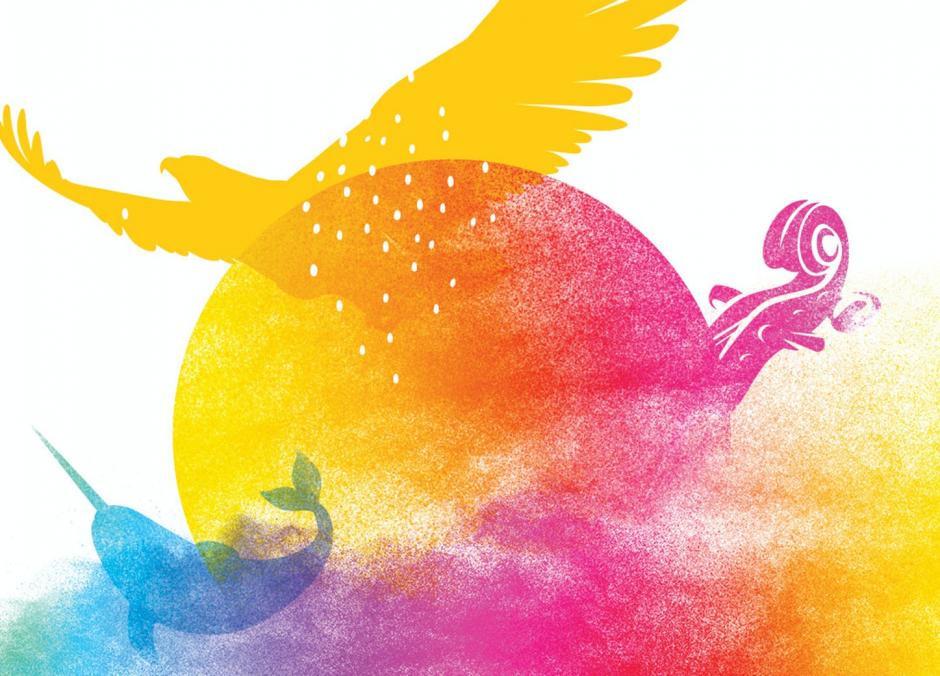 Creative Kits for Children - Celebrating Sacred Waters
Why is water important to you?
What is your favorite water place? Do you have a favorite river, lake, or glacier?
What can you do to help protect our sacred water places?
With the guidance of Stoney Community Member Travis Rider, and Stoney Nakoda Artist Chey Suwâtâgâ-Mû, and in collaboration with Banff Centre, artsPlace will make 200 FREE Creative Kits for National Indigenous Peoples Day.
These kits will feature a stencil of a beautiful mountain with a waterfall.
They will also contain chalk so that children and families can create meaningful artwork expressing their love for sacred water places. The chalk can also be used to write supportive messages in celebration of National Indigenous People's Day on sidewalks across the Bow Valley.
These kits will be made available through artsPlace, as well as through their partnerships with other local organizations. 
artsPlace In-Person Workshops 
10:00 am – 11:30 am
12:15 pm – 1:45pm
3:30 pm – 5:00pm
artsPlace will be hosting a series of small-group, in-person workshops with Stoney Community Member Travis Rider and Water Scientist, Caroline Aubry-Wake, from Global Water Futures. 
Listen to teachings and stories about the sacred water places in Treaty 7 territory. Consider ways to care and protect ways from a Stoney Nakoda perspective and from the point of view of a Water Scientist. Discuss together ways to care for sacred water places. 
These workshops will be free, but registration will be required, and space is limited.
Great for ALL AGES!
 
This event is offered in collaboration with artsPlace and Banff Centre for Arts and Creativity

With support from:

Meet the Artist
Travis Rider
Travis Rider is a Stoney Nation community member who works to promote mental health and wellness from a Stoney perspective.
He believes this work is important because when you incorporate Stoney ways of being and knowing into mental health and addictions support, it creates a relatable path forward to healing for many different people from Indigenous communities. He has been invited to facilitate workshops across Alberta and Saskatchewan.
Travis has taken six different Indigenous Leadership Courses at the Banff Centre for Arts and Creativity and he received a Certificate of Indigenous Leadership, Governance, and Management Excellence.
Travis is the Indigenous Liaison to artsPlace. He helped artsPlace initiate a series of Cultural Learning Circles, that aspire to build a bridge of understanding between different cultural groups in the Bow Valley.
He recently facilitated a Cultural Learning Circle titled "The Spirit and Intent of the Stoney Language," which helped both Stoney community and general Bow Valley community understand the deeper meanings behind certain Stoney words, place names and philosophies.
"The Cultural Learning Circles give me a space to share my culture with others, and they help me learn other community cultures as well, so we can all walk forward together in a good way." Travis Rider
Chey Suwâtâgâ-Mû
Chey Suwâtâgâ-Mû is a self-taught Artist from the Stoney Nakoda tribe and their home is forever with the Mountain People. Chey had a creative mindset since they were a child. They started drawing with pencil and ballpoint pens, their sketchbooks were the lined papers from their mother's journal. They began to observe her aunts with their mending skills and soon afterwards, their aunts taught them to sew with a needle and thread, they would often make small purses or dolls when they were 8 years old. In childhood, they would "Tattoo" their uncles and aunts with a ball-point pen. In the last year of Highschool, Chey taught themselves with the help of their Art teacher, the techniques and methods in Acrylic painting, leading to watercolour methods. Chey succeeded in their art classes. Then at the age of 25, they had the opportunity of their lifetime, to be a Cultural Tattoo Practitioner at the Earthline Tattoo Residency, the summer of 2019. They had made the course their priority and gave their 110%, learning the traditional values and also learning to protect potential clients from blood borne pathogen diseases. Their hard work paid off and succeeded in the course. They grew as an artist being a part of Nakoda AV Club in 2011 as a Performer/ Background actor. In 2019 they had rejoined the club for small parts in the Nakoda AV club films. Because of the club, they made connections to take part in galleries and have their artwork displayed. Their first gallery in Edmonton AB, Gallerie Cite had displayed five pieces of their paintings. Chey had the thrill of being a part of the art community and decided to take part in AMAAS June 2019. During the time they were preparing an art instalment with TRUCK Gallery in the fall 2019; Mother Tongue. They had created a mural on glass with acrylic. They also began to learn to be a film editor as they took the role as a Voice Narrator in a short film regarding the reintroduction of the bisons to the land, briefly working with Banff National Park.
Caroline Aubry-Wake
Caroline Aubry-Wake is a mountain water scientist studying how changing mountain landscapes impact our water resources. Under the supervision of Professor John Pomeroy at the University of Saskatchewan in Canmore, she combines mountain fieldwork in the Canadian Rockies with advanced computer modelling to understand how melting glaciers and a changing climate will impact our water resources in the future.