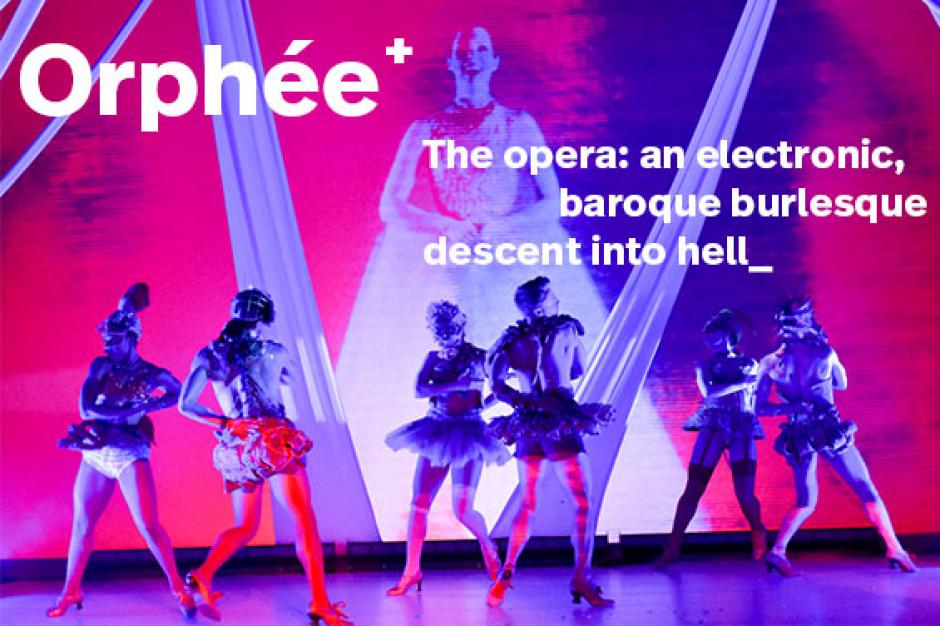 Banff Centre for Arts and Creativity, Opera Columbus and Toronto's Against the Grain Theatre collaborate on a new co-production of Gluck/Berlioz's groundbreaking opera Orphée. An electronic, baroque burlesque, descent into hell.
This re-imagined production looks to explore the gripping and timeless love story of Orpheus and Eurydice through the lens of today's technology. While staying true to the original score of and honouring the traditions of Baroque opera, this production pushes the boundaries of operatic presentation through digital sound augmentation, captivating choreography, video projections, and aerial artistry. 
Countertenor Siman Chung performs the title role, Topher Mokrzewski conducts and Joel Ivany acts as Stage Director.
These performances are sung in French with English surtitles.
Mature Subject Matter.
Orphée+ has received 5 Dora Awards!
These include Outstanding Production, Outstanding Performance — Female (Marcy Richardson),  Outstanding Performance — Ensemble (The Ensemble Dancers of Company XIV), Outstanding Costume Design (Zane Pihlström), and Outstanding Choreography (Austin McCormick).
The show zooms through its two hours in what feels like mere minutes, and the eye-candy look of everything ensures you'll recall Orphée⁺ if ever you're asked if you've recently seen some great theatre.
"The show is a smashing success — an ideal instance of the old being made marvelously, yet thoughtfully, new."
Artistic Team   
Joel Ivany* - Stage Director
Topher Mokrzewski - Conductor
Austin McCormick* - Choreographer 
John Gzowski - Sound Designer
William Fallon - Associate Sound Designer
S. Katy Tucker - Projection & Set Designer
JAX Messenger - Lighting Designer 
Logan Cracknell - Associate Lighting Designer
Zane Pihlstrom - Costume Designer
Lauren Spavelko - Musical Arrangement
Jennifer Szeto - Principal Coach
Lesley Abarquez Bradley* - Stage Manager
Kaitlyn Smith* - Assistant Stage Manager
Cast Credits  
Siman Chung - Orphée*
Miriam Khalil - Eurydice*
Etta Fung - Amour
Production Team    
Murray Palmer - Technical Director
Gina Bennett - Production Manager
* The Participation of these Artists is arranged by permission of the Canadian Actors' Equity Association under the provisions of the Dance Opera Theatre Policy (DOT).