Spoken Word Faculty Show: Tales from 3 edges with Cat Kidd, Miles Merrill and Tanya Evanson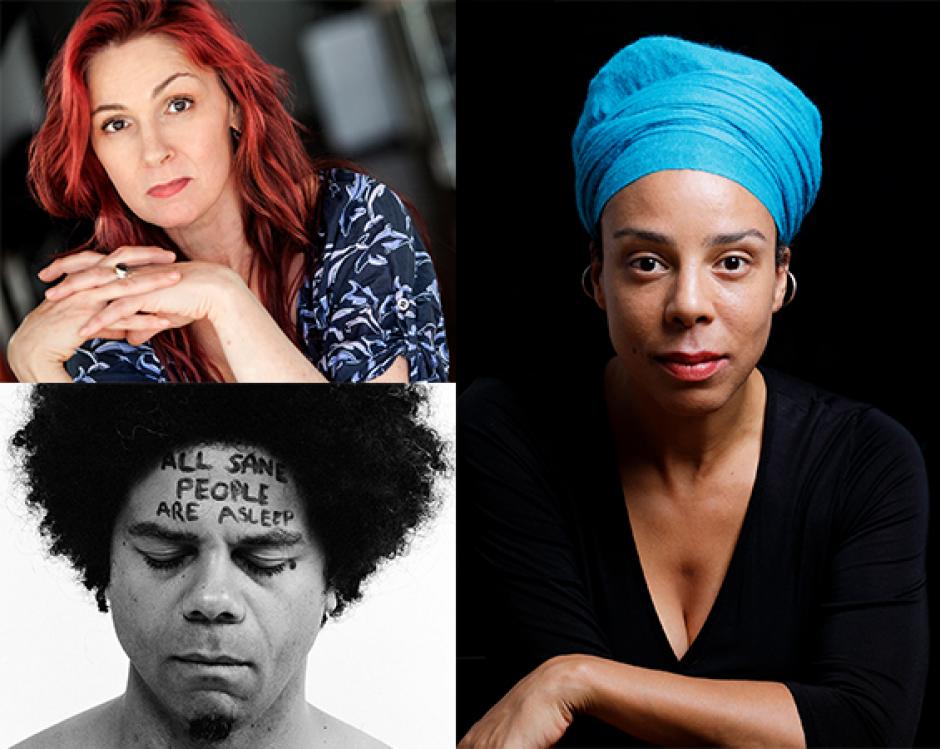 Legendary Montreal spoken word artist Cat Kidd takes us to the South African edge with excerpts from her play Hyena Subpoena, where close encounters with lions and elephants conjure the feral forces that lurk within us. Sydney-based artist and director of Word Travels, Miles Merrill comes to us from the Australian edge to deliver his sharp audio noir variety show Lamp-post Incantations. And Spoken Word Program Director Tanya Evanson cuts into the heart of things with her live Sufi videopoem Bothism.
Faculty
Tanya Evanson
Tanya Evanson is an Antiguan-Canadian poet, performer, producer and arts educator from Tiohtià:ke/Montreal. She is also director of The Banff Centre Spoken Word Program.
 
With a history of 20 years in spoken word performance, she received the 2013 Golden Beret Award for her contribution to the genre and was Poet of Honour at the Canadian Festival of Spoken Word. Alongside features in documentaries, videopoems, tv and radio, notable live performances include Vancouver Writers Festival, Bowery Poetry (New York), Story-Fest (Australia), Ubud Writers Festival (Bali), Poetry Africa (South Africa), Edinburgh Book Festival and Glastonbury.
 
Her fourth studio album and band project ZENSHIP (2016 Mother Tongue Media), received critical acclaim for pushing boundaries between poetry and live music. Following six artist books, Bothism (2017) is her first published poetry collection with Ekstasis Editions and Nouveau Griot (2018) is fresh from Frontenac House. Other recent print work includes Arc Poetry Magazine, WSQ-Feminist Press, Making Room (Caitlin Press), and Resist Much/Obey Little (Dispatches Editions). She moonlights as a whirling dervish.
 
Miles Merrill
Performing writer Miles Merrill brought poetry slams to Australia from Chicago. He is the spark for dozens of spoken word programs across the Asia-Pacific region. He has hosted an ABC TV special on poetry slams, performed solo at Sydney Opera House and published award-winning poetry in print, audio and video. He tours music festivals, theatres, galleries, schools…everywhere, like Krakow's Audio Art Festival and writers festivals in Singapore, Hong Kong, India…anywhere his word travels. He is founder of the Australian Poetry Slam (APS), an international performing writers' program, which sees about 1000 writers performing in 80 events across the Asia-Pacific every year. APS culminates annually in October with Story-Fest—a 3-day performing writers' festival in collaboration with Sydney Opera House.
Merrill's practice, as Creative Director of the literary arts organization Word Travels, focuses on empowering people from diverse and marginalized communities to share their stories and poems with the world.
 
Catherine Kidd
Catherine Kidd has been writing and performing zoology poetry for over two decades. Described as "an adult blend of Dr. Seuss and Aesop's Fables," her first poetry show Sea Peach won a MECCA (Montreal English Critics' Circle Award) for Best New Text, touring to Toronto Harbourfront's World Stage, the Edinburgh Fringe, and the Spier Arts Poetry Festival in Cape Town. Graduating with great honours from Concordia's MA Creative Writing program, Catherine has taught writing there and elsewhere; most recently leading poetry workshops with students in Nunavik. The first chapter of her novel, Missing the Ark, was nominated for a Journey Prize; other writing appearing in Matrix, This magazine, and PEN International. Cat has performed in festivals from Oslo to Yellowknife; Barcelona, Bristol, and Bavaria. Her solo show Hyena Subpoena was presented at the National Museum of Singapore, and toured the Canadian Fringe festival circuit last summer in a camper van.