Sultans Of String - Christmas Caravan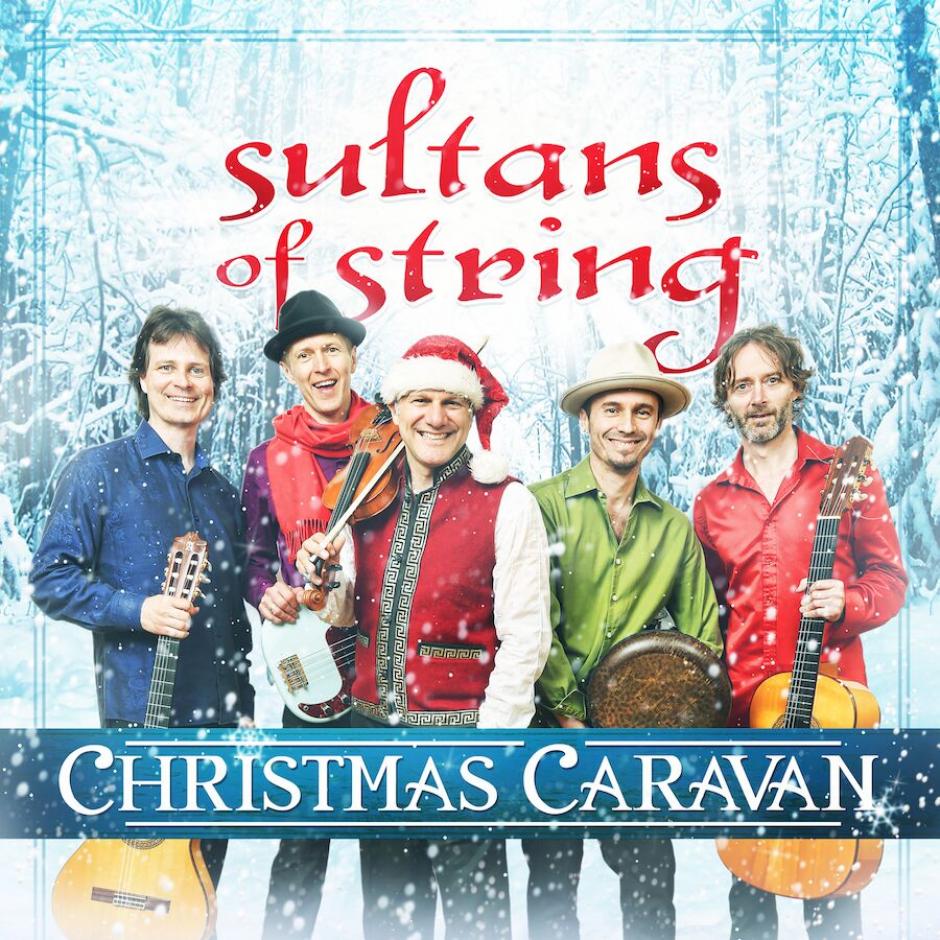 Celebrate the Holiday season with an adventurous musical trip around the world!
3x JUNO Award nominees Sultans of String deliver an exuberant performance featuring band originals, world-music inspired classics, and seasonal favourites to warm your heart on a cold winter's night. From fiery fiddle tunes to a Caribbean sleigh ride, this surprising and delightful holiday fiesta heats up when these 3x Canadian Folk Music Award winners bring their signature sound to well-known gems such as Jesu, Joy of Man's Desiring, a djembe-driven Little Drummer Boy, a Turkish twist on Greensleeves, as well as a Gypsy-jazz inspired Django Christmas, and a Rumba Flamenca-fuelled Jingle Bells. 
 
Sultans of String are joined on stage by shimmering chanteuse Rebecca Campbell (Jane Siberry, Parachute Club, Lynn Miles). The band's companion Christmas Caravan CD which hit Billboard's World Music charts (#6) and The New York Times Hits list, features Campbell, as well as other luminaries: The Chieftains' very own Paddy Moloney, platinum vocalist Nikki Yanofsky, JUNO winners Alex Cuba, Benoit Bourque of La Bottine Souriante, Grammy winners Sweet Honey in The Rock, Richard Bona (Paul Simon, Herbie Hancock), Ruben Blades, a Turkish orchestra and more!
"We wanted to make a real contribution to the Christmas repertoire, and hopefully create some new standards", says bandleader and Queen's Diamond Jubilee recipient Chris McKhool. "This is a Christmas show and album, but approached from the perspective of a world-music band. We explored diverse genres, from Quebecois fiddle tunes to collaborating with a traditional Turkish string ensemble, and jump around from the classic sounds of the Andrews Sisters, to a Himalayan sleigh ride, African roots music, Gypsy-jazz, rumba flamenco, ska, and even the grandeur of the symphony." 
 
"Energetic and exciting music from a band with talent to burn!" - Maverick Magazine UK
 
About - The Sultans of String
Thrilling their audiences with their genre-hopping passport of Celtic reels, flamenco, Gypsy-jazz, Arabic, Cuban, and South Asian rhythms, the Sultans of String celebrate musical fusion and human creativity with warmth and virtuosity. Fiery violin dances with rumba-flamenco guitar, while bass and percussion lay down unstoppable grooves. Acoustic strings meet with electronic wizardry to create layers and depth of sound, while world rhythms excite audiences to their feet with the irresistible need to dance. 
Since forming 10 years ago, Sultans of String's CDs have hit #1 across Canada on Top Ten national radio charts, and have received multiple awards and accolades, including 3 JUNO (Canada's Grammy) nominations, 1st place in the ISC (out of 15,000 entries), 3 Canadian Folk Music Awards, plus special guest recordings and sharing the stage with artists such as Paddy Moloney and The Chieftains, Richard Bona, Benoit Bourque (Bottine Souriante), Nikki Yanofsky, Alex Cuba, Ruben Blades, Crystal Shawanda, and Ken Whiteley.
Bandleader/violinist Chris McKhool (Jesse Cook, Pavlo), a Queen's Diamond Jubilee medal recipient, was raised in a Lebanese-Egyptian household just bursting with music and diversity. Growing up, he was fed a steady diet of delicious musicality alongside Middle Eastern cuisine and violin lessons. With founding guitarist Kevin Laliberté's (Jesse Cook) rumba rhythm, their musical synergy created Sultans of String's signature sound – the intimate and playful relationship between violin and guitar. From this rich foundation, the dynamic duo grew, featuring such amazing musical friends as in-the-pocket bass master Drew Birston (Chantal Kreviazuk), guitarist extraordinaire Eddie Paton (Robert Michaels), and jaw-dropping beats of percussionist Chendy Leon.
The band's US manager and acclaimed promoter Dave Wilkes (Bela Fleck, Emmylou Harris) states, "Over the decades, I've worked with numerous top ten and #1 Billboard artists. In all that time, I have not worked with composers more talented than McKhool and Laliberté from Sultans of String. Not only are they a superb writing team, they are also amazing arrangers and performers".
Sultans of String have been criss-crossing North America and UK for the last several years at many taste-making forums such as JUNOfest, NYC's Lincoln Center and the legendary Birdland, and Boston's Scullers, and London's Trafalgar Square. They recently sold out Koerner Hall (Toronto's Carnegie Hall), and performed with Toronto, Vancouver, Edmonton, Stratford, Ontario and Niagara Symphony Orchestras, as well with Kingsfield POPS in Maine and Maryland's Annapolis Symphony. Sultans of String were filmed by MPBN's Maine Arts! in a feature concert, and have performed live on BBC TV, BBC Radio, Irish National Radio, and the internationally syndicated shows WoodSongs, World Cafe, and on SiriusXM in Washington.