Tom Jackson: Stories, Songs and Santa Causes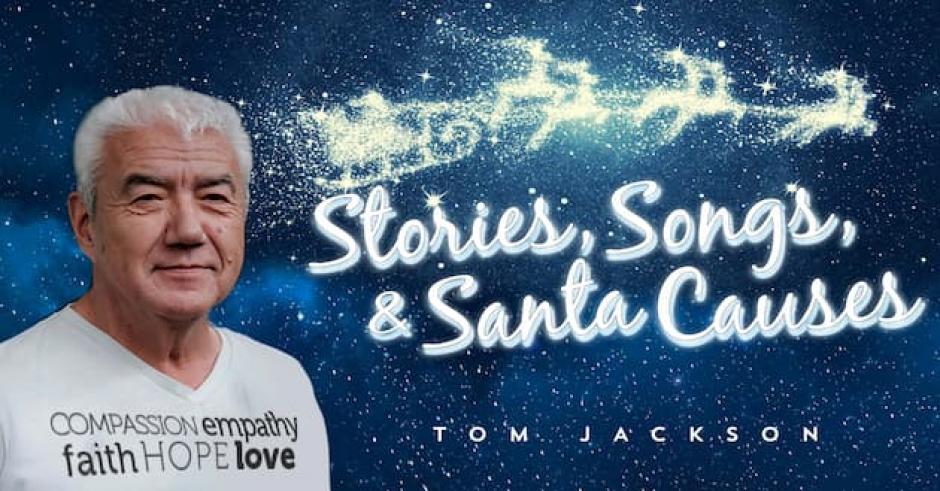 Tom Jackson kickstarts the holiday season with grace, style, and quirky festivity that many have enjoyed for decades. Expect an evening of original music, sing-along tunes, and signature Christmas music from this master storyteller.
Tom has travelled coast to coast to coast with The Huron Carole for many years, raising funds and awareness for local food banks and family service agencies, and this year, Banff Centre audiences will get to enjoy some of his in-person charm.
As a Companion of the Order of Canada, Juno and Gemini Humanitarian Award winner, eleven-time honorary degree recipient, and a proud bearer of the 2014 Governor General's Performing Arts Award for Lifetime Achievement, Tom is noted for his ability to mobilize others into action – often leading with a hug.
Stories, Songs and Santa Causes also features award-winning musician and producer, Tom McKillip.
Tom and Tom can't promise "no Dad jokes", but the performance will bring some much-welcome levity and humanity with a date-night - or family-day - vibe!
Read more about Tom Jackson here: https://tomjackson.ca/biography/
Attending Live Events at Banff Centre
Banff Centre has opted into the Restrictions Exemption Program, so proof of full vaccination, a negative PCR or rapid test result taken within 72 hours of arrival, or original proof of medical exemption will be required to attend all live events at Banff Centre. Masks are also mandatory for all public indoor spaces. Guests staying on campus will be able to use their faculty/artist card or bedroom key as they will have been pre-screened upon check-in at the Professional Development Centre. Learn more about Banff Centre's COVID-19 on-campus measure here.
Tom McKillip
Guitar, Sax, Vocals, Music Director
Award-winning record producer, musician, songwriter, music director and event producer Tom McKillip is wellknown in Canadian music circles: Tom's lengthy resume includes many years of touring with international legend Ian Tyson OC. McKillip has also acted as Music Director for recording artist / humanitarian / actor Tom Jackson CC for more than a dozen years, assisting on Jackson's many charitable entertainment initiatives – a highlight being the annual coast-to-coast Huron Carole Christmas tour.
As the CCMA's 2007 'Producer of the Year', and nine-time BCCMA 'Producer of the Year', some of McKillip's successful production credits appear on albums by multi-award-winning artists Lisa Brokop, One More Girl, and Aaron Pritchett (whose first two albums yielded an unprecedented, dozen top-ten hits).
For more than a decade Tom acted as M.D. of the CCMA's annually televised awards show. His involvement with that production had him handling pre-production activities, budgets, special musical arrangements and working closely with scores of musicians and artists including Michelle Wright, Paul Brandt, Jann Arden, Gord Bamford, Brett Kissel and Tom Cochrane – in the process, cementing Tom's reputation within the Canadian music industry as a skilled, versatile, and talented leader of large entertainment projects.
During the 2010 CCMA's, Tom teamed up with Juno award-winning producer Kevin Churko, CMT and the Canadian Forces Band to produce and film a video tribute to the Canadian Forces called "Standing Strong and True", which aired in November 2010 on CMT and has received over 7 million views to date on Facebook and YouTube. A writer on the song, Tom also coordinated the music production and filming of the entire project, which featured a large cast of notable country artists.
On the ninetieth anniversary of the Battle of Vimy Ridge in 2007, McKillip was brought on board as Music Director for the re-dedication of the Vimy Monument in France. The moving performance on the monument by the Canadian Forces Band – featuring Inuit artist Susan Aglukark OC – inspired Tom to develop a musical initiative to honor Canada's rich military history. In 2014 McKillip's company was awarded $1.2 million through a Canadian Heritage funding program, designed to commemorate Canadian military contributions. One of the project's centerpieces was the production of a documentary featured on CBC's The National, showcasing Ian Tyson performing his classic "Four Strong Winds" with a 40-piece military band and a poignant interview with Ian Hanomansing.
In 2018 Tom created a unique recording project in partnership with the CCMA Hall of Fame, Thompson Okanagan Tourism Association and Creative BC. 'Then and Now – Volume 1' is a compilation album of duets, pairing up iconic Hall of Fame inductees such as Ian Tyson, Sylvia Tyson, Russell deCarle and Murray McLauchlan with current country stars including Jess Moskaluke, Brett Kissel and Aaron Pritchett. The album was released at the 2018 CCMA's and plans are underway for 'Then and Now – Volume 2'.