Hope Decoded: Sparking New Connections and New Ideas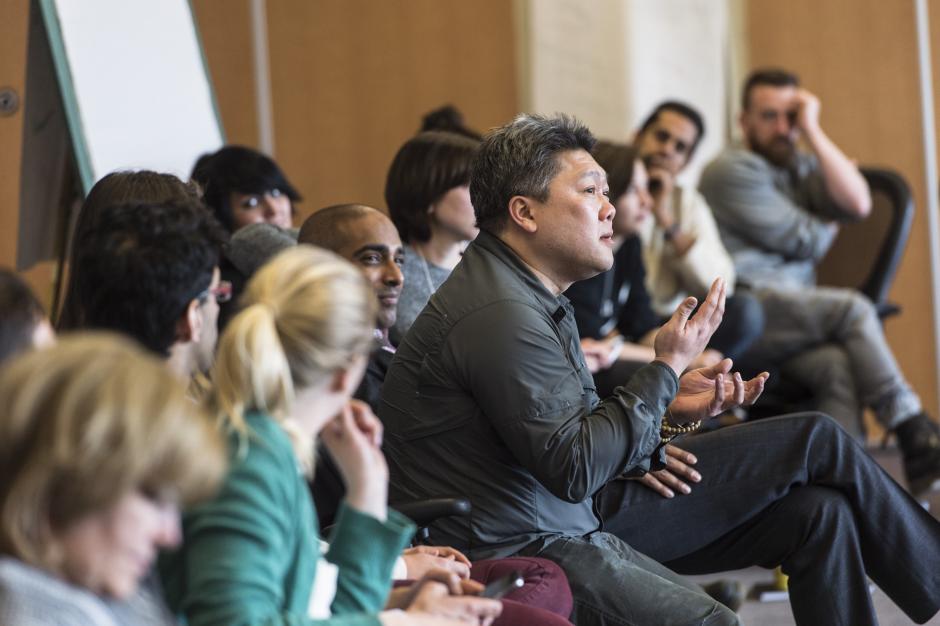 Why is tackling hopelessness important to you? This was a question posed to participants, faculty, and mentors prior to Hope Decoded, an intensive five-day residency that looked at fostering hope around some of the most complex societal issues of our time: income inequality, Indigenous rights, arts and culture, and the environment.
Rather than having a discussion rooted in theory, the conversation was framed around the work of four cause champions – The Winnipeg Boldness Project, Buddies in Bad Times Theatre, Homeward Trust Edmonton, and CoalitionWILD – organizations at the frontline of combating hopelessness. Thirty-five creative thinkers and leaders representing a diversity of knowledge, experience and background worked with these case studies over five days to develop new starting points and fresh ideas. 
"The goal of Hope Decoded isn't to solve hopelessness. No one person – or one group – has that capability. The motivator is to bring together disparate voices who normally would never interact with one another to engage in uncomfortable conversation that just might yield new thoughts on a debate often overlooked and viewed as nothing more than, well, hopeless," said faculty member Simon Jackson, founder of the Spirit Bear Youth Coalition.
Participants were asked to step away from preconceived notions and work to find new road maps that lead to hope by fostering two-way empathy, developing new approaches, creating new relationships, and working with real issues.  By assembling this group of unusual suspects, the hope was to allow ideas to come forward that can meaningfully change the way our society looks at hopelessness. Participants learned to identify their blinders, work alongside those with differing views and opinions, and collaboratively design new processes. It was an opportunity to celebrate and share best practices in grassroots innovation and allowed leaders, entrepreneurs and innovators from across sectors to make new connections.
"The challenges ahead of us do not fit neatly into one box or another. Progress will demand collective action. More than dialogue, we are committed to broad creative action that is democratic, inclusive, and celebratory," said Jerry McGrath, program director. "Opposed interests are not necessarily incompatible interests and our belief is that Hope Decoded demonstrates the power and joy in working across boundaries and in unexpected ways." 
The challenges ahead of us do not fit neatly into one box or another. Progress will demand collective action.
Jerry McGrath, director of creative and cultural services
Throughout the five days, nine group mentors – Dev Aujla, John Caffery, Catherine Etmansi, Matthew Huebert, Maggie MacDonald, Laura Nanni, Stephanie Markowitz, Andrew Taggart, and Charles Tsai – led thought-provoking sessions and served as either momentum or disruption facilitators. They offered tools to move dialogue forward, injected new ideas, and provided support when challenges were encountered. 
"As a person who lives with depression, creates outside the mainstream, and is mindful of the world around me, I see the potential hopelessness in many daily realities," said faculty member Jacob Zimmer, director and founder of Small Wooden Shoe. "My basic drive is to interrupt that potential by hosting spaces and times in which change can be introduced, proposed and demonstrated. To share approaches with as many people as possible and in as many ways as possible – this is my way to keep meaningful change at the center and hopelessness on the sidelines."
On the final day, the Hope Decoded Summit opened the doors to 150 influencers from across North America to hear the ideas and approaches generated during the residency, and continue the discussion about application across the sectors of society. This larger group included business executives, First Nations leaders, not-for-profits, elected officials, activist athletes, authors and speakers. This group was charged with helping to carry the conversation into the future by leading long-term social change initiatives that contribute to the well-being and resiliency of communities.
Contact Us
For questions, please contact:
Email:
leadership@banffcentre.ca

Phone:
1.888.255.6327
107 Tunnel Mountain Drive
Box 1020, Stn. 43
Banff, Alberta
T1L 1H5 Canada