'The Orenda' Author Joseph Boyden on the Vulnerability of Writers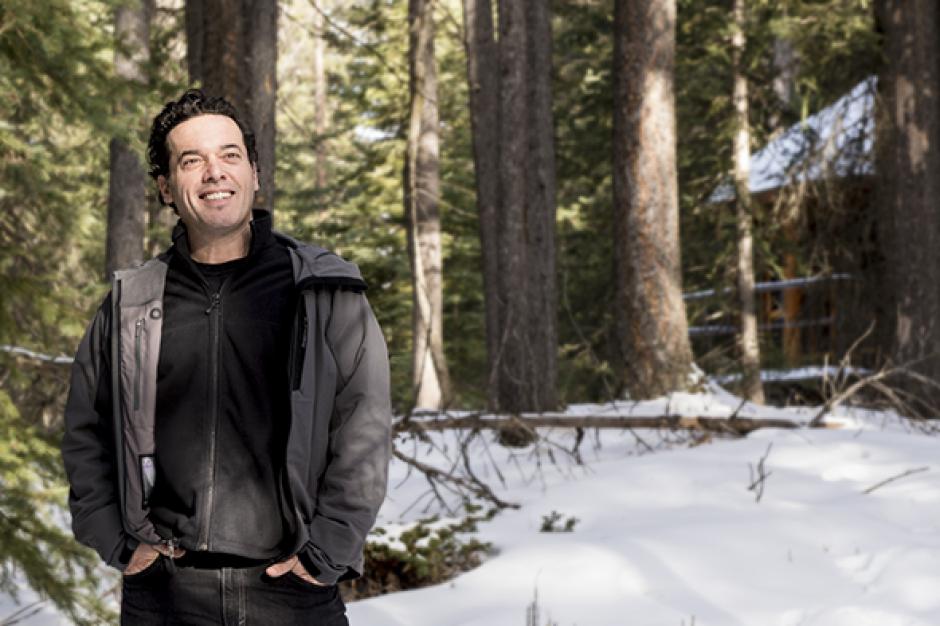 Author Joseph Boyden was at Banff Centre twice in 2013 — first working in the Leighton Artists' Colony on the final proofs for his novel, The Orenda, and then again as part of WordFest: Banff-Calgary International Writers Festival as the Banff Distinguished Author when he read from his novel and was interviewed by Canmore-based teacher Jeff Horvath. He was also at Banff Centre in September 2015 as part of Islands of Decolonial Love spoken word events.
To get warmed up, we asked him to answer a few questions from our Banff Questionnaire.
When was the last time you took a break from technology? Was it by choice?
I always get a much needed break from technology when I head to the James Bay lowlands to decompress with some dear friends from the area. No cell phones. No computers. Just the bush and hundreds of kilometres of natural beauty between me and the electrical world. We fish, we hunt, we talk around the fire. Perfect. Oh, and by the way, I haven't been up in a couple of months, but December is pencilled in.
When was the last time you improvised?
I'm doing it now, I think. Every time I sit down to write, I'm improvising to some very large degree. This is the great secret of a lot of writers. Most of the ones I know don't sit down with too stringent a game plan. Or if they do, it quickly changes as soon as their characters begin to act and speak.
Are you comfortable with vulnerability?
Only with someone I implicitly trust. But then again, I write books and stories and then ask strangers if they'd like to read them, strangers who will judge me, or laugh at me, or maybe like me, or maybe hate me, but who are strangers nonetheless. So, I guess I am comfortable with vulnerability.
What are the risks involved in what you do? How do you deal with them?
Now that my days of naked shark diving off the coast of South Africa with raw meat tied around my waist are over, I think my greatest risk is the one related to the vulnerability question. As a writer, I put myself out there, with the understanding that maybe I will write something that doesn't please enough, that I'm somehow failing in the job I feel I'm supposed to be doing. But to love and desire what you do, you must put yourself out there; you must expose your breast to the slings and arrows.
What do you do to test yourself?
Physically, I refuse to accept that to be in my mid-40s means the end of myself as a physical human being. Last time I was in Banff this last early spring, my old friend Michael Hannan asked me out skiing with him and his son. I was totally frightened as I'd only been skiing a couple of times before, but by the end of the day, I was noticed by a coach for the Canadian Olympic ski team and asked to join the squad. I had to turn her down as I had a novel to finish, but am excited about a new career after this writing gig comes to a stately end. 
In all seriousness, though, whether physically or mentally, you've got to accept the challenges head on in all their many forms. There's great medicine in that, in doing what you know you need to, despite the odds.
When you feel like turning around, what keeps you going?
My mum wanting me to do the right thing. Oh, and the compass I always carry.
Is the view from where you are, now, different than you thought it would be?
I'm pretty thrilled that I can write for a living, that people want to read my work. I'd always wanted to be two things: a teacher and a writer. I remain teaching because I find something good in it still. I sit on my back porch in gorgeous New Orleans in October at dusk, harassed by mosquitoes and think to myself, "Joseph, if you were in Ontario, there'd be no mosquitoes at dusk right now. But there very well could be snow."
And if on your journey you encountered a logbook in a hut in the woods, what message would you leave inside for future travelers?
"This is a sacred book. Please try not to use any pages to start a fire in the stove. On second thought, start that fire."