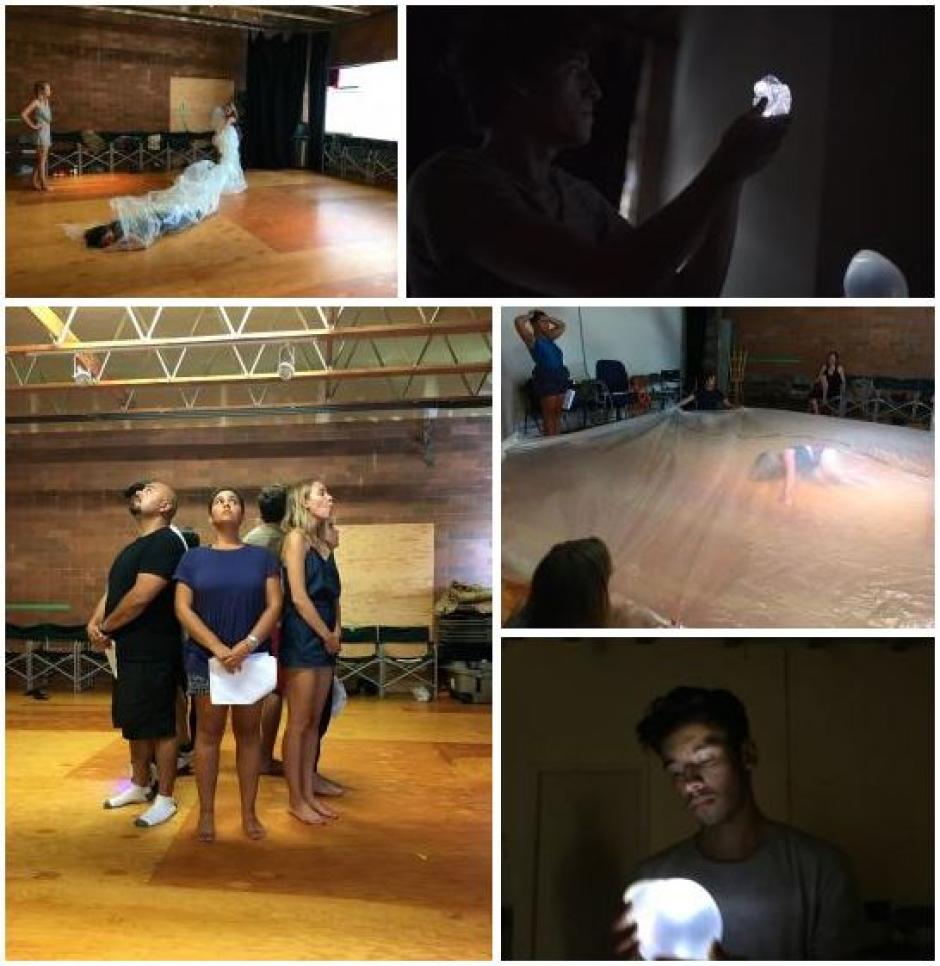 Banff Centre for Arts and Creativity and The Only Animal Theatre Society Present SLIME by Bryony Lavery.
This play is set in a fictional conference on marine extinction in which the audience will enjoy an immersive experience as "delegates" with animal delegates seated amongst them! 
SLIME is a work of sonic theatre about the impact of climate change on the 'great animal orchestra' - the biophony - in which we are immersed, and from which we have become dangerously disconnected by our infatuation with the sound of our own human voices.
Commissioned by the Banff Centre, and penned by Bryony Lavery, the acclaimed British playwright of Tony-nominated, Frozen, the play is set in a fictional conference on marine extinction. The audience are welcomed as conference delegates and seated amongst the animal delegates. You might hear an otter swimming down an aisle, a dolphin whistling at your elbow or a sea bird speaking over your shoulder: animals too have something to say. We meet seven young interns in their roles as animal translators and 'the adults' the scientists and suits.
We come together to face an absolute threat to life on earth—an insatiable creature taking over seas called SLIME. Like other forces in our 21st century lives, facebookslime or googleslime, SLIME moves with viral force, gobbling up all available resources. Humans enabled it, through depletion of the ecosystem, but nothing can stop it. This conference is the last hope for salvation for all life forms. Except SLIME.
The Only Animal's Kendra Fanconi says, "I first met SLIME at the Playwright's Lab in Banff as they were short an actor and I stepped in. At that point SLIME was only half-done, but I fell in love and every few months would write to Bryony and Ruth and ask if I could program it, when the Canadian rights ever became available… Bryony's work premieres at British Theatre institutions like the National in London and I knew it could be some time. Eventually, a need came up to bring designers in to experiment and the process of design-based dramaturgy is second-nature to The Only Animal. We became development partners, and with ongoing support through 5 years with the Banff Centre, a play was born. When they offered us the World Premiere of SLIME, we were, as the Brits say, 'chuffed'."
Slime Creative Team:
Directed by Kendra Fanconi
Written by Bryony Lavery
Dramaturgy by Ruth Little
Set, Prop and Puppet Design by Shizuka Kai
Sound Design by James Coomber
Lighting Design by William Hales
Animal Sound Librarian by Ira Jordison
Costume Design by April Viczko
Stage Managment by Anthony Liam Kearns*
Production Management by Colin Cooper
Performed by: Lisa Baran, Pedro Chamale, Teo Saefkow, Anais West, Eddy Van Wyk, Sophia Wolfe, and Mason Temple
Running time: 100 minutes
* "The participation of this Artist is arranged by permission of Canadian Actors' Equity Association under the provisions of the Dance-Opera-Theatre Policy (DOT)."
Developed with the support of Banff Playwrights Lab.
This play was commissioned by Banff Centre and penned by Bryony Lavery in an ongoing partnership with The Only Animal Theatre Society. Learn more here.