Community Exhibition at the Banff Public Library - Opening Reception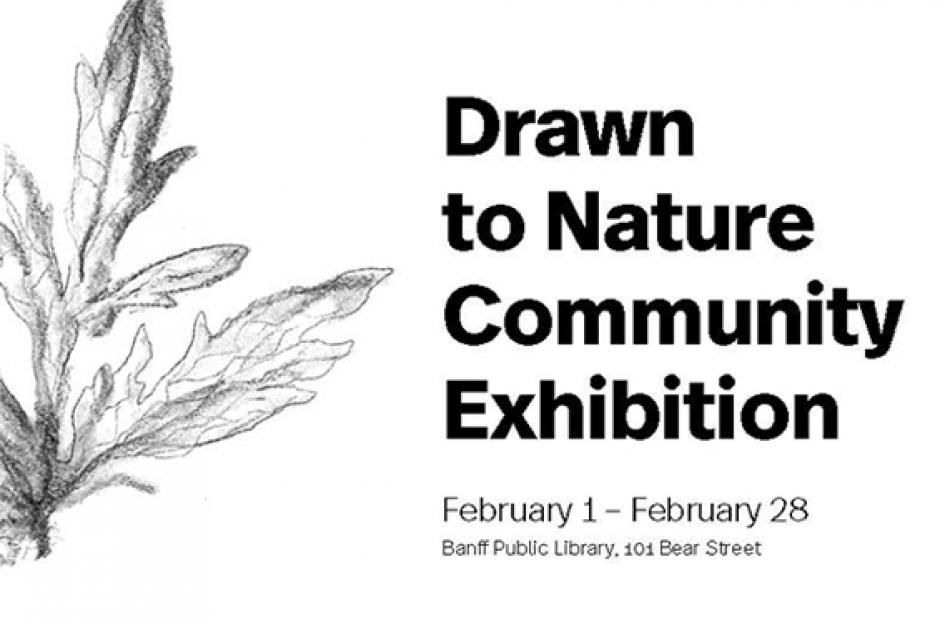 This community exhibition features work created by the participants of the 2019/2020 Drawn to Nature program, and located inside the Banff Public Library. This exhibition is free and open to the public and celebrates the work created in the ongoing series of free monthly classes for participants aged 14+ and all levels of art experience. These are organized collaboratively by Banff Centre for Arts & Creativity, Parks Canada, Banff Public Library, Town of Banff, and the Whyte Museum of the Canadian Rockies.
The exhibition runs from February 1 through to February 28, with an opening reception on Friday, February 14 from 4-6 p.m.
The program is led by Teaching Artist in Residence Janice Tanton Iniskim-Aki (Buffalo Stone Woman), who introduces participants to new observational and drawing skills while providing a platform for cultural learning.
Over 400 participants of all ages experienced various observational sketching techniques with graphite, charcoal, conté and more. The artwork for this exhibition offers a unique perspective on drawing as a tool for study, observation and documentation. The subjects of this exhibition focus on elements of the Bow Valley and elements from the collections of both the Banff Park Museum and the Whyte Museum of the Canadian Rockies. 
Banff Centre wishes to thank its generous partners in this series: Banff Park Museum, Cave and Basin National Historic Site, The Whyte Museum of the Canadian Rockies, the Town of Banff and Banff Public Library.
The classes are put on with support from the Alberta Foundation for the Arts and the Banff Canmore Community Foundation.
Click here For more information on Drawn to Nature and FAQ's.
Additional inquiries can be directed to Public Programs at Public_Programs@banffcentre.ca
With support from: