Radia, Abigail and Ria, Mixtape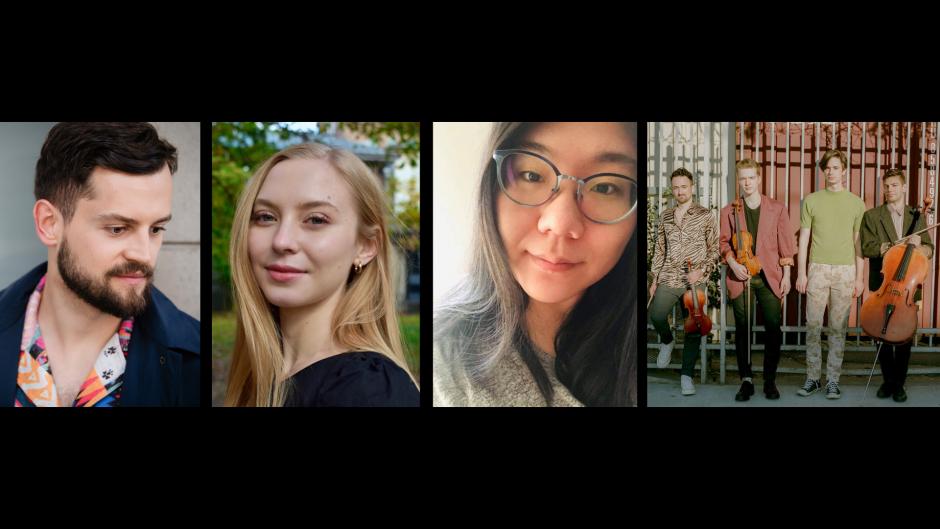 Join us for a free livestream concert featuring Banff Centre's Evolution: Classical program participants, including Radia, Abigail and Ria, and Mixtape –  all from the comfort of your own backyard lounge chair!  
 
(Approx. 2 hr 15 minutes total. No intermission)
Duration of each group below: Approximately 45 minutes 
Scroll down to the bottom of this page to see all biographies.
Program: Radia
Ryan Davis - Dreaming, After All
Ryan Davis - Blood Orange
J. S. Bach - Suite No. 4, BWV 1010, Allemande
Henri Vieuxtemps - Capriccio (Hommage à Paganini), Op. posth.
Ryan Davis - Tokyostep
J. S. Bach – Suite No. 4, BWV 1010, Courante, Bourée I et II
Daft Punk (arr. Ryan Davis) - Get Lucky
Ryan Davis - Colour You Like
Ryan Davis - Set A Fire In My Snow


Chromatophores, an exploration of colour and its changing nature, is presented by violist and composer-performer Radia (Ryan Davis). The chromatophore is the specialized cell that allows a chameleon to change its colour, much like the musical drive that propels Radia's blending of classical, folk, electronic, and hip-hop sounds. This performance curation underlines today's plurality of taste and access--juxtaposing Radia's original compositions for viola and electronics, unaccompanied Bach, a cover of Daft Punk, and more. Inspired by the chameleon's seamless yet vibrant transformations in hue, Chromatophores will craft a performance journey of atypical sonority, sure to be rich in adventure. 
Program: Abigail and Ria
Feminine Endings
Lili Boulanger - Elle était descendue au bas de la prairie (from Clairières dans le ciel)
G.F. Handel - Tornami a vagheggiar (from Alcina)
Nobu Uematsu - Terra's Theme
Cecilia Livingston - Kalypso 
Vivian Kwok - Venus (Text by Yi Nuo Cheng)
G.F. Handel - Credete al mio dolore (from Alcina)
Hiromi Uehara - The Tom and Jerry Show
Justine F. Chen - V. Tereus Chases The Sisters (from Philomel)
"The Heroine" and her depiction through music have been constantly evolving topics since the birth of the musical drama. While "The Hero's Journey" often requires a divine quest and a show of great physical force, it is The Heroine's Journey -- an imperfect one of vulnerability, transformation and internal strength -- that most keenly resonates today. Myths of ancient goddesses, queens and witches are continually reinvented and recontextualized through the voices and lived experiences of contemporary female composers, poets and performers. This program is about their stories; spanning almost 300 years of art music for voice and piano, to depict the continual evolution of the modern Heroine.
Program: Mixtape
Radiohead - Present Tense
Flying Lotus - Do the Astral Plane
Juan-Salvador Carrasco - Goddess Gardens
Kala Ramnath - Aalap and Tarana
McCoy Tyner - Horizon
Astor Piazzolla/Andrew Lloyd Weber - Astor Piazzolla Superstar
Tame Impala/Evil Needle/Heitor Villa-Lobos - Let It Hakunetsu
Mixtape - Astoria
Aaron Copland / Daniel Caesar - Best Part of Appalachian Spring
*all music arr. by Mixtape
In Mixtape fashion, the music of our show shifts continuously through arrangements, samples, or allusions to the work of an incredible variety of artists. Journey with us as we leave our physical forms and enter realms inhabited by musical spirits from all times and space.
With support from: 

Radia - In partnership with Array Music and National Arts Centre
Abigail and Ria - In partnership with Scotia Festival Music Room and National Arts Centre



Like what you see? 
Show your support for the Evolution: Quartet and Evolution: Classical programs at Banff Centre by donating generously to the Artists' Fund.
Biographies
Radia
Ryan Davis is an innovative composer-performer under the moniker Radia, combining inspiration of classical, folk, electronic, and hip-hop music with a loop pedal. His compositions have been featured in diverse spaces and communities, including in Toronto's Koerner Hall, The Violin Channel, in Los Angeles's Skid Row, and on ABC Channel 7 News LA. He has worked closely with Street Symphony in Los Angeles, a music and community-building initiative in spaces disenfranchised by homelessness, poverty, and incarceration. Ryan founded The Upnote podcast with trombonist Jared Dickerson and violinist Simone Porter in 2018. They were grand prize winners of the 2019 New Venture Competition, and were selected as the inaugural Entrepreneurs in Residence at The Colburn School for the 2019 - 2020 academic year.
In 2014, Ryan completed a Bachelor of Music with "Outstanding Achievement in Viola" at McGill University as a scholarship student of Andre Roy. He graduated as a Master of Music at the Yale School of Music in 2016 as a student of Ettore Causa, and in 2019 received an Artist Diploma from The Colburn School under the tutelage of Paul Coletti. In 2019, he was chosen as the first ever violist in the Rebanks Family Fellowship & International Performance Residency Program in Toronto.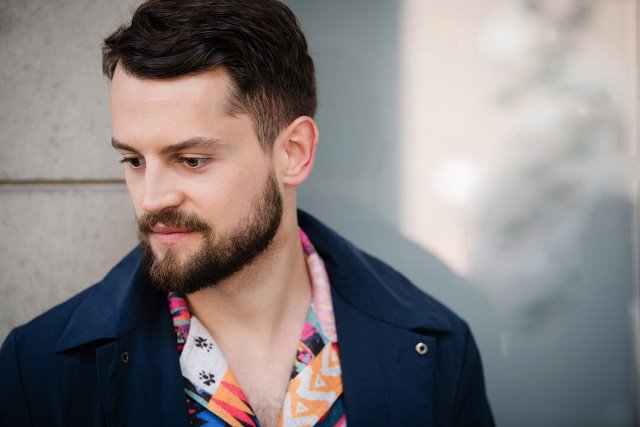 Abigail and Ria
Abigail Sinclair, soprano
Ria Kim, piano
Collaborative pianist Ria Kim and soprano Abigail Sinclair began their partnership in 2018, performing in a recital at the Maritime Conservatory of Performing Arts in Halifax. In 2019 they worked together again in a fully staged production of Handel's Alcina, as part of the Halifax Summer Opera Festival. Since then, the two have performed together in masterclasses for some of North America's foremost opera singers and vocal clinicians, including Christine Goerke and Julia Faulkner. Last March saw them featured in a presentation of "Five lyrics of the T'ang Dynasty" by Canadian composer John Beckwith as part of an online concert commemorating his career. This Summer they will join forces again for Feminine Endings as part of the Banff Centre's Evolution Classical program. Ria is a graduate of the Fountain School of Performing Arts and the Manhattan School of Music, while Abigail is a current student at the University of Toronto Faculty of Music.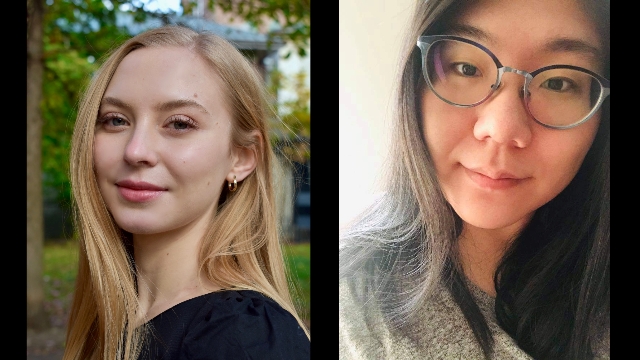 Mixtape
Michael Siess, violin
Juan-Salvador Carrasco, cello
Misha Vayman, violin
Nathan Ben-Yehuda, piano
Mixtape is a genre-bending band composed of two violinists, a cellist, and a pianist/keyboardist. We take inspiration from how friends once shared music by handcrafting personalized cassettes. Accordingly, we arrange and mash up our favorite moments in music and weave them together into seamless concert curations.
We have produced concerts at rooftops, jazz clubs, driveways, movie theaters, and meditation centers. We have also lent music to film soundtracks, animated shorts, electronic producers, and podcasts. Mixtape celebrates the richness of a multicultural world, while underscoring the inherent interconnectivity of people across generations and cultures.