The Debaters Live Christmas Special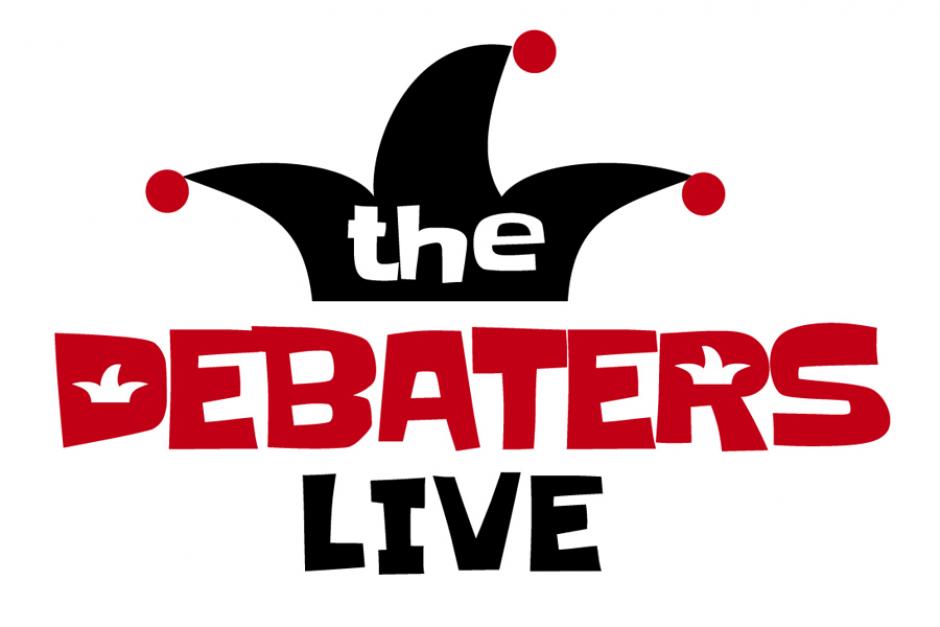 The Debaters Live is the comedy stage show where comics go toe-to-toe in a battle of laughs and logic and the audience picks the winner.
After a sold out show last year, The Debaters is back with this special Christmas-themed event that features host Steve Patterson and two of his favourite comics performing stand-up, and two hilarious debates focused on the holiday season.
These shows aren't recorded so your only chance to catch the hilarity is LIVE!
In Banff the debates will be...
Which furry festive creature is superior - Easter Bunny or Santa Claus?
Kate says, "Santa's presents pack more punch." Dave says, "The bunny doesn't judge."
Is pregnancy (immaculate or otherwise) harder on the father?
Dave says, "Like all dads, Joseph had it tougher." Kate thinks a swift kick in the sugar plums will help Dave come to his frankin-senses.
This show features performances from...
Steve Patterson
Steve Patterson has been a professional headliner since 1997 and has taped numerous national television specials in the past decade including four Just For Laughs galas. His performance in 2010 earned him a Gemini nomination and caused host Steve Martin afterwards to exclaim "If I'd have known he was going to be THAT good, I would have cancelled him." Following that performance, Patterson was twice named Best Male Stand-up Comedian at the Canadian Comedy Awards and has been nominated for Canadian Screen Awards as Host on HGTV's I Wrecked My House and The Great Canadian Screen Test.
Steve's nationally toured theatre show entitled This is Not Debatable is available on iTunes and his Book of Letters I Didn't Know Where to Send is in bookstores across Canada. Steve latest role is as a budding producer with his show The Smartass-ociates, making smart people funnier and funny people smarter. Visit stevepatterson.ca for more details.
Kate Davis
Kate Davis' comedy career started as a need to get out of her house. So one night after putting the kids to sleep she ventured into a local comedy club and never looked back! Now, Kate has headlined across  Canada, Europe and starred in her own hour-long comedy special on CTV and the Comedy Network.  Kate was a finalist in respected comedy competitions including, Toronto's  "Last Comic Standing" and NBC's "Stand up for Diversity" and is a twelve-time nominee at the Canadian Comedy Awards for Best Female Standup and the prestigious Phil Hartman Award.  She is a sought after corporate comic and has hosted several high profile events including conferences with for the former President Bill Clinton and Barbara Walters. She has also proven that funny can raise money and does many charity events for organizations that help teens and kids.
Dave Hemstad
Dave Hemstad is a three-time Canadian Comedy Award nominee who began performing on national television in 2002. In addition to his own half-hour Comedy Now Special on CTV and his Gala appearance at Montreal'sJust For Laughs festival, he has taped appearances for both the Halifax and Winnipeg Comedy Festivals for CBC. Dave has many acting credits to his name including having starred in the Showcase comedy series Almost Heroes. Dave is currently a regular on CBC's smash hit The Debaters for both television and radio. In addition to his numerous international appearances, Dave is proud to have performed in every province AND territory in Canada.
Some language may be inappropriate for younger audiences.