Please note, this program will be taking a brief hiatus until 2021. Sign up for our Leadership newsletter at banffcentre.ca/emails to stay up to date.
Program Information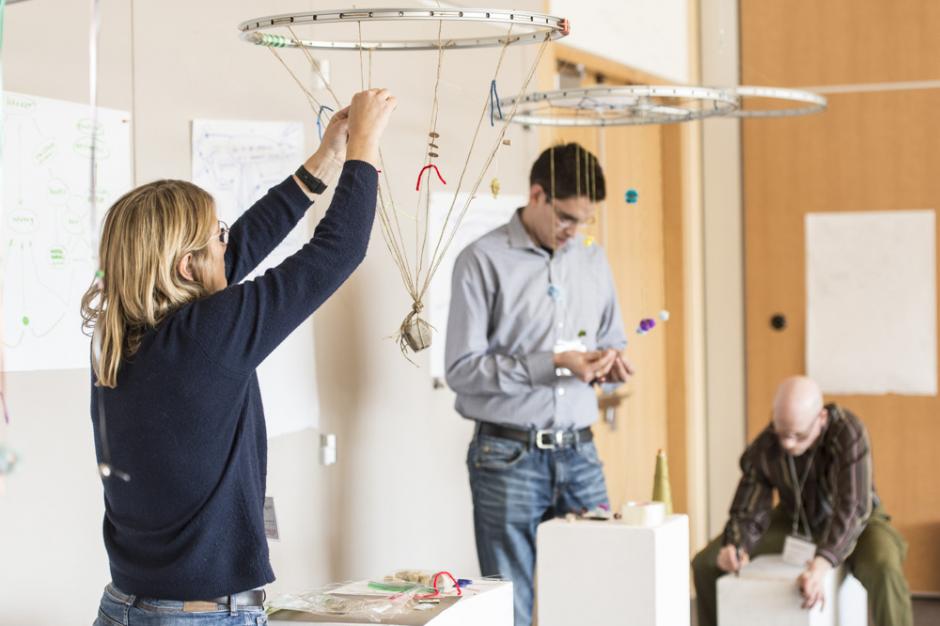 Overview
"Contextual intelligence requires moving far beyond an analysis of institutional context into areas as diverse as intellectual property rights, aesthetic preferences, attitudes toward power, beliefs about the free market, and even religious differences. The most difficult work is often the "soft" work of adjusting mental models, learning to differentiate between universal principles and their specific embodiments, and being open to new ideas."
 – Tarun Khanna, Harvard Business Review 
Context matters. Today's leaders operate in increasingly dynamic environments and face a wide range of complex external realities. The success of our programs, projects, and plans so often depends on our ability to read the wider field and anticipate contextual roadblocks. Cultivating this ability gives us deeper insight into the present and the direction it is heading, as well as confidence to sense emerging possibilities. Contextual intelligence – the capacity to see multiple dimensions of our external reality and shape our initiatives accordingly – has never been more important. 
This program draws on the best new-paradigm thinking and practice in strategic planning, systems and complexity theory, and cultural analysis to enable participants to read big picture trends and immediate operating contexts, and leverage them for greater, more durable impact over time. Participants gain awareness of how mental models, often unconscious or unarticulated, can prevent us seeing and being nimble in our response to what is really going on. Whatever the field or sector, whether the focus is a strategic planning process, a communication campaign, or launch of a new product or service, this program will help build the contextual intelligence required to succeed. 
What does the program offer?
This program offers a comprehensive introduction to the foundations of contextual intelligence as a leadership capacity. Bringing together a diverse group of participants from a range of fields and sectors, the program focuses on applied learning through workshops, seminars, case study analysis, small group work, and reflective practice. It provides participants with the mindsets, methods, and tools to (a) understand the nature and power of contextual intelligence; (b) cultivate contextual intelligence in themselves and others; and (c) apply newly gained aptitudes to real-world situations. 
This program is designed to enable participants to apply their learning to a specific initiative (e.g. a strategic plan for their organization, program, or project), and immediately add value to their work interests and settings. 
Who should register?
This program is ideal for anyone interested in creating real value in their work, reconnecting with deep vocational purpose, and retooling for 21st century contextual realities. 
Participants should: 
Have some demonstrated experience in their field of vocational practice
Have an ability to recognize opportunities, and design and implement solutions
Be actively pursuing or considering new opportunities to create impact in their work (e.g. new roles or projects) in light of wider trends and environmental realities 
Want to learn more effective strategies for collaborating with a diverse range of stakeholders and improving value chains for more effective and durable outcomes
Be willing to take risks, reimagine possibilities, and be curious and eager to learn
Approach work and relationships with a spirit of sharing and generosity
Desire to foster a reflective practice that takes context seriously 
 
About Banff Centre Leadership Programs
Banff Centre Leadership programs integrate the power of the arts, the wisdom of Indigenous practice, and the extraordinary beauty of Banff National Park to prepare and empower the next generation of leaders.
Programs help participants bring creative and reflective approaches to a rapidly changing world, and connect leaders with others who share their commitment to positive change in Indigenous communities, businesses, non-profit organizations, cultural institutions, and government.
What's Included
All Leadership participants who choose the Accommodation and Meal Package are provided private rooms with ensuite washrooms in one of our two onsite hotels, the Professional Development Centre or Lloyd Hall. Room upgrades may be available upon request at an additional cost.
All of your meals from the start to the end of your program are included; most of your meals will be at Vistas Dining Room, but there may be some special dining events scheduled as well. Please also feel free to visit the Maclab Bistro, Le Café, Three Ravens Restaurant and Wine Bar, but note that these outlets are not included in your meal plan, and thus will be at additional cost.
The Sally Borden Fitness and Recreation Centre is located in the lower floor of the Sally Borden Building, and provides all guests with access to our swimming pool, hot tub, steam room, climbing gym, fitness centre, spin studio, and gymnasium. Massage and physiotherapy appointments may also be booked ahead of time.
Enjoy free parking, wifi, and access to the Walter Phillips Gallery while you are a guest at Banff Centre. Our Participant Resources team is also available to assist you with medical support or event information. See our Events Calendar to learn more about what's going on at Banff Centre while you're onsite.
Fees & Financial Assistance
Additional nights' accommodation may be available; please contact us for details.
The above fees do not include applicable taxes, such as GST, the Alberta Tourism Levy, and the Tourism Improvement Fee as needed.
Group Savings
Enroll four members of your organization or community in a program and your fifth member will receive a free tuition. Special restrictions may apply.
Financial Assistance
Financial Assistance may be available to subsidize some of the costs to attend your program. We encourage you to apply for funding if your attendance is dependent on financial support. Over two thirds of our program participants receive funding. Canada Council Travel Grants and Canada-Alberta Job Grants (or provincial job grants) are also an option to apply for to support your attendance.
View funding opportunities here.
Call our toll-free number for more details at 1.888.255.6327
How to Apply
All programs, faculty, dates, fees, and offers of financial assistance are subject to change. Program fee is subject to applicable taxes. Non-refundable fees and deposits will be retained upon cancellation. Any other fees are refunded at the discretion of the Banff Centre.
Banff Centre reserves the right to cancel a program up to seven days prior to program start date if there is insufficient enrolment. All fees will be refunded. Please note that Banff Centre is not liable for any personal/travel expenses incurred.
Please note, our programs are filled on a first come, first served basis. Please register early to secure a confirmation on your spot. 
Contact us

For more information please contact: