On-Campus Programs between January and March 2021 will be either canceled or shifted online. Participants who applied to in-person programs will be contacted directly. Programming that had been planned for online delivery will continue as anticipated.
---
To hear about upcoming online programs, subscribe to our mailing list.  We are pleased to roll out our new student system and application experience. If you have any questions or feedback, please contact admissions@banffcentre.ca.
Program Information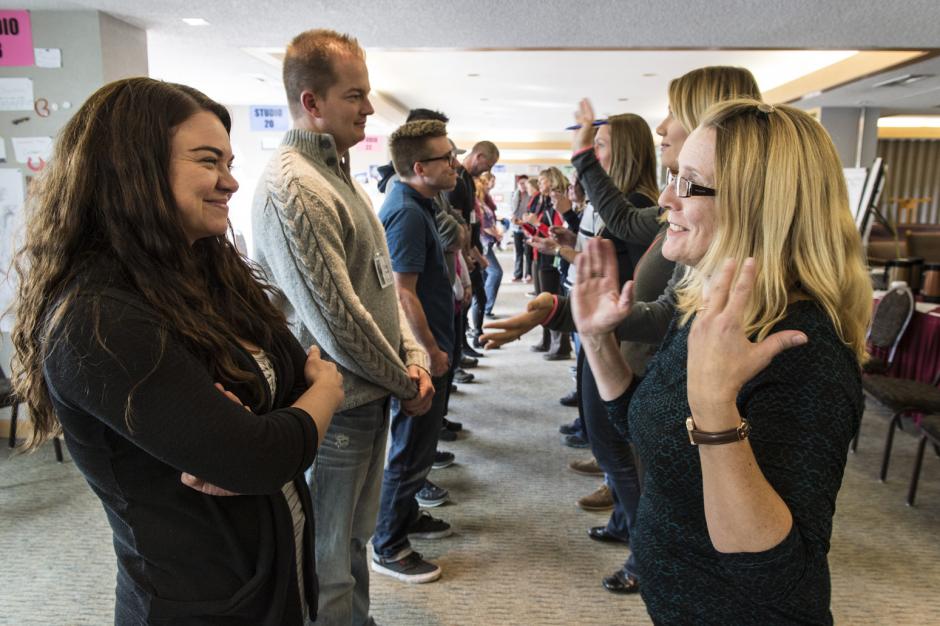 Overview
Leaders in the middle space of an organization hold significant influence and face unique and complex challenges. Middle leaders implement policy, lead change, champion communication, and pull teams together, and may do so without clear authority or recognition, often leading people who used to be their peers. 
Leading in the Middle explores the strengths, behaviours, and integrative thinking necessary to courageously take leadership action. Participants will be immersed in leadership development alongside others in similar roles, exploring and sharing best practices in the middle space in creative and challenging ways. 
This experience-based program will help develop the foundational middle leader's skill of influence, and help participants see how that strength emerges from four other essential capacities: risk-taking as a path to challenge yourself and your team; knowing your role in the heart of your business; the delicate art of facilitation; and cultivating dynamic networks. 
What does the program offer?
Participants will expand their ability to influence others by improving communication, facilitation, and management skills. The program will increase participants' confidence in their communication and facilitation skills, and build capacity and accountability in themselves and others. Participants will learn to build strategic awareness and ethical management into business decisions, and will develop strategies to manage relationships up, down, and across an organization. 
Participants will also learn to engage proactively with personal and organizational changes, and seek out various resources / networks to build ongoing development routines; this includes connecting with a network of peers who can share concerns and insights, both during the program and after it ends.
In addition, the program will offer:
Experiential learning activities led by expert facilitators and personal coaching that directly addresses each participant's unique leadership concerns
Strength Deployment Inventory to explore motivational value and conflict style
360 Personal Assessment tool customized for those leading in the middle
Outdoor Challenge Workplace Simulation
A creative communication project designed to help participants understand the role of storytelling in leadership
Design Studio process to enhance creative thinking and reflection
Dynamic resource and learning materials — contemporary articles, podcasts, and videos
Post-program coaching with a certified coach available for an additional fee (please inquire)
 
Who should register?
This program is an ideal fit for leaders with direct or indirect responsibility for their colleagues' contributions. Individuals who manage key relationships on a daily basis within any private, public, or not-for-profit organization are encouraged to register. Participants should have a desire to improve their overall leadership performance.
What's Included
All Leadership participants who choose the Accommodation and Meal Package are provided private rooms with ensuite washrooms in one of our two onsite hotels, the Professional Development Centre or Lloyd Hall. Room upgrades may be available upon request at an additional cost.
All of your meals from the start to the end of your program are included; most of your meals will be at Vistas Dining Room, but there may be some special dining events scheduled as well. Please also feel free to visit the Maclab Bistro, Le Café, Three Ravens Restaurant and Wine Bar, but note that these outlets are not included in your meal plan, and thus will be at additional cost.
Enjoy free parking, wifi, and access to the Walter Philips Gallery while you are a guest at Banff Centre. Our Participant Resources team is also available to assist you with medical support or event information. See our Events Calendar to learn more about what's going on at Banff Centre while you're onsite.
The Sally Borden Fitness and Recreation Centre is located in the lower floor of the Sally Borden Building, and provides all guests with access to our swimming pool, hot tub, steam room, climbing gym, fitness centre, spin studio, and gymnasium. Massage and physiotherapy appointments may also be booked ahead of time.
Fees & Financial Assistance
The above fees do not include applicable taxes, such as GST, the Alberta Tourism Levy, and the Tourism Improvement Fee as needed.
Group Savings
Enroll four members of your organization or community in a program and your fifth member will receive a free tuition. Special restrictions may apply. 

Post-Program Coaching
Post-Program Coaching with a certified coach is available for this program for an additional fee.
How to Apply
Banff Centre reserves the right to cancel a program up to seven days prior to program start date if there is insufficient enrolment. All fees will be refunded. Please note that Banff Centre is not liable for any personal/travel expenses incurred.
Please note, our programs are filled on a first come, first served basis. Please register early to secure a confirmation on your spot. 
All programs, faculty, dates, fees, and offers of financial assistance are subject to change. Program fee is subject to applicable taxes. Non-refundable fees and deposits will be retained upon cancellation. Any other fees are refunded at the discretion of the Banff Centre. The application deadline is 11:59 p.m. Mountain Standard Time.
Contact us

For more information please contact: