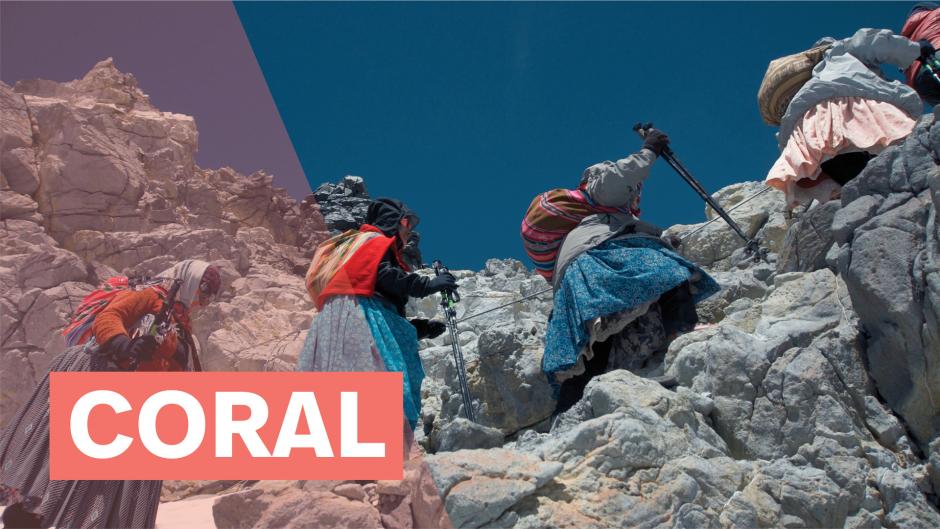 2020/21 Virtual World Tour 

–

 Coral Program
Use the film listings below to explore information on all the films within the program. 
Film Program Length: Approximately 2 hours. 

The program costs $18.50 CAD / $15 USD, and has a 3-day rental period.

The rental period begins immediately upon viewing (as soon as you press play). 

You will need to have an internet or wifi connection to view the films, as they are available only through online streaming (not download). Note: The only way to view the programs offline is via the Festival app, after the initial online purchase.

If you have technical questions, check out the Help Centre for more information.
---
Support your local tour host by viewing the online programs through their unique link, and they will receive a portion of the revenue! Check-in with your local tour host for more details on their link and find your host here: (USA/Canada).
48 days of adventure, 250 kilometres of ski touring, 3800 metres of ascent up Mt. Logan, a first descent down the East Ridge and a 400 kilometre river trip back to the sea. Fully unsupported, Helias Millerioux, Alexandre Marchesseau, and Thomas Delfino redefine what it means to take a long journey.
Five Indigenous Bolivian women embark on a unique expedition as a symbol of liberation and empowerment. Their goal? The highest peak in the Americas, Aconcagua.
Director:
Pablo Iraburu , Jaime Murciego
Production Company:
Arena Comunicación Audiovisual
PATHFINDER - Life beyond fear
Pathfinder follows six world-class slackliners on a mission deep in the Norwegian mountains and their attempt at something that's never been seen before: Walking a highline, elevated in the vastness between two colossal cliffs, illuminated only by the mystical northern lights.
10,000 Bolts is a short film about Toni Arbones, a professional rock climber and route bolter who, over the course of 30 years, has single-handedly turned Siurana, Spain into one of the most popular rock climbing areas in all of Europe. Bolting is an often overlooked process, integral to climbing and considered by climbers to be a unique art form. It is a craft that Toni has dedicated his life to perfecting.
Director:
Ashley Benzwie, Alex Levin, Duncan Sullivan
Producer:
Alex Levin, Trevor Martin, Duncan Sullivan
K2: The Impossible Descent (Tour Edit)
K2, the 'Savage Mountain', holds a mythical place in the hearts of climbers around the world- 1 in 4 do not return from it. On July 22, 2018, Polish ski-mountaineer Andrzej Bargiel makes 'the impossible descent' from its summit. He does it solo, and without supplemental oxygen. The mountaineering community are stunned and mainstream press take notice. In this 24-minute cut – exclusive to the Banff tour – join Andrzej across knife-edge ridges, above 1000m cliffs and down 75 degree slopes in a nail-biting solo ski world first.
Producer:
Tom Fish, Sławomir Richert, Michal Zamencki