Toward. Some. Air.
Subtitle:
Remarks on Poetics of Mad Affect, Militancy, Feminism, Demotic Rhythms, Emptying, Intervention, Reluctance, Indigeneity, Immediacy, Lyric Conceptualism, Commons, Pastoral Margins, Desire, Ambivalence, Disability, The Digital, and Other Practices
Summary:
Toward. Some. Air. is a landmark collection of profiles of contemporary poets, statements, essays, conversations about contemporary poetry and poetic practice, and a few exemplary poems selected by up-and-coming poet and scholar Amy De'Ath and Governor General's Award-winning, former Parliamentary Poet Laureate Fred Wah. The over 40 contributors to this anthology are renowned poets and academics from Canada, the United States, and the United Kingdom.
Toward. Some. Air. is an open invitation to consider the various contours and meanings of Anglophone poetic practice, as a way of interpreting the world around us. An invaluable critical resource with unprecedented scope, this is a book that speaks to the future of contemporary poetics and writing poetry.
Description:
Contributors: Caroline Bergvall, Anne Boyer, Sean Bonney & Steve Collis, Andrea Brady, Dionne Brand, Nicole Brossard, Louis Cabri, JR Carpenter, cris cheek, CA Conrad, Maria Damon, Amy De'Ath, Jeff Derksen, Liz Howard, Peter Jaeger, Reg Johanson, Justin Katko & Jow Lindsay, Larissa  Lai, Peter Manson, Roy Miki, Nicole Markotic & Michael Davidson, Daphne Marlatt, Fred Moten, Eileen Myles, Hoa Nguyen, Sina Queyras, Lisa Robertson, Steven Ross Smith, Kaia Sand, Dale Smith, Christine Stewart, Keston Sutherland, Keith Tuma, Catherine Wagner, Fred Wah, Darren Wershler, Rita Wong & Kateri Akiwenxie-Damm, Rachel Zolf, David Jhave Johnston, Rita Wong. 
Cover Image: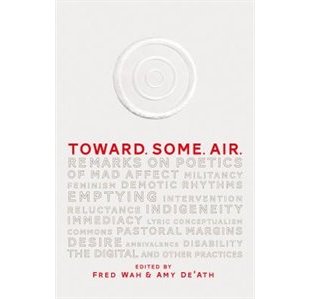 Quotes:
Quotation
"Much of this formidable volume will set hackles rising, some of it will smooth hackles and render them fur again – post-anthropocene, animal, and freely passioned.  All of it will, hopefully, foment revolution. As the title suggests, the revolution will unfold incrementally – directions must be chosen, footsteps must be taken and then hasten, and the prospect for now only hovers on the horizon. But here are the voices of invitation. These may be last poets, but they are also first. Read this book freely and frequently and stay alert."                     
Quotation
"This is a major work of thinking in poetry, using poetry's mechanisms alongside the pull of discourse, extending the multiple reaches of poetic practice. Its nodes are rich: a plurality of digital voices, the creative use of linguistics, topologies of listening, polylingualism, "exception" syntax, "meddled" English, and more. The book is not justification, but tool. Open and read where it grabs you, make it your own map and gyroscope, your book of recipes for utopia, which is to say: poems."
Publication Date:
Wednesday, April 15, 2015