Indigenous Arts Creation Lab - Spring 2022
Indigenous Arts | In Person
Program Information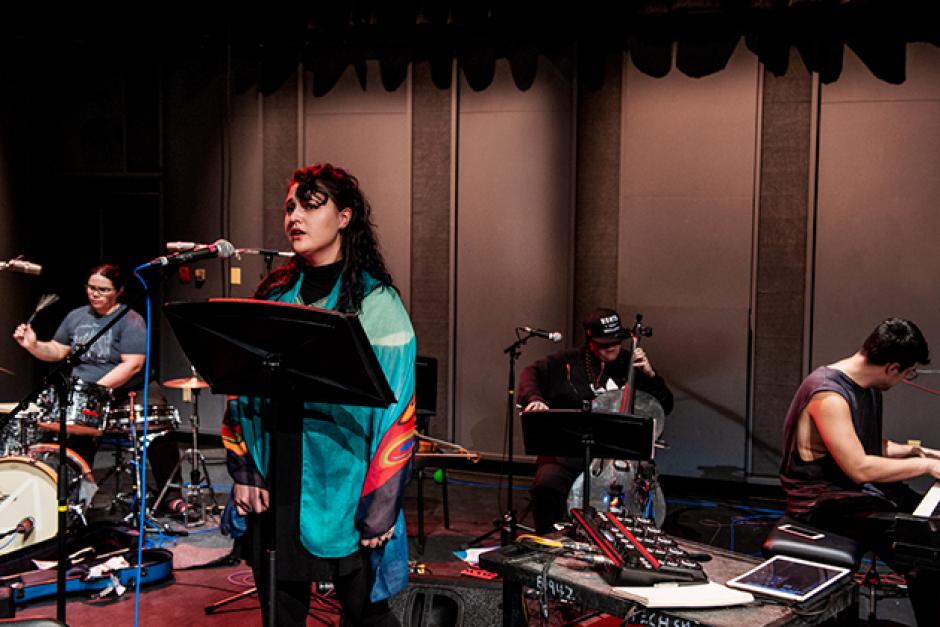 Overview
In Partnership with Performing Arts, Indigenous Arts Creation Lab residencies are designed for Indigenous Performing Arts artists, collectives or companies with a regional, national and global focus to develop the physical creation phase of their new work on the territory of Sacred Buffalo Guardian Mountain. The focus of these self-directed residencies is to offer contemplative and creative exploration in performance spaces. This can include experimentation with choreography, improvisations and sight specific areas. Collaborations with Indigenous artists outside of similar accessibility will also be considered. 
In a collegial campus atmosphere of like-minded artists working in and across a range of disciplines, artists are encouraged this season to propose self-sufficient projects that require no in-studio technical labour or equipment support from Banff Centre staff beyond essential room set-up. Companies are encouraged to travel with all personnel required to handle the work.
A limited number of on-stage technical residencies with local crew support are available.
Artists may apply to reside for one, two or three weeks, and may indicate their preferred dates. Demand is typically high for this residency, and therefore the ability to consider three-week visits, particularly for larger companies, is limited.
What does the program offer?
As a post-secondary learning environment, Banff Centre offers artists a generous, retreat-style space to experiment and take risk with new work in development. Artists can choose to take advantage of feedback from other members of the community on campus, or shut out distraction and create in solitude. All phases of work in progress are welcome, and there is no expected output from the residency.
This residency offers a range of workspaces and facilities depending on participants' needs and availability, typically in Banff Centre's Music & Sound Building, the Performing Arts and Learning Complex, and/or the Kinnear Centre for Creativity & innovation. 
Banff Centre provides limited production support for these residencies. Additional technical support may be negotiated when possible. Covid-19 protocols are expected to evolve throughout the season.
Who should apply?
We invite applications from Indigenous performing artists and arts companies (regionally, nationally, and globally), from a variety of disciplines. This may include Indigenous dancers, theatre makers, circus and clowns, provocateurs, disrupters, advocates pushing the boundaries of their artistic practice, experienced artists, Indigenous artists that serve their community and their collaborators in all performing arts disciplines. We accept project proposals from individual artists, artistic collectives, and companies of all sizes and at all stages of career. Artists with projects that are at various stages of development are encouraged to apply - whether at the conceptual, creation, development, refinement, or redevelopment stage of a new work.
Shorter residencies may be available. Please inquire for details.
For full details on vaccination requirements, masking, safety protocols, and COVID related policies please visit: www.banffcentre.ca/covid-19-measures   
Itinerary
All performing arts residencies must begin on a Monday and last for a minimum of one week to the maximum of length of the program.
Artists wishing to apply for other Banff Centre Performing Arts Residency dates must indicate their preferences at step 3 of the application process. 
What's Included
Your program fee includes a single bedroom on the Banff Centre campus for the duration of your program.
Get connected with other artists on campus and focus on your projects in a creative environment while we take care of the day-to-day essentials.
Using a credit-based system to dine on campus, our flexible meal plans allow you to select meals according to your own needs during your stay.
The Full Flex meal plan includes a credit per day, equivalent to breakfast, lunch and dinner in Vistas Dining Room.
Fees & Financial Assistance
Application fee: $65 for individuals or groups ($35 for applicants who identify as Indigenous). Individual group members must pay an additional registration fee of $35 on acceptance.
*Financial Aid of 100% is available to cover all program costs thanks to the SLAIGHT Foundation
Fees will vary based upon desired dates. Please indicate preferred dates (within the program dates available) at step 3 of the application process.
If you would like to be considered, please complete the Financial Aid section when uploading your supporting materials. 
Banff Centre will issue official tax receipts for eligible tuition fees and financial assistance and awards as required by the Income Tax Act. You will receive a T2202 (Tuition and Enrolment Certificate) for eligible tuition fees paid and a T4A (Statement of Pension, Retirement, Annuity, and Other Income) for applicable financial assistance and awards.
Help fund your experience at Banff Centre. View a compiled list of national and international opportunities here.
How to Apply
Group applications: the group leader must complete a single application and upload supporting materials on behalf of the whole group.
Additional Information:
If you are applying as an individual, you must complete both the online application form (including $65/$35 processing fee) and a SlideRoom application.
If you are applying as an ensemble, the ensemble leader must complete both the online application form (including $65/$35 processing fee) and a SlideRoom application. Please submit only one SlideRoom application per group. There will be a $35 registration fee of each member upon acceptance to the program.
Adjudication
Adjudication is based on artistic merit, the potential impact of the program on artists' practice and careers, project feasibility and the capacity of Banff Centre to help realize the project, and the project's fit with Banff Centre's values and strategic directions as described in its strategic plan. Adjudication is carried out by impartial disciplinary experts on the basis of applicants' submitted material. Banff Centre respects the need for artists to plan ahead for their visit; applicants will be notified as soon as adjudication is complete.
All programs, faculty, dates, fees, and offers of financial assistance are subject to change. Program fee is subject to applicable taxes. Non-refundable fees and deposits will be retained upon cancellation. Any other fees are refunded at the discretion of the Banff Centre. The application deadline is 11:59 p.m. Mountain Standard Time.