Adventure Filmmakers Masterclass
Program Information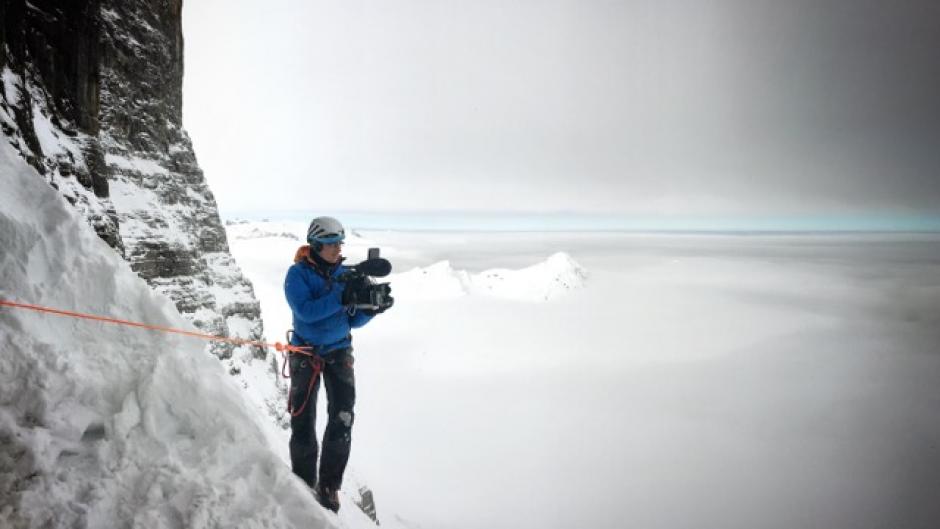 Overview
Join award winning, industry leading faculty and guest speakers for this hands-on, technical skill- and- theory-based masterclass. The program builds upon the foundational knowledge delivered in our Adventure Filmmakers Workshop (AFW) to provide AFW alumni as well as experienced adventure filmmakers with an advanced course. 
Participants will attend this masterclass with a project in mind, including a story idea, raw footage, or a project in post-production. We'll dive deeply into edit, sound, camera techniques, and more. Participants will gain the tools required to navigate the complexities of producing quality films – from an idea to a final screening master.
Individualized interaction with our accomplished faculty, Michael Brown and Keith Partridge, and group collaboration with colleagues will allow participants to thoroughly explore the creative, editorial, and technical aspects of the filmmaking process and hone their current projects.
What does this program offer?
The Adventure Filmmakers Masterclass builds on the ideas presented in the Adventure Filmmakers Workshop. The program will help participants build confidence in their skills, re-energize their creative drive, and answer the inevitable questions that arise as we sink our teeth into the real work of making a film.
This masterclass provides an opportunity to cross-pollinate with peers and get inspired by world leading creatives who will provide invaluable top-end insight. With on-location adventure sports elements, we will examine the worlds of the vertical camera and white water, and help develop the necessary skills to operate within these environments with high-grade equipment.
Who should apply?
The Adventure Filmmakers Masterclass is an ideal fit for those who need a creative boost or are in the thick of dealing with the filmmaker's equivalent of 'writer's block'. 
Applicants demonstrating an advanced level of proficiency via their show reel and previous finished films, and who have a project that would benefit from development in this immersive masterclass, are encouraged to apply. AFW alumni status is a desirable pre-requisite, although not compulsory. Past participants of other equivalent film schools/programs are also welcome.
Please note, successful applicants will be required to bring their personal computer with editing suite installed to Banff for this masterclass.
Program generously supported by:
Fees & Financial Assistance
Application fee: $65 for each individual
Thanks to the generous support of our sponsors, financial aid up to 55% is available to cover tuition (meal plans and accommodations are not eligible). If you would like to be considered, please complete the Financial Aid section in SlideRoom when uploading your supporting materials.  No discount is available if participants are unable to stay for the full course. 
Help fund your experience at Banff Centre. View a compiled list of national and international opportunities here.
How to Apply
Adjudication
Participants are selected by a preselection committee of impartial adjudicators on the basis of their submitted material. In addition to artistic merit, consideration will be given to the likelihood that the artist's work will benefit from the program. 
Applicants will be notified of their status as soon as adjudication is complete.
All programs, faculty, dates, fees, and offers of financial assistance are subject to change. Program fee is subject to applicable taxes. Non-refundable fees and deposits will be retained upon cancellation. Any other fees are refunded at the discretion of the Banff Centre. The application deadline is 11:59 p.m. Mountain Standard Time.