Applications are now open for Spring/Summer 2024 programs. For Fall 2024 progams onwards you can sign up to the Newsletter to receive an alert when applications open.
The Application and Payment systems will be closed from the 20th December to 3rd January as part of the Institutional Holiday Closure. SlideRoom will remain open for portfolio submissions.
Questions please contact the Admissions Office or call 403 762 6180.
Adventure Filmmakers Workshop 2021 - ONLINE
Program Information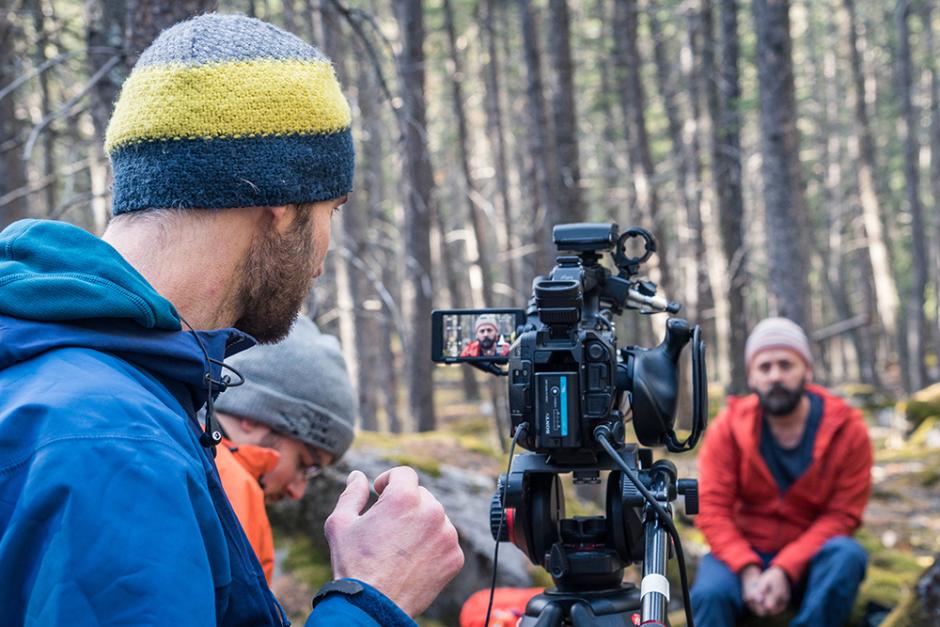 Overview
The Adventure Filmmakers Workshop is an exceptional chance for independent and emerging filmmakers to advance their skills under the guidance of two of the world's premier and proven adventure filmmakers. During this 4 week online program, participants will learn insider skills to hone their craft, strengthen their narratives, interact online with fellow filmmakers during group critique sessions, and will receive guidance on small independent projects throughout the course.  Guest speakers will provide expertise in the areas of storytelling, audio, editing and social media marketing. 
What does the program offer?
Online classroom sessions (2 hour lessons, twice weekly) will help participants sharpen their narrative, vision, organize their workflow, develop audio and editing techniques, and perfect their pitches. Our faculty promote an open, interactive, and creative atmosphere.  Our guest speaker line-up includes industry leaders and established filmmakers who will join us online for special sessions. In addition to scheduled online learning opportunities with faculty and guest speakers, participants will join in virtual group discussions and critiques and have one on one access to discuss personal projects with our faculty. 
Who should apply?
This workshop was designed for emerging filmmakers. To get the most from the program, applicants should have a strong desire to take the next step in all aspects of their filmmaking, including pre-production, pitching, location skills, the handling of the edit, and distribution. Past participants have included elite athletes transitioning to filmmaking, expedition leaders wanting to expand to different media platforms, and established filmmakers wanting to break into the adventure genre. 
This program is not only aimed at those who want to explore what it is like to be an adventure filmmaker – the Adventure Filmmakers Workshop is for those who are committed to filmmaking as a life choice.
A strong knowledge base of technical sound, camera, and editing skills is essential. Applicants are encouraged to focus on one specific film project that they have in mind and to be prepared to share it with the group.
 
Itinerary
This program will primarily entail a combination of live Zoom lectures, pre-recorded sessions and group project work using Adobe Creative Suite/Premiere Pro. Participants will be expected to attend live instructional sessions and to engage in group and independent work each week.
Approximately 12-15 hours per week is required of the participant, including:
•    Participating in two 2 hour live instructional sessions per week 
•    Engaging in group film project work
•    Attending online guest lectures weekly
•    Participating in group sessions and filmmaker Q&A's
•    One on one consultations/mentorship with faculty regarding personal film projects
•    Weekly film viewing assignments
•    Homework will be assigned weekly – film viewing, pitch workshop preparation, recommended reading 
A typical weekly schedule will look similar to the description below, exact times and dates tbc:
Monday – 9:00am - 2 hour instructional session
Tuesday – 9:00am – 2 hour instructional session
Thursday – 9:00am – 1 hour participant Q&A, 10:00am Guest Lecture
Friday – 12:00pm – Filmmaker social and networking
Monday – Saturday – Ongoing group project meetings as required, one on one mentorship/consultation with faculty, ongoing remote film viewing through an online platform
 
Topics include:
Welcome, orientation

Participant Intros

Film viewings and discussion: the good, the bad, and the ugly …
Anatomy of success: What makes a successful film?
Production development and planning before the camera rolls

Budgeting and funding options; distribution
The art of storytelling and narration

Storytelling Resources 

Making the perfect pitch workshop

Technology, sound on location, and appreciating the mix

Post production sound, music

Interviewing, and edit workflow

Secrets for staying organized for small and large projects

Lighting Tips and Tricks

Legal - releases, talent, music, post production

Social Media 
What's Included
Join in online Group Seminars / Workshops.
Fees & Financial Assistance
Application fee: $25 for each individual
Financial Aid of approximately 60% is available for this program.  Please see 'Program Fee with Financial Aid' box for details of what you can expect to pay.
Complete the Financial Aid request form at step 3 if you would like to be considered for Financial Aid.
How to Apply
Adjudication
Participants are selected by impartial adjudicators on the basis of their submitted material. In addition to artistic merit, consideration will be given to the likelihood that the artist's benefit from the program.
Applicants will be notified of their status as soon as adjudication is complete.
All programs, faculty, dates, fees, and offers of financial assistance are subject to change. Program fee is subject to applicable taxes. Non-refundable fees and deposits will be retained upon cancellation. Any other fees are refunded at the discretion of the Banff Centre. The application deadline is 11:59 p.m. Mountain Standard Time.