Adventure Filmmakers Workshop - Fall 2022
Mountain Culture | In-Person
Program Information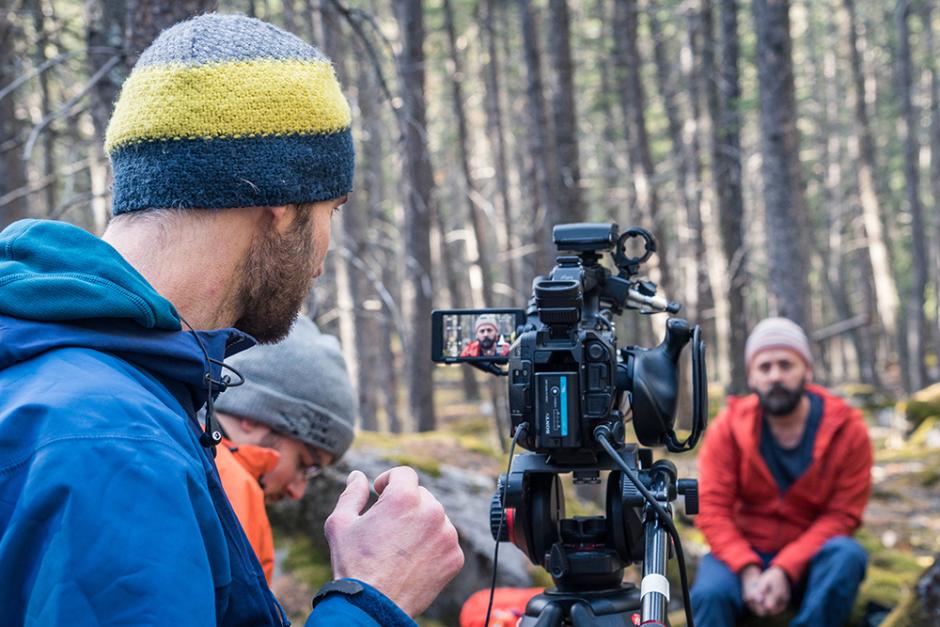 Overview
The Adventure Filmmakers Workshop is an exceptional chance for independent and emerging filmmakers to advance their skills under the guidance of two of the world's premier and proven adventure filmmakers. During a jam-packed 10 days in the fall, participants will hone their craft, strengthen their skills, whilst networking with fellow filmmakers, industry insiders, and decision-makers. 
This all takes place within the core of the Banff Centre Mountain Film and Book Festival, where epic stories are told through the eyes of adventurers, authors, photographers, and filmmakers from around the globe.
What does the program offer?
Workshop sessions will help participants sharpen their narrative, vision, organize their workflow, develop audio and editing techniques, and perfect their pitches. Our faculty promote an open, interactive, and creative atmosphere. 
We pack the days with hands-on practice, lively discussion, and brainstorming. We'll welcome industry insiders as guest speakers, offering rare access to potential mentors, collaborators, sponsors, and backers. On-campus lodging and meals are provided — all that participants have to do is focus on their craft and soak up the inspiration. For a full schedule view the itinerary section below. 
Who should apply?
This workshop is designed for emerging filmmakers with a few projects already under their belt. To get the most from the program, applicants should have a strong desire to take the next step in all aspects of their filmmaking, including pre-production, pitching, location skills, the handling of the edit, and distribution. Past participants have included elite athletes transitioning to filmmaking, adventurers wanting to expand to different media platforms, and established filmmakers wanting to break into the adventure genre. 
This program is not aimed at those who only want to explore what it is like to be an adventure filmmaker – the Adventure Filmmakers Workshop is for those who are committed to filmmaking as a life choice.
A strong knowledge base of technical sound, camera, and editing skills is essential. Applicants are encouraged to focus on one specific film project that they have in mind and to be prepared to share it with the group.
Enrolment is limited to 18 participants.
For full details on vaccination requirements, masking, safety protocols, and COVID related policies please visit: www.banffcentre.ca/covid-19-measures
Scholarship support generously provided by the Asper Endowment and the MacLachlan Ridge Family Endowment.
Program generously supported by:
Itinerary
Arrival - Thursday Oct 27
Day 1 –  Friday Oct 28
Welcome, orientation
Intros, group allocations, group and individual feedback
Film viewings and discussion: the good, the bad, and the ugly …
Anatomy of success: What makes a successful film
Day 2 – Saturday Oct 29
Indigenous Storytelling – Guest Speaker TBA
Production development and planning before the camera rolls
Budgeting and funding options; distribution
Day 3 – Sunday Oct 30
The art of storytelling and narration
Storytelling resources 
Making the perfect pitch workshop
Technology, sound on location, and appreciating the mix
Post production sound and music
Day 4 – Monday Oct 31
Pitching Workshop
Interviewing and edit workflow
Secrets for staying organized for small and large projects
The black art of lighting
Day 5 – Tuesday Nov 1
Legal - releases, talent, music, post production
Social Media 
Day 6 – Wednesday Nov 2
Group Film Project - Shoot day. Get out there and get your film in the 'can'.
Day 7 – Thursday Nov 3
Editing and post-production day. Turn your 'rushes' into a finished film.
Evening: participants have access to the VIP screening room to view simulcast presentation from the Jenny Belzberg Theatre
Day 8  – Friday Nov 4
Filmmakers will have access to the VIP screening room to view films and attend Festival workshops.
Participants attend private VIP Festival Social.
Day 9  – Saturday Nov 5
Filmmakers will have access to the VIP screening room to view films. Guest speakers (tba)
Day 10 –  Sunday Nov 6
Full day of recap, review short films, and presentations from guest lecturers (to be announced)
Day 11 – Monday Nov 7: Departure Day
This schedule is subject to change and additions will be guided by the needs of participants.
What's Included
Your program fee includes a single bedroom on the Banff Centre campus for the duration of your program.
Get connected with other artists on campus and focus on your projects in a creative environment while we take care of the day-to-day essentials.
Using a credit-based system to dine on campus, our flexible meal plans allow you to select meals according to your own needs during your stay. Banff Centre can respond to most dietary requests. 
The Full Flex meal plan is equivalent to $58 credit per day, equivalent to breakfast, lunch and dinner at our Buffet service.
Participants have access to the VIP screening room to view films and attend Festival workshops.
Enrich your experience and get to know other artists on campus by taking advantage of the activities and support provided by our Participant Resources team.
Group seminars and workshops.
This program offers opportunities to showcase your work-in-progress.
Limited access to the Paul D. Fleck Library and Archives.
Although the doors remain temporarily closed, you can still access a wide range of books, periodicals, recordings and scores through our digital databases available on the digital resources page, and physical items through our curbside pick-up service. 
Fees & Financial Assistance
Application fee: $65 ($35 for applicants who identify as Indigenous)
*Financial Aid of $1531.71 is available for this program. 
If you would like to be considered, please complete the Financial Aid section when uploading your supporting materials to SlideRoom. 
Application fees are not refundable.
Help fund your experience at Banff Centre. View a compiled list of national and international opportunities here.
Please note: Banff Centre will issue official tax receipts for eligible tuition fees and financial assistance and awards as required by the Income Tax Act. You will receive a T2202 (Tuition and Enrolment Certificate) for eligible tuition fees paid and a T4A (Statement of Pension, Retirement, Annuity, and Other Income) for applicable financial assistance and awards.
How to Apply
Adjudication
Participants are selected by impartial adjudicators on the basis of their submitted material. In addition to artistic merit, consideration will be given to the likelihood that the artist's work will benefit from the program.
Applicants will be notified of their status as soon as adjudication is complete.
All programs, faculty, dates, fees, and offers of financial assistance are subject to change. Program fee is subject to applicable taxes. Non-refundable fees and deposits will be retained upon cancellation. Any other fees are refunded at the discretion of the Banff Centre. The application deadline is 11:59 p.m. Mountain Standard Time.