We will begin to announce Fall and Winter Programs as details for each program are confirmed.
Want to find out more about upcoming programs? Please subscribe to our mailing list.
Learn more about Banff Centre's COVID-19 on-campus measures here.
Akunumusǂitis : Ecological Engagement Through the Seasons
Program Information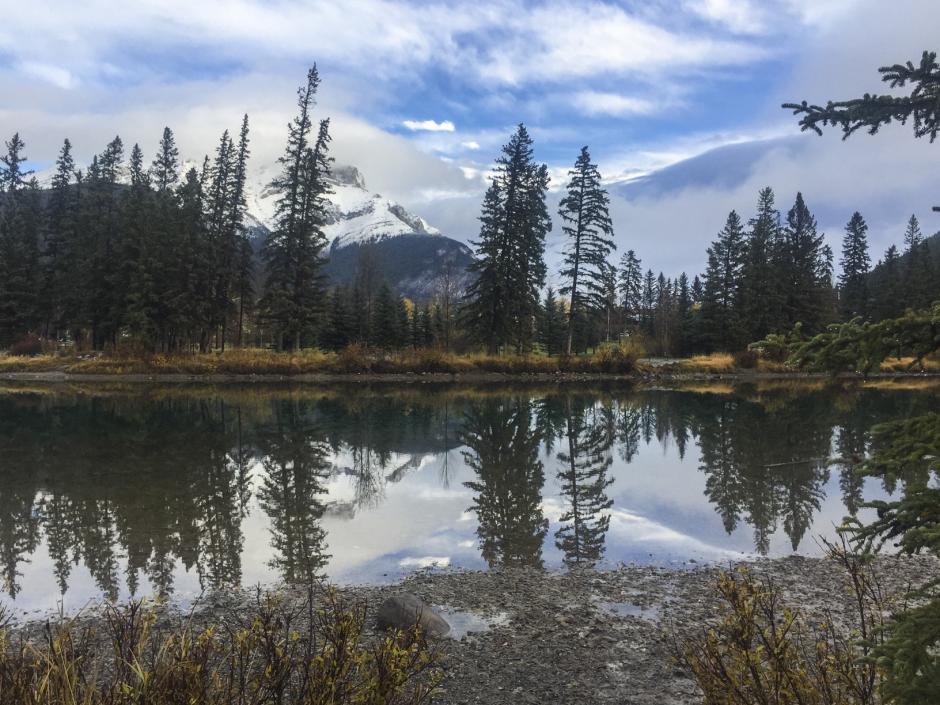 Overview
This two-part seasonal residency engages three artist participants in a land-based, observational learning that will support the artist to develop and create a project drawing from their artistic practice that will inform the cultural narratives of this region. The artists will have access to a studio to support the creation of their project. 
The project is reconciliation-based through the empowerment of an Indigenous artist working with institutions through a process that allows for meaningful engagement with the land; in particular Banff National Park, Parks Canada and local Knowledge Keepers. Working together, the process encourages knowledge exchange and Indigenous ways of knowing.
What Does the Program Offer?
Oftentimes, anthropological interpretations of history conflict with the histories told through story with oral history. This residency will explore questions around the narratives that Indigenous people hold for themselves and their histories; that have been handed down from generation to generation, and from nation to nation through knowledge sharing. The process will help to identify stories that draw from artifacts, plants, landmarks, and animals of the region.
Artists will engage in land-based and seasonal teachings, visit pre-contact archeological sites, visit locations where archives and artifacts are housed, and share in cultural teachings with Knowledge Keepers.
The first part of the residency is to further develop projects and experiment in the studio, while engaging in seasonal activities, and participating in teachings led by cultural teachers.
As an optional component, Indigenous Arts will invite artists back to complete the next stage of their seasonal work in future iterations of this program. Dates to be announced
Program Structure
Self-directed study combined with guided on-the-land engagement, knowledge sharing and field trips guided by Banff National Park partners.
This program is geared towards established Indigenous artists who have their culture reflected in the land of Banff National Park, and who have a strong background in ecological engagement within their current practice.
Artists should be eager to develop their knowledge of the area and steward the land by helping to share the knowledge, history, and cultures through their project.  As well, they should have a strong interest in exploring themes of stewardship, land-based learning, and archival research as part of their practice.
As we re-open campus and welcome artists back to on-campus programming in a safe and mindful way, we have made the difficult decision to restrict recruitment for on-campus programs to those currently residing in Canada. International Participants are welcome to apply for any of our online programming. We continue to monitor the situation closely and look forward to the future relaxation of travel measures that will allow us to welcome international artists once again. Note that if inter-provincial quarantine is required, this will be at the expense of the participant. 
What's Included
Your program fee includes a single bedroom on the Banff Centre campus for the duration of your program.
Get connected with other artists on campus and focus on your projects in a creative environment while we take care of the day-to-day essentials.
The Full Flex meal plan includes  breakfast, lunch and dinner in Vistas Dining Room.
This program offers opportunities to showcase your work-in-progress.
Fees & Financial Assistance
Application fee: $25
*Financial Aid of 100% of the tuition fee is available for this program for all accepted applicants.
How to Apply
Adjudication statement:
Participants are selected by impartial adjudicators on the basis of their submitted material. In addition to artistic merit, consideration will be given to the likelihood that the artist's work will benefit from the program.
Participants  are selected by impartial adjudicators on the basis of their submitted material. In addition to artistic merit, consideration will be given to the likelihood that the artist's work will benefit from the program.  
Applicants will be notified of their status as soon as adjudication is complete.
All programs, faculty, dates, fees, and offers of financial assistance are subject to change. Program fee is subject to applicable taxes. Non-refundable fees and deposits will be retained upon cancellation. Any other fees are refunded at the discretion of the Banff Centre. The application deadline is 11:59 p.m. Mountain Standard Time.