On Tuesday May 11 at 4pm MST to Wednesday May 12 at 12noon MST we are performing scheduled maintenance on our student and application system .
You will not be able to start the application process or submit an application during this time, however you will be able to continue with 3 of your application process.: Upload your Materials.
The Student Portal will also be down during this time.
We thank you for your patience. If you have questions, please contact Admissions@banffcentre.ca
To hear about upcoming online programs, subscribe to our mailing list.  We are pleased to roll out our new student system and application experience. If you have any questions or feedback, please contact admissions@banffcentre.ca.
ALT/Now: Economic Inequality
The time for new alternatives is now
Program Information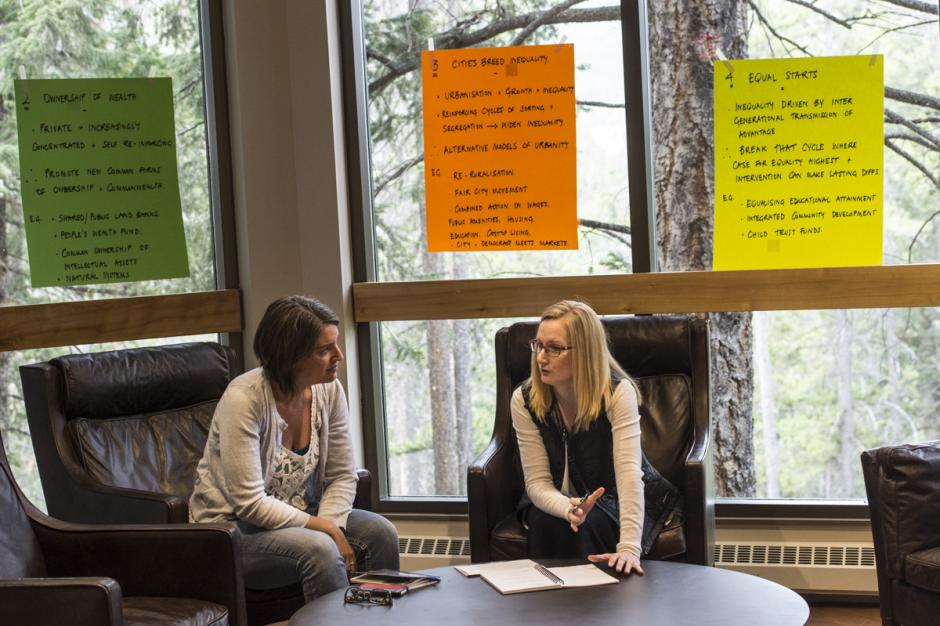 Overview
Widening economic inequality is a reality that demands bold alternatives. ALT/Now: Economic Inequality offers entrepreneurs, innovators, community builders and system leaders a unique opportunity to collaborate in bringing about a shift towards an economy that generates opportunities for people across the economic spectrum to prosper.
This ambitious 10-month program provides intensive support to participants in building and testing new solutions through collaborative, hands-on residencies at Banff Centre, intensive coaching and a purpose-built network of expert mentors and advisors.
Residency #1: January 27 - January 31
Residency #2: March 16 - March 20
Residency #3: May 5 - May 9
Summit: September 30 - October 2, 2016
Join ALT/Now: Economic Inequality to:
Create sustainable initiatives – market-based and social ventures -- with the potential to address the issue of widening inequality.
Become part of a new leadership network that holds the capacity to challenge convention and entrenched systems and create real change.
Develop new leadership knowledge and skills through the hands-on experience of creating new solutions.
ALT/Now: Economic Inequality participants will join a cohort ready to rise to the challenge of building an economy that provides opportunities for all Canadians to prosper. You will work together to develop a range of market-based and social venture solutions that challenge the dynamics behind widening economic inequality, and tackle related issues such as mobility, unpredictable income and a squeeze on the middle. The solutions you develop will together point the way to a more inclusive economy.
Through a series of inspirational and practical residencies at Banff Centre, along with work in the context of the challenge you choose to tackle, you will build and test concepts that you believe can play a role in addressing this issue. We will collaborate to frame opportunity areas, strengthen concepts and move your ideas into action. Our tailored program will support you to gain crucial on-the-ground insight, prototype solutions, and access influential networks to take your solutions forward.
No one solution will shift the dynamics behind widening economic inequality on its own. And some of this bold work will fail. But we're up for the challenge and hope you are too - with close support from our experienced team of faculty, advisors and mentors, together with a wider network of system experts and influencers.
The Challenge
Over the last twenty years the income and wealth of all groups in Canadian society has risen, but those who are well off have experienced greater increases than those in the middle and the bottom. This growing gap between rich and poor is driving an increasingly polarized society, threatening the prospects and wellbeing of Canadians from across the economic spectrum. While policy tools play an important role in determining economic conditions there is a significant opportunity for market-based and social venture solutions to be developed that harness market forces and social innovation to demonstrate practical models for a productive and innovative economy: one that works for all people regardless of their income and wealth.
We're looking for participants motivated to tackle opportunities to develop market and social solutions within the following themes – we also want to hear from those who see potential for bold solutions in areas not represented here:
Rethinking models for housing, land and real estate
The squeezed middle and rebuilding a thriving middle class
Wealth creation opportunities for all
The future of work and good business in a changing economy
Who should apply?
Complex problems require bold thinking, collaborative innovation across sectors and disciplines, and the drive to see our work through to create deep, lasting impact. ALT/Now: Economic Inequality is looking for entrepreneurs, innovators, community builders and system leaders who embrace this challenge and seek to expand their own development in the process.
If selected, you will be part of a cohort of 25 high-caliber participants chosen for their diversity of skills and perspectives, their commitment to this challenge, and their willingness to question assumptions about the current system. You should be ready to take on the challenge of leading the development of new social and market-based ventures and initiatives.
Applications from individuals or those representing a team are eligible. The intention is that participants engage team members and sponsors from within their own networks as they progress, some of whom will be invited to join program workshops.
Your commitment
We are seeking participants ready to work intensively on something that matters and follow ideas through to implementation. The ALT/Now: Economic Inequality program includes three residencies of 4-4.5 days each at Banff Centre between January and October 2016. As much of the real work happens in-context, you should be ready to commit a minimum of 4 days a month between residencies.
All accommodation, food, coaching and support are provided as part of your experience. Participants are asked to make a nominal financial contribution of $500 and to cover your travel expenses to and from Banff for Residencies. If this represents a significant barrier to your participation please contact us about bursary support.
Application Process
We welcome both direct applications as well as nominations for participants for this program. For information on the application and nomination process, please refer to the 'How to Apply' section.
About the partnership
ALT/Now: Economic Inequality is a Peter Lougheed Leadership Institute initiative created in partnership with Community Foundations of Canada, the national network for Canada's 191 community foundations, which help Canadians invest in building strong and resilient places to live, work and play.
Itinerary
The program consists of a series of Residencies and work in-context. 
Each Residency reinforces three interconnected intentions:
Innovate for impact - strengthen and accelerate our ability to experiment productively and develop solutions that have real strategic impact on the issue of widening economic inequality

System-building - deepen our understanding of what's needed for solutions to take hold and new ecosystems to form

Collective leadership - build a community that amplifies our influence
Residency #1: Wednesday, January 27 - Sunday, January 31
In this first hands-on residency we will:
Build our community and understanding of what's possible together

Sharpen our understanding of the dynamics driving widening economic inequality

Explore and reframe the challenges we're addressing

Map the broader system and identify opportunities for collaboration across challenge areas

Develop leadership capacity and learn practical techniques to deepen our insight into the problem and opportunity in context
With new tools and regular coaching, you will work in or across your community/industry to gain actionable insight into the motivations of those with lived experience of, and investment in, the issue.
Residency #2: Wednesday, March 16 - Sunday, March 20
Working alongside selected system influencers, experts and mentors we will:
Share insights to better understand opportunity areas for solutions and their interconnectivity 

Develop concepts and identify those with the highest potential for impact

Develop practical leadership skills for co-designing solutions with end users, stakeholders and market-makers
With mentorship and regular coaching support, you will apply new techniques to co-design and test promising propositions, begin to form a team needed to take them forward and grow the network of actors and influencers supporting your idea.
Residency #3: Thursday, May 5 - Monday, May 9
In this residency we will convene your expanded team members and ecosystem influencers committed to moving viable propositions forward. We will:
Share feedback from work in context to refine or rethink propositions

Work with ecosystem influencers to understand what they need to support your progress

Identify key questions and assumptions to be tested through prototyping

Develop the mindsets and techniques involved in effective prototyping
We will be seeking a network of viable propositions across the cohort to advance in the next phase, and those ideas and teams with the most promise will receive increasing support after the third and final residency.
Demonstrating Potential – May - August 31, 2016 
Teams will be supported by the growing network of fellow entrepreneurs, systems influencers and market-makers to nurture promising concepts and break through system barriers to bring solutions into being. The network may expand to include other teams with existing working models. Other actors, including potential commissioners and funders, will be engaged throughout this process where you, and we, see opportunities for them to strengthen the work being done.
Program resources at this stage will be focused on those teams and propositions with the greatest potential for impact. They will be supported to prototype solutions in context and build partnerships for further development and investment through ongoing coaching, mentoring and active network building. By the end of this phase they will have:
Developed a working prototype of the solution

Demonstrated potential for impact

Developed a sustainable business model and case for further support/investment
Final Leadership Network Summit: Friday, September 30 - Sunday, October 2
All participants return to Banff Centre to experience the powerful leadership network that has been forged over the course of the program and engage with potential allies, commissioners and investors in the ventures that have been developed.
Fees & Financial Assistance
All accommodation, food, coaching and support are provided as part of your experience. Participants are asked to make a nominal financial contribution of $500 and to cover travel expenses to and from Banff, Alberta for participation in the on-campus components of the program. Bursaries to cover travel and/or the registration fee will be made available to successful applicants for whom those costs pose a barrier to participation.
Contact the Registrar

For questions on preparing your application, please contact the Office of the Registrar: