Banff Centre completed an upgrade of the application system 21st September. If you notice any issues please contact the Admissions Office or call 403 762 6180.
We will be launching applications for Spring 2024 programs in November. You can sign up to the Newsletter to receive an alert when applications open.
Animating Our Stories
Indigenous Writing and Digital Illustration
Program Information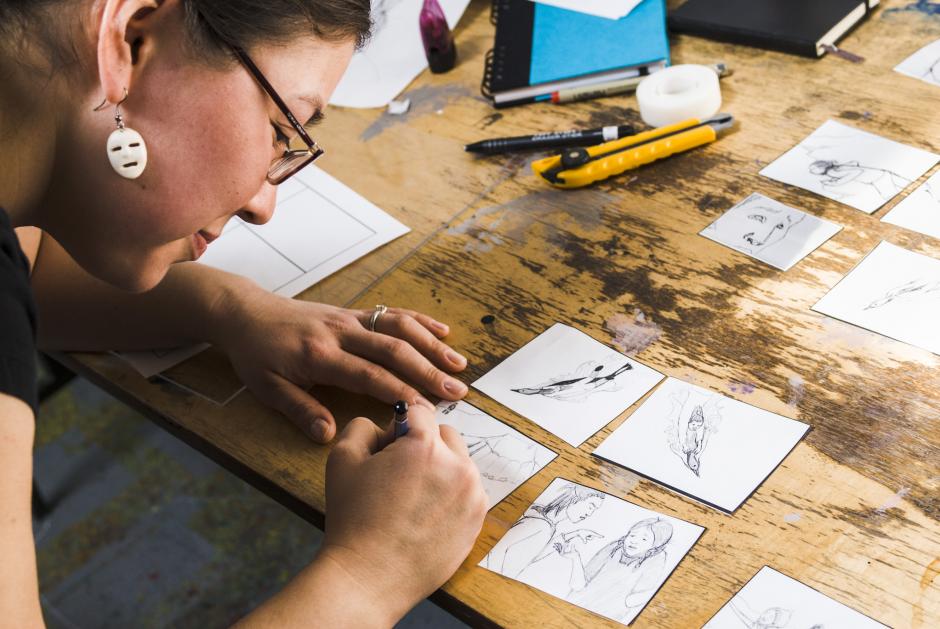 Overview
This program will ignite Indigenous authors and artists focusing on young readers to delve into new ways of storytelling using digital illustration techniques. Through guidance from experienced faculty including recognized Indigenous authors, an illustrator, and a digital animator, participants will learn to lift a story off the page, texturize it, and animate elements of it to life.
Animating Our Stories is a space where storytellers, content producers, and digital media artists will collaborate to fuse modern presentation techniques with the art of storytelling. Participants will explore technology as they learn to illuminate the audience experience of their already vividly imagined stories.
What does the program offer?
Animating our Stories uses storytelling as a form of artistic expression through new technology. The program will develop participants' ability to learn and expand their storytelling techniques for young audiences. Participants will focus on creating immersive and educational worlds – a key element in storytelling for youth.
The program will offer opportunities to work with editor faculty, and with an illustrator to highlight parts of participants' stories to focus on for animation. Participants will work with digital media to determine what elements of their stories could be enhanced by animation. 
Who should apply?
Enrolment to this program is for individuals of Indigenous descent (status, non-status, Inuit, and Metis) only. This program is an ideal fit for emerging to established Indigenous writers and illustrators of narrative fiction and/or poetry for young readers. Applicants should be writers in any young reader genre with a strong interest in digital storytelling techniques, although previous experience with digital media is not necessary.
Successful applicants should plan to arrive at the program with a completed work or work in progress to be brought to life through technology.
Fees & Financial Assistance
Application fee: $35
*Indigenous artists accepted to the program will be eligible for up to 100% scholarship to cover the Program Fee (Shared Room).
The program fee includes tuition, a shared room, and the Full Flex Meal Plan at Banff Centre. Travel to and from Banff Centre is the responsibility of participants. In addition to the program fee, participants are responsible for all costs associated with their stay such as shipping, materials and supplies (including photographic materials), rental and use of audio/visual equipment, printing, and any other specific facility fees.
If you would like to be considered, please complete the Financial Aid section when uploading your supporting materials. 
Help fund your experience at Banff Centre. View a compiled list of national and international opportunities here.
How to Apply
Adjudication
Participants are selected by impartial adjudicators on the basis of their submitted material. In addition to artistic merit, consideration will be given to the likelihood that the artist's work will benefit from the program. 
Applicants will be notified of their status as soon as adjudication is complete.
All programs, faculty, dates, fees, and offers of financial assistance are subject to change. Program fee is subject to applicable taxes. Non-refundable fees and deposits will be retained upon cancellation. Any other fees are refunded at the discretion of the Banff Centre. The application deadline is 11:59 p.m. Mountain Standard Time.