The Art of Projection Design
Theatre Alberta's Workshops by Request: Rocky Mountain Series
Program Information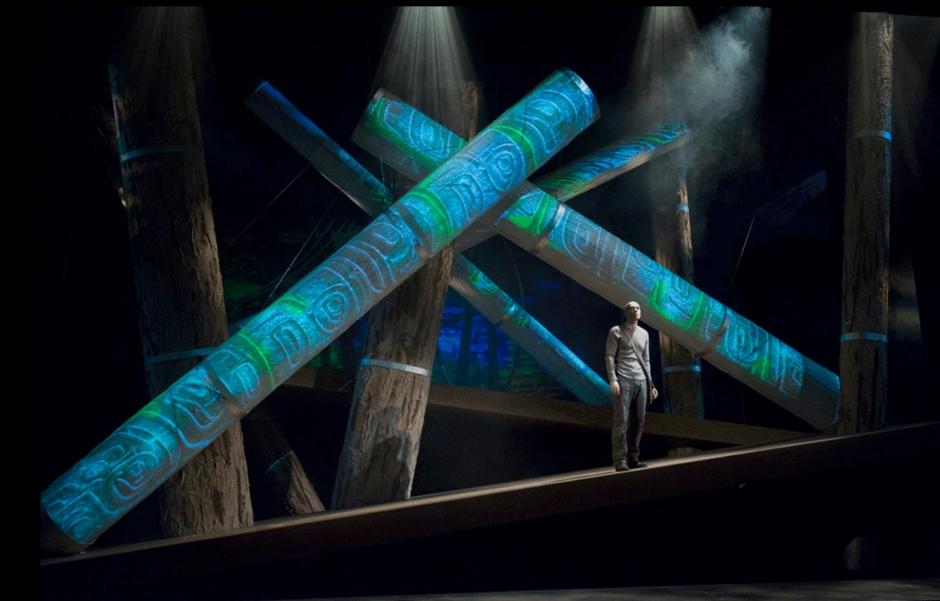 Program Overview
Projection design is a vast and complex form that has become ubiquitous in the creation of theatre. While advances in hardware and software have made projection design more accessible, it requires skill and versatility to successfully program a show. Equal weight must be placed on technical learning as well as the creation of video art. Participants in this three-day intensive will join award-winning designer Jamie Nesbitt in the hands-on exploration and application of projection and video design for theatre.
What does the program offer?
Participants will use software that offers solutions to complex projection challenges while developing video content that will make their art look amazing. The master class will focus on the integration of design programs, including After Effects and Photoshop, with Isadora projection software. Computer workstations will be provided, however participants are welcome to bring personal Mac laptops.
Jamie Nesbitt is one of Canada's leading projection designers. His work has appeared in major theatres across Canada and has toured internationally through the United States, Europe, and the Middle East. His company credits include Canadian Stage, National Arts Centre, Soulpepper, Vancouver Playhouse, Electric Company Theatre, Citadel Theatre, Theatre Calgary, Palazzo Circus (Germany), Kidd Pivot (Germany/Canada), Company 14 (New York), and many more.
This workshop is presented by Theatre Alberta, Banff Centre for Arts and Creativity, and the Canadian Institute for Theatre Technology – Alberta Section (CITT) as part of Theatre Alberta's Workshops by Request: Rocky Mountain Series.
Who should register?
This master class is for theatre designers wishing to learn or improve upon their video projection design skills.
What's Included
Please be advised, single accommodation is currently SOLD OUT.
When applying, choose between staying in a single or a shared bedroom on the Banff Centre campus for the duration of your program.
Get connected with other artists on campus and focus on your projects in a creative environment while we take care of the day-to-day essentials.
Using a credit-based system to dine on campus, our flexible meal plans allow you to select meals according to your own needs during your stay.
The Full Flex meal plan includes $38 credit per day, equivalent to breakfast, lunch, and dinner in Vistas Dining Room.
Enjoy special artist rates for ticketed performances or complimentary access to events.
Enrich your experience and get to know other artists on campus by taking advantage of the activities and support provided by our Participant Resources team.
Fees & Financial Assistance
A non-refundable registration fee of $135 will be charged upon registration.  Banff Centre reserves the right to cancel a program up to seven days prior to program start date if there is insufficient enrolment. If the program is cancelled, all registrants will receive a full refund of any program fees paid. Banff Centre is not liable for any personal/travel expenses incurred. 
Room type dependent upon availability. For more information on room types, please click here. 
If you are interested in staying at Banff Centre on the night of December 3rd, please contact the Office of the Registrar for details and availability.
Current Theatre Alberta members who are residents of Alberta can apply for financial assistance to cover 25-75% of the tuition fee. For more information or to apply for financial assistance, click here.
How to Apply
While this program is not adjudicated, we request support materials to support program planning and design. 
All programs, faculty, dates, fees, and offers of financial assistance are subject to change. Program fee is subject to applicable taxes. Non-refundable fees and deposits will be retained upon cancellation. Any other fees are refunded at the discretion of the Banff Centre. The application deadline is 11:59 p.m. Mountain Standard Time.
Contact the Registrar 
For questions on preparing your application, please contact the Office of the Registrar:
Email Registrar_Theatre@banffcentre.ca 
Toll Free Number (Canada + USA) 1.800.565.9989 
Phone 403.762.6180