The Art of Walking: Writing Practice in Motion
Program Information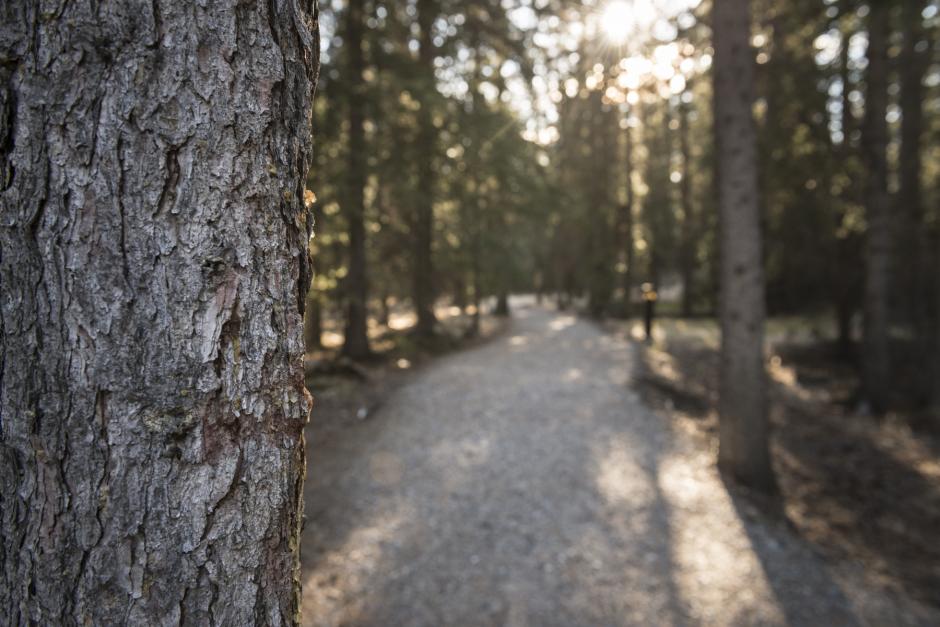 Program Overview
"Footsteps are our first prints," says wanderer-writer Robert Macfarlane, "and every walk is a step away from a story." As our feet inscribe our experiences onto places, step by step, we tell and enter new stories—or, alas, sometimes get shut out of them. We walk to escape, to encounter, to arrive, and ultimately to find some sort of rest. And we walk to resist. Walking is not merely innocent jaunt—when it traverses and bumps against prejudices and imposed limitations, it becomes radical action.
In this residency, participants will meander onto the routes traveled by artists, particularly writers, to explore walking as the cultivation of a set of tools for artistic expression. Participants will work with faculty—walking alongside them, thinking alongside them—who are interested in walking and its relationship to creativity and our sense of belonging.
"Walking shares with making and working that crucial element of engagement of the body and mind with the world, of knowing the world through the body and the body through the world," says acclaimed American writer Rebecca Solnit. That observation will direct our explorations as we endeavour to walk and create with our senses more attuned to the world.
What does the program offer?
This residency will provide two weeks to explore the work of poets, novelists, short story writers, and essayists on walking, to view the world at a walker's pace with a wanderer's perspective. Through walks, conversations, seminars, and a public talk, participants will explore the relationship between landscape and the mind, between legs and language.
Participants will have time to work on their own writing project. This residency is focused on creative practice as well as individual faculty consultations. Please note the program does not offer detailed editorial feedback on full-length manuscripts. 
Who should apply?
Writers of all genres—essayists, journalists, poets, short story writers, and novelists—are encouraged to apply, though conversations and readings will be weighed towards essays. Curators who have worked on or are working on exhibitions or projects that emphasize movement and walking are also encouraged to apply.
What's Included
Your program fee includes a single bedroom on the Banff Centre campus for the duration of your program.
Get connected with other artists on campus and focus on your projects in a creative environment while we take care of the day-to-day essentials.
Using a credit-based system to dine on campus, our flexible meal plans allow you to select meals according to your own needs during your stay.
The Regular Flex meal plan includes $29 credit per day, equivalent to lunch and dinner in Vistas Dining Room.
Enjoy special artist rates for ticketed performances or complimentary access to events.
Enrich your experience and get to know other artists on campus by taking advantage of the activities and support provided by our Participant Resources team.
Fees & Financial Assistance
Application fee: $65 for individuals or groups. Individual group members must pay an additional registration fee of $35 on acceptance.
*Financial Aid up to 50% is available to cover tuition.
If you would like to be considered, please complete the Financial Aid section when uploading your supporting materials. Help fund your experience at Banff Centre. View a compiled list of national and international opportunities here.
How to Apply
Adjudication
Writers of all levels (emerging, mid-career, and professional) are encouraged to apply. Participants are selected by impartial adjudicators on the basis of their submitted material. In addition to artistic merit, consideration will be given to the likelihood that the artist's work will benefit from the program. 
Applicants will be notified of their status as soon as adjudication is complete, approximately seven days following the application deadline.
All programs, faculty, dates, fees, and offers of financial assistance are subject to change. Program fee is subject to applicable taxes. Non-refundable fees and deposits will be retained upon cancellation. Any other fees are refunded at the discretion of the Banff Centre. The application deadline is 11:59 p.m. Mountain Standard Time.