Learn more about Banff Centre's COVID-19 Vaccination Requirements and on-campus measures here.
Please subscribe to our mailing list to keep informed on upcoming programs.
Artistic Leadership for Ethnically Diverse Women and Non-Binary People
Program Information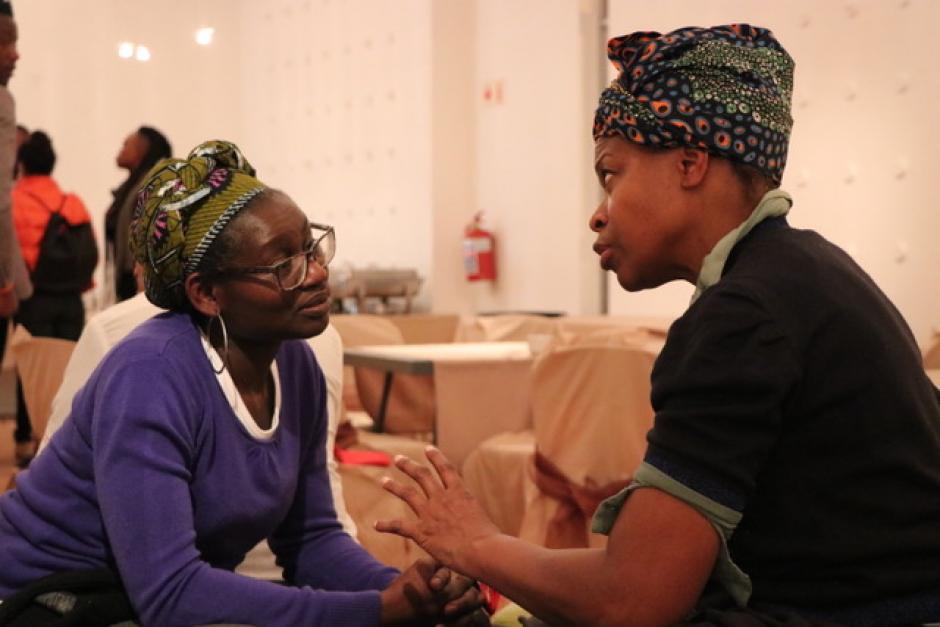 Overview
Currently, self-identified culturally diverse women and non-binary people of colour hold only 3.7% of the artistic theatre leadership positions in Canada. The 3.7% Initiative aims to change that, one community at a time.
Join Nike Jonah as she uses the Creative Case approach to facilitate this workshop. We will seek to relocate conversations and policies around diversity and inequalities from the margins into the centre of key debates on how art is created, innovated, expressed, distributed, and consumed. 
What does the workshop offer?
Diversification of leadership in Canada's theatres is a critical next step in the evolution of a healthy and representative community. By attending this workshop, you will be able to demonstrate an understanding of relationships between diversity, inequality, and how this relates to the arts and culture sector.
We invite you to spend a weekend in Banff and learn techniques to build relationships and collaborate. This workshop will honour your authentic self as you practice pitching yourself and others, and role play ways to interrupt micro-aggressions and biased behaviours that adversely impact under-represented communities.
Who should apply?
Registration for this workshop is open to self-identified women of colour and non-binary people of colour who are involved in any capacity with live theatre. 
Please note this program is not adjudicated;applicants will be accepted on a first come, first served basis.
"The instruction has been inspiring and crucial to the development of my skills, and Theatre Alberta keeps the program affordable for artists." -Workshops by Request: Rocky Mountain Series participant
This workshop is presented by Theatre Alberta, Banff Centre for Arts and Creativity, and Concrete Theatre's 3.7% Initiative as part of Theatre Alberta's Workshops by Request: Rocky Mountain Series.
What's Included
When applying, choose between staying in a single or a shared bedroom on the Banff Centre campus for the duration of your program.
Get connected with other artists on campus and focus on your projects in a creative environment while we take care of the day-to-day essentials.
Using a credit-based system to dine on campus, our flexible meal plans allow you to select meals according to your own needs during your stay.
Packages include the Full Flex meal plan, which includes $40 credit per day, equivalent to breakfast, lunch, and dinner in Vistas Dining Room.
Enjoy special artist rates for ticketed performances or complimentary access to events.
Enrich your experience and get to know other artists on campus by taking advantage of the activities and support provided by our Participant Resources team.
Fees & Financial Assistance
Banff Centre Application Fee: $35
A non-refundable deposit of $100 towards the program fee will be charged upon registration. 
Room Packages listed above include the workshop fee and are based on a four-night stay in a single room with full meal plan at the Banff Centre for Arts and Creativity. Please specify your dates of arrival, departure, and required meal plan at part 2 of the application process. You will be billed accordingly
Banff Centre reserves the right to cancel a program up to seven days prior to program start date if enrolment is insufficient. If the program is cancelled all program fees will be refunded upon cancellation. Please note that Banff Centre is not liable for any personal/travel expenses incurred. 
Current Theatre Alberta members who are residents of Alberta can apply for financial assistance to cover 25% to 75% of the workshop fee. 
To apply for financial assistance, please visit Theatre Alberta's website or contact jake@theatrealberta.com. 
How to Apply
Adjudication
Please note this workshop is not adjudicated; applicants will be accepted on a first come, first served basis. 
All programs, faculty, dates, fees, and offers of financial assistance are subject to change. Program fee is subject to applicable taxes. Non-refundable fees and deposits will be retained upon cancellation. Any other fees are refunded at the discretion of the Banff Centre. The application deadline is 11:59 p.m. Mountain Standard Time.