Audio Recording Engineer Practicum
Program Information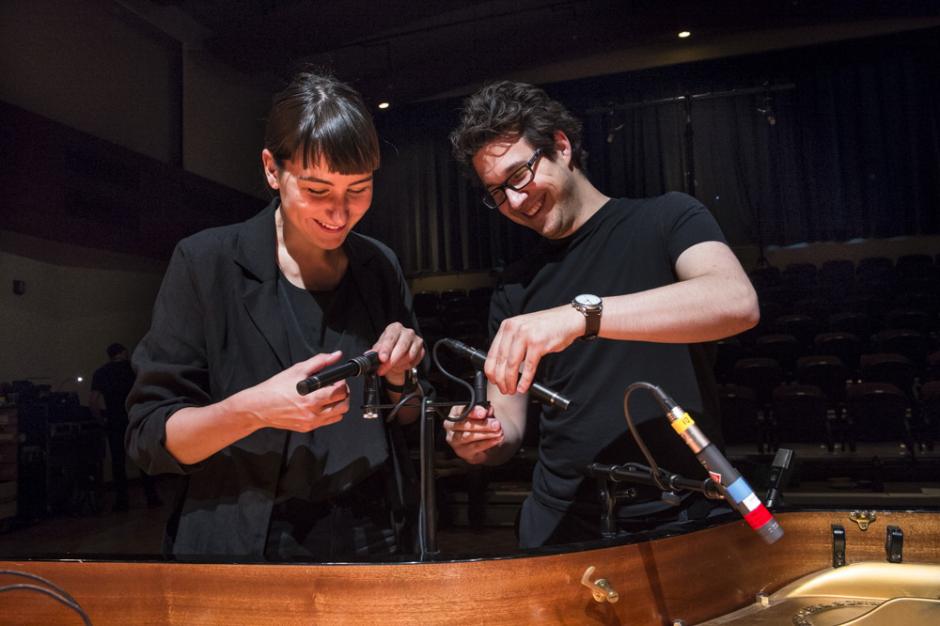 Overview
The Audio Recording Engineer Practicum is intended as a continuing education experience for emerging recording engineers with mature artistic insight and advanced practical skills, including significant professional experience or a high level of professional training. Practicum participants learn about equipment, software, and recording techniques while working on a wide variety of projects.
What does the program offer?
Engineers from around the world participate in our program to benefit from: 
Mentoring by staff producer, engineers, and technologists
Classes with audio staff and internationally-renowned guest faculty
Recording live concerts each week in classical, jazz, and contemporary genres 
Recording and producing professional recordings for the international musicians participating in music residency programs
Working with staff producers and engineers in conjunction with the video production team, recording and mixing lectures and presentations from visiting artists for online consumption
Supporting audio post-production and interactive media programs
Interacting with other international audio engineers as well as professional musicians and artists in other disciplines
Access to professionally-equipped studio spaces
Who should apply?
Applicants should have a combination of formal training and/or professional experience or aptitude in audio engineering. Working knowledge of Pyramix, ProTools, and File Maker Pro is desirable. Applicants will also have a practical understanding of file creation and management. 
Applicants will be able to manage resources and produce to schedule, as well as multitask effectively with strong time management and diplomacy skills.
Successful applications from Canadian citizens and Permanent residents may be offered to extend the practicum position until March 26, 2021.
What's Included
You are eligible for Banff Centre housing (based on availability). You are responsible for your own room and board costs. Current rates for Banff Centre accommodation are $8.06 / day (shared) or $16.12 / day (single) and will be deducted from your living allowance. 
You will receive a living allowance of $61 per day.
Note that financial assistance and stipend awards are considered taxable income for Revenue Canada.  
Enjoy special artist rates for ticketed performances or complimentary access to events.
Enrich your experience and get to know other artists on campus by taking advantage of the activities and support provided by our Participant Resources team.
Fees & Financial Assistance
Application fee: $65
*The Tuition fee is covered 100% by financial assistance from Banff Centre.
Successful applicants will receive a daily living allowance while part of the program. Practicums are responsible for their own room and board costs but are eligible for subsidized Banff Centre housing based on availability (see What's Included for more information).
How to Apply
Adjudication
Participants are selected by impartial adjudicators on the basis of their submitted material. In addition to artistic merit, consideration will be given to the likelihood that the artist's work will benefit from the program.
Applicants will be notified of their status as soon as adjudication is complete.
Eligibility
International participants are restricted to a six-month residencies at Banff Centre. This is due to changes made by the Government of Canada to international student visa regulations, effective June 1, 2014.
All programs, faculty, dates, fees, and offers of financial assistance are subject to change. Program fee is subject to applicable taxes. Non-refundable fees and deposits will be retained upon cancellation. Any other fees are refunded at the discretion of the Banff Centre. The application deadline is 11:59 p.m. Mountain Standard Time.