Banff Artist in Residence - Spring 2022
Program Information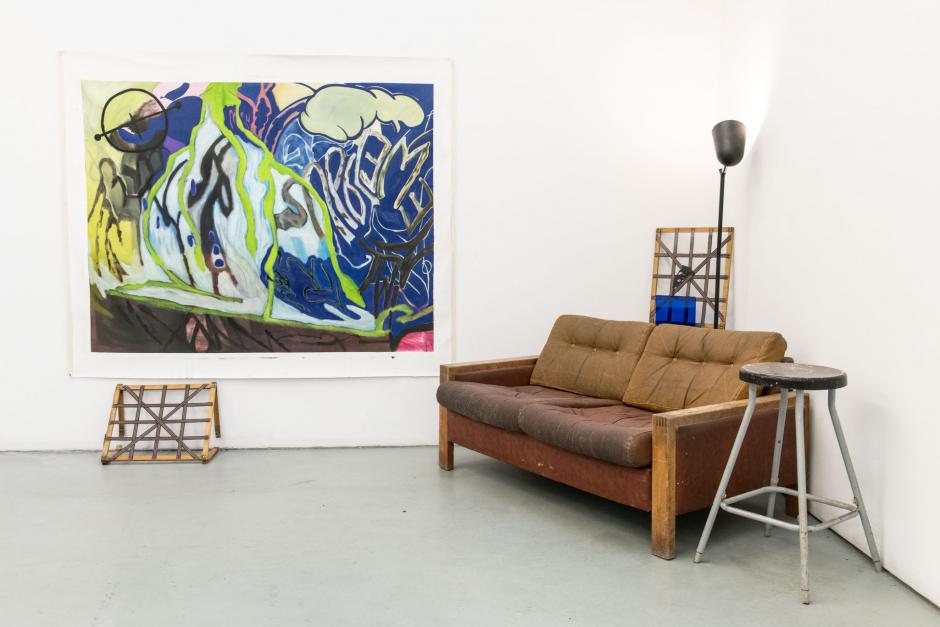 Overview
The Banff Artist in Residence program is designed for visual artists to focus on their practice in a supportive learning environment, where artists are  encouraged to self-direct their research and time, as well as cultivate new directions in their work. This residency provides a space for experimentation and risk-taking under the support of shared production facilities and knowledgeable staff who are available to provide technical assistance, as well as individual studio visits with guest faculty and dialogue amongst peers.
Participants will receive visits from guest faculty and may attend talks, exhibitions, and performances at Walter Phillips Gallery by other visiting artists. In addition, participants have the opportunity to build connections, expand networks, and share their work with other artists-in-residence and the public.
What does the program offer?
The Banff Artist in Residence program allows participants to delve deeply into their practice while away from the constraints of everyday life. Participants are provided with a studio, accessible 24 hours a day, as well as access to our extensive facilities. 
What length of residency is available?
This program is designed for participation over the entire program period. Variable dates will not be considered.
Who should apply?
This residency is for visual artists with an exhibition/publication record, who have completed formal training in visual arts at the post-secondary level, or equivalent experience and recognition from their peers. 
Collaborative groups are welcome to apply. Groups no larger than two people will be considered for this program. *Subject to additional fees.
For full details on vaccination requirements, masking, safety protocols, and COVID related policies please visit: www.banffcentre.ca/covid-19-measures   
What's Included
Your program fee includes a single bedroom on the Banff Centre campus for the duration of your program.
Get connected with other artists on campus and focus on your projects in a creative environment while we take care of the day-to-day essentials.
Using a credit-based system to dine on campus, our flexible meal plans allow you to select meals according to your own needs during your stay.
The Full Flex meal plan includes $58 credit per day, equivalent to breakfast, lunch and dinner at our buffet service.
 
Create in one of our specialized studios and utilize shared production facilities in printmaking, ceramics, sculpture, photography, digital media, and more (subject to additional fees) 
Collaborative groups share studio space.
This program offers opportunities to showcase your work 
Enrich your experience and get to know other artists on campus by taking advantage of the activities and support provided by our Participant Resources team.
Enjoy special artist rates for ticketed performances or complimentary access to events.
Fees & Financial Assistance
*Application fee: $65 ($35 for applicants who identify as Indigenous).
Additional group members must pay an additional registration fee of $35 on acceptance. 
*Financial Aid of 100% is available to cover tuition, and 50% is available to offset food and accommodation costs.
If you would like to be considered, please complete the Financial Aid section when uploading your supporting materials. 
* Application fees are not refundable.
Banff Centre will issue official tax receipts for eligible tuition fees and financial assistance and awards as required by the Income Tax Act. You will receive a T2202 (Tuition and Enrolment Certificate) for eligible tuition fees paid and a T4A (Statement of Pension, Retirement, Annuity, and Other Income) for applicable financial assistance and awards.
Help fund your experience at Banff Centre. View a compiled list of national and international opportunities here.
How to Apply
Note for Collectives: A group leader must complete a single application and upload supporting materials on behalf of the whole group. Visual support materials should be provided for the collective; individual resumes and bios should be provided for each member.  Groups no larger than two people will be considered for this program.
Adjudication
Participants are selected by impartial adjudicators on the basis of their submitted material. In addition to artistic merit, consideration will be given to the likelihood that the artist's work will benefit from the program.  
Applicants will be notified of their status as soon as adjudication is complete.
All programs, faculty, dates, fees, and offers of financial assistance are subject to change. Program fee is subject to applicable taxes. Non-refundable fees and deposits will be retained upon cancellation. Any other fees are refunded at the discretion of the Banff Centre. The application deadline is 11:59 p.m. Mountain Standard Time.