Program Notice
Maintenance Notice: Nov 30 – Dec 1. 
We are performing scheduled maintenance on our student and application system from Monday, November 30 at 9 pm MST - Tuesday, December 1 at 10 am MST. 
You will not be able to start the application process or submit an application during this time, however, you will be able to continue with Steps 2 and 3 of your application process.
We thank you for your patience. If you have questions, please contact admissions@banffcentre.ca.
---
COVID-19 Notice
Banff Centre is currently planning and delivering select programs online and in person. To hear about upcoming programs, subscribe to our mailing list. 
See our COVID-19 measures for in person programs, and learn how Banff Centre is thoughtfully and purposefully moving through the COVID-19 pandemic.
We are also pleased to roll out our new student system and application experience. If you have any questions or feedback, please contact admissions@banffcentre.ca.
Banff Artist in Residence Summer 2020
Program Information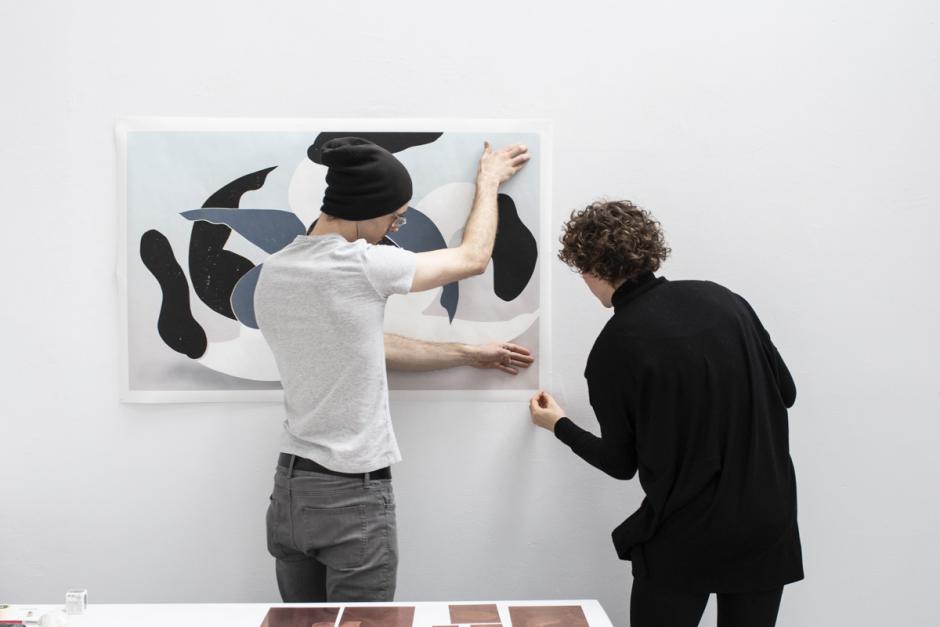 Overview
The Banff Artist in Residence (BAiR) program is designed for visual artists to focus on their own practice in a supportive learning environment. Participants are encouraged to explore new ideas, create, self-direct their research and time, and cultivate new directions in their work — all while surrounded by a community of peers within Banff Centre's spectacular mountain setting. 
The program encourages experimentation and risk-taking, via access to shared production facilities and knowledgeable staff who are available to provide technical support and assistance.* Participants may attend talks, exhibitions, and performances by world-renowned visiting artists as well as receive studio visits from program guest artists. In addition, participants have the opportunity to build connections, create networks, collaborate, and share their work with other artists-in-residence and the public.
What does the program offer?
The Banff Artist in Residence program allows participants to delve deeply into their practice while away from the constraints of everyday life. Participants are provided with a studio, accessible 24 hours a day, as well as access to our extensive facilities.*
What length of residency is available?
This program is designed for participation over the entire period. Variable dates will not be considered.
Who should apply?
This residency is for visual artists with an exhibition/publication record, who have completed formal training in visual arts at the post-secondary level, or equivalent experience and recognition from their peers. Collaborative groups are welcome to apply.
*Some additional fees may apply
Fees & Financial Assistance
Application fee: $65 for each individual or group application.
Indigenous Applicants: $35
Individual group members must pay an additional registration fee of $35 on acceptance.
*Financial Aid up to 100% is available to cover tuition (meal plans and accommodations are not eligible)
If you would like to be considered, please complete the Financial Aid section when uploading your supporting materials. 
Help fund your experience at Banff Centre. View a compiled list of national and international opportunities here.
How to Apply
Collectives: a group leader must complete a single application and upload supporting materials on behalf of the whole group. Visual support materials should be provided for the collective; individual resumes and bios should be provided for each member.
Adjudication
Participants are selected by impartial adjudicators on the basis of their submitted material. In addition to artistic merit, consideration will be given to the likelihood that the artist's work will benefit from the program.  
Applicants will be notified of their status as soon as adjudication is complete, approximately eight to 10 weeks following the application deadline.
Note:
All programs, faculty, dates, fees, and offers of financial assistance are subject to change. Program fee is subject to applicable taxes. Non-refundable fees and deposits will be retained upon cancellation. Any other fees are refunded at the discretion of the Banff Centre. The application deadline is 11:59 p.m. Mountain Standard Time.