Banff International Curatorial Institute Fellowship Fall 2019
Program Information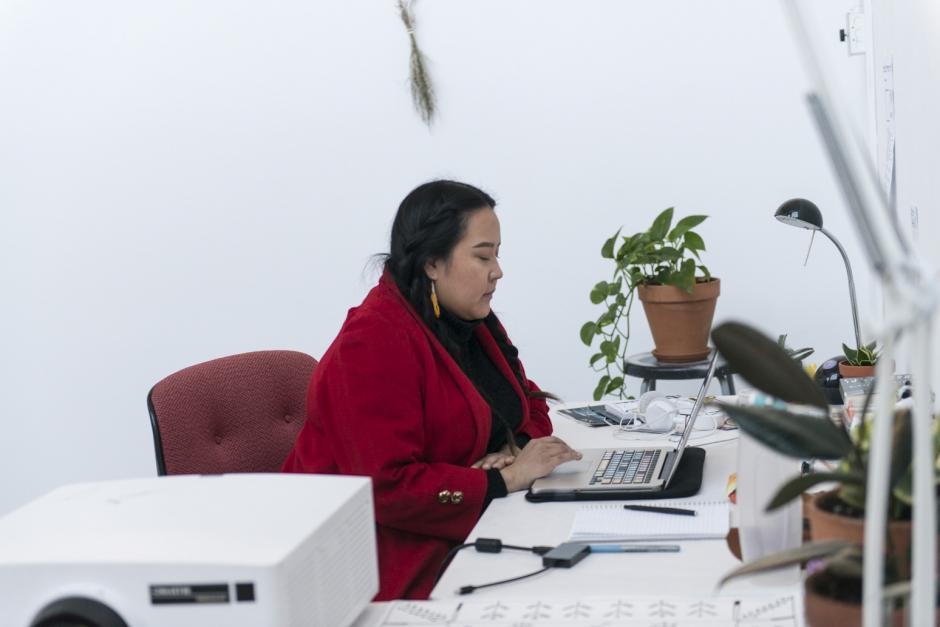 Program Overview
The Banff International Curatorial Institute (BICI) Fellowship program supports established curators, arts writers, cultural critics, researchers, and artists in focusing deeply on the development of their work. The program allows for self-directed research over an extended period of 12 weeks, within the creative and intellectually stimulating environment of Visual Arts at Banff Centre. Up to four participants will be selected by an international jury for this unique, fully scholarshipped program.
In addition to focusing on their own practice, participants will engage with other artists-in-residence in Visual Arts programs to grow their networks and expand their research. They will visit studios, join reading groups, share knowledge through presenting research in progress, as well as engage with each other and Banff Centre's curatorial and artistic staff.
What does the program offer?
The BICI Fellowship allows visual arts professionals to develop work and pursue critical research. Scheduled programming is light to allow for self-directed project development as well as opportunities to connect and collaborate.
Participants may work on the continuation of an existing project, the early development of a substantial new project, create work towards a confirmed external publication or exhibition, or conduct research involving BICI publications and Banff Centre's permanent collection and archives. Projects and research that are timely, socially relevant, and of high artistic merit will be considered.  
Participants can attend talks and presentations by faculty and guests of Visual Arts programs and Walter Phillips Gallery, and expand networks by connecting with artists from around the world. Participants will also have a private office or studio space, accessible 24 hours a day. In addition, the program offers funding to cover tuition, accommodation, and an on-campus meal plan. 
Who should apply?
The BICI Fellowship is open to mid- to- senior-level curators, arts writers, cultural critics, researchers, and artists exploring original topics within visual arts. Artists working in practice/material-based studio research are welcome to apply.
Applicants should have an established exhibition/publication record, have completed formal training in visual arts at the post-secondary level, or have equivalent experience and recognition from their peers. 
Learn more about the Banff International Curatorial Institute.
Itinerary
What length of residency is available?
This program requires a full time commitment with the understanding that absences will be minimal. Alternative dates cannot be considered.
Fees & Financial Assistance
Application fee: $65
*Financial Aid up to 100% covering tuition, light flex meal plan, and single on-campus accommodation is available (travel and other expenses are not eligible).
If you would like to be considered, please complete the Financial Aid section when uploading your supporting materials. 
Help fund your experience at Banff Centre. View a compiled list of national and international opportunities here.
How to Apply
Adjudication
Participants are selected by an international jury comprised of artists, curators, writers and educators.  
2019/2020 Jury* 
Andrew Berardini (Independent Writer, USA)
Peta Rake (Curator University of Queensland Art Museum, AUS)
John G. Hampton (Curator and Director of Programs MacKenzie Art Gallery, Co-Chair Aboriginal Curatorial Collective, CAD)
*Additional jurors to be announced.
Applicants will be notified of their status as soon as adjudication is complete, approximately eight to 10 weeks following the application deadline.
Selected participants may be interviewed.
All programs, faculty, dates, fees, and offers of financial assistance are subject to change. Program fee is subject to applicable taxes. Non-refundable fees and deposits will be retained upon cancellation. Any other fees are refunded at the discretion of the Banff Centre. The application deadline is 11:59 p.m. Mountain Standard Time.