On-Campus Programs between January and March 2021 will be either canceled or shifted online. Participants who applied to in-person programs will be contacted directly. Programming that had been planned for online delivery will continue as anticipated.
---
To hear about upcoming online programs, subscribe to our mailing list.  We are pleased to roll out our new student system and application experience. If you have any questions or feedback, please contact admissions@banffcentre.ca.
Banff International Literary Translation Centre 2017
Program Information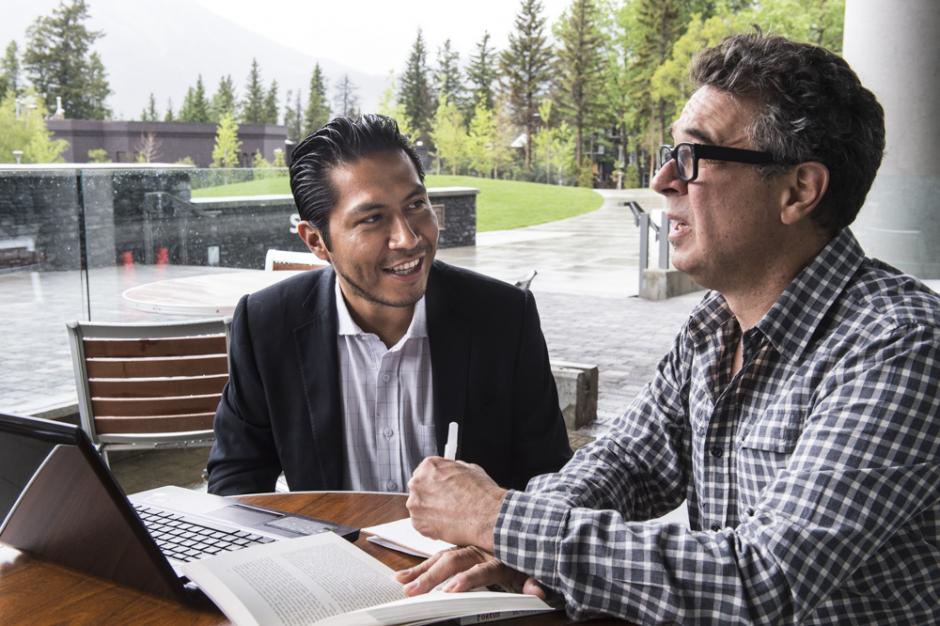 Lire cette information en français
Leer esta información en español 

Overview
Inspired by the network of international literary translation centres in Europe, the Banff International Literary Translation Centre (BILTC) is the only one of its kind in North America. Since the inaugural program in 2003, BILTC has hosted translators from approximately 30 countries translating work involving more than 40 languages. 
This program offers working and professional literary translators a period of uninterrupted work on a current project.
Our participants find that the most enriching and lasting rewards of the program are the deep personal and professional connections made with their international colleagues.
What does the program offer?

The Banff International Literary Translation Centre hosts one translation student from each of the founding countries—Canada, Mexico, and the United States—and 15 literary translators, either from the Americas translating literature from anywhere in the world, or translators from anywhere in the world translating literature from the Americas.
Individual work sessions with the consulting translators serving in residence, as well as with the program director, are provided to participants. As part of the program participants give presentations of their work at meetings of the entire group held thrice weekly, at which time broader issues in the practice of literary translation are also discussed.
Who should apply?
This program welcomes applications from translators at various stages of their careers including emerging, and seasoned translators, as well as students. Participants looking for time to focus on a current literary project and an opportunity to connect with literary translators from around the world will benefit greatly from this program.
Those accepted also have the opportunity to request a one week joint residency with the author they are translating. Please see the eligibility section for specific requirements for students and translators.
The BILTC program is generously supported by:
Amazon,
Power Corporation of Canada, and the Birks Family Foundation

Fees & Financial Assistance
Application fee: $65
*Financial Aid up to 100% is available for this program. 
If you would like to be considered, please complete the Financial Aid section when uploading your supporting materials to SlideRoom.
Travel awards to partially offset travel costs may also be available, up to $500CDN per participant – please indicate if you wish to be considered for a travel award in your application.
How to Apply
Adjudication
Participants will be selected on the basis of their submitted material by the BILTC Advisory Council, composed of the program director and literary translators representing associations from Canada, Mexico, and the United States.
Applicants will be notified of their status as soon as adjudication is complete, approximately 3-5 weeks following the application deadline.
Eligibility
Applicants must have published at least one book-length literary translation or the equivalent thereof. Eligible projects include translations of works of fiction, literary non-fiction, poetry, children's literature, oral tradition, and drama. Translators must be translating into or out of French, English, or Spanish. We give special priority to projects involving an Indigenous language of the Americas.
Priority is given to projects that have signed publishing contracts, or in the case of plays, promises of production. Exceptions to this are most often granted to poetry projects. Although preference is usually given to new applicants, BILTC alumni are encouraged to re-apply, provided that at least one year has passed since they participated in the residency.
Specific information for student applicants:
Each year, BILTC accepts one student applicant enrolled in a higher education institution in each of the following countries: Canada, the United States, and Mexico. These three student applicants do not need to fulfill the requirement of having published a book-length translation or its equivalent, nor are they expected to have a publishing contract or letter of intent for their current project. Please indicate if you are applying as a student applicant in the SlideRoom portal.  
Student applicants enrolled in institutions in the United States and Mexico may apply directly to the program.
Student applicants enrolled in institutions in Canada must apply through their universities. Their institution will be required to provide a letter of recommendation and confirmation of financial support for one-half the program fees. These documents must be submitted along with the online application.
Please note: students who do have a previous book-length publication also have the option to apply as a regular participant instead of a student applicant.
Advisory Council 2017
Francisco Segovia was born in Mexico City in 1958. He is a poet, essayist, translator and lexicographer. He has been a professor of literature at several Mexican universities, including El Colegio de México (ECM), the Universidad Nacional Autónoma de México (UNAM) and the Instituto Tecnológico Autónomo de México (ITAM). He has translated into Spanish novels by Rose MacAulay, Michael Dibdin, Russel Hoban, Alisdair Gray, etc., and the poetry of György Somlyó, Guillevic, Roald Dahl, Tim Burton, etc.  In collaboration with Selma Ancira, he has translated two books by Marina Tsvietáieva, the Dr. Zhivago poems of Boris Pasternak and Pushkin's The Stone Guest, as well as all of the poetic works of Yorgos Seferis (extended edition, annotated by both). In addition, he has translated (frequently in verse) many works by authors who write for children and young adults, such as Will Watkins, Bénédicte Froissart, Lane Smith, Babette Cole, Chris Van Allsburg, Anthony Browne, Oliver Jeffers, David Cadji-Newby, etc.  Currently he is a researcher for the Diccionario del español de México [Spanish Dictionary of Mexico] at the Centro de Estudios Lingüísticos y Literarios [Centre for Linguistic and Literary Studies] at the Colegio de México, and is a member of the Sistema Nacional de Creadores de Arte [National Creative Artists System]. He writes a monthly column critiquing poetry called Grumo [Dollops], for the Periódico de Poesía [Poetry Review] (an on-line publication of the UNAM). In 2014 he published Jorge Cuesta: Canto a un dios mineral [Jorge Cuesta: Song to a Mineral God],in app format, a critical review of the poem.  His most recently published books are: Agua [Water] (poetry, Taller Martín Pescador, 2014); Aire común [Shared Air]; Poesía reunida 1994-2011 [Collected Poetry 1994-2011] (Conaculta, 2015); Ofrenda [Offering] (poetry, El Errante, Puebla, 2016); and Marmita [A bubbling pot] (essay, UNAM, 2016). Two other works will soon be released: Al quinto sol [To the Fifth Sun] (poetry, La Dïéreseis Editorial, 2017) and Detrás de las palabras [Inside the Words] (essay, ECM, 2017).
For American Literary Translators Association (ALTA):
Katherine Silver, former program director, has been translating Spanish and Latin American literature for over thirty years. She has more than twenty-five books and countless other publications to her name. Her most recent and forthcoming translations include works by Daniel Sada, Jorge Luis Borges, Horacio Castellanos Moya, César Aira, and Marcos Giralt Torrente. Her work has been awarded prizes, placed on shortlists and longlists, and she has received numerous grants and fellowships for her work (boring details upon request). Most recently, her translation of Martín Adán's The Cardboard House, was runner-up for the PEN Translation Award, 2013. She has also translated plays, screenplays—some for major motion pictures—and a wide assortment of academic and other nonfiction books. She is grateful to have the opportunity to contribute to BILTC because it is one of the few physical and intellectual spaces where literary translation is appreciated and supported as an art, a craft, and a profession.

Russell Scott Valentino is the author of two books about Russian literature and the translator of seven book-length literary works from Italian, Russian, and Croatian, including Fulvio Tomizza's Materada, Sabit Madaliev's The Silence of the Sufi, and Predrag Matvejevic's The Other Venice. He served as Editor-in-chief at The Iowa Review from 2009 to 2013 and is currently president of the American Literary Translators Association, Senior Editor at Autumn Hill Books, and Professor and Chair of Slavic and East European Languages and Cultures at Indiana University. His essays and short translations have appeared in publications such as Defunct, Modern Fiction Studies, 91st Meridian, Del Sol Review, The Iowa Review, [sic], Asia, and Slavic Review. His co-edited (with Esther Allen and Sean Cotter) volumeThe Man Between: Michael Henry Heim & a Life in Translation will be published by Open Letter Books in October, 2014, and his monograph The Woman in the Window will be published by the Ohio State University Press in late 2014.

For Literary Translators' Association of Canada (LTAC):
Susan Ouriou, a co-founder and former program director for BILTC, has been translating Québécois, French, Latin-American and Spanish literature for over twenty years. She has published more than 30 translations as well as her own novel Damselfish and several short stories. Short-listed four times for Canada's Governor General's Award for Literary Translation, most recently in 2015 for her co-translation of Emmanuelle Walter's Stolen Sisters - The Story of Two Missing Girls, Their Families and How Canada Has Failed Indigenous Women, she won that same award in 2010. A conference interpreter for the past thirty years, she has worked for national and international organizations, both public and private. When Banff Centre's Indigenous Writing program was offered in both English and French, she worked there as an interpreter and translator. She has edited two anthologies with Banff Centre Press, Beyond Words - Translating the World and Languages of Our Land - Indigenous Poems and Stories from Quebec. Over the years, she has also given numerous translation and fiction writing workshops. In 2012, she was awarded the insignia of Chevalier in France's Ordre des Arts et Lettres.
Howard Scott is a literary translator living in Montreal. He often works with co-translator Phyllis Aronoff on scholarly works in the humanities, as well as fiction and poetry. On his own, he has published translations of works by Canadian poets such as Madeleine Gagnon and Michel Pleau, as well as Romanian-born francophone poet Rodica Draghincescu. In 1997, he won the Governor General's Literary Award for English translation for The Euguelion, by Louky Bersianik. In 2001, Phyllis and Howard won the Quebec Writers' Federation Translation Award for The Great Peace of Montreal of 1701, by Gilles Havard, and in 2009, they were shortlisted for the Governor General's Literary Award for Translation for A Slight Case of Fatigue, by Stéphane Bourguignon. He is a past president of the Literary Translators' Association of Canada. When not as his desk, he can often be found in the dojo practising aikido.
For Mexico:
Claudia Cabrera has worked as a German-Spanish translator since 1995. Among other authors, she has translated Robert Musil, Franz Kafka, Monika Maron and Hansjörg Schertenleib. Her theater translations include works by Roland Schimmelpfennig, Anja Hilling, and Falk Richter. She has participated in several events on literary and theater translation. In 2010, Translation House Looren awarded her a fellowship/residency to translate the novel Das Regenorchester [The Rain Orchestra], by Swiss writer Hansjörg Schertenleib. At the International Book Fair in Guadalajara in 2011, where Germany was the Guest of Honor, Cabrera co-directed, along with Thomas Brovot, the first German-Spanish Literary Translation Workshop. In 2013, again with T. Brovot, she co-directed the German-Spanish Translators' Workshop (focusing on Latin America) at the Translation House Looren. She is currently translating Hans-Thies Lehmann's Tragödie und dramatisches Theater (Tragedy and dramatic theatre) for the Mexican publishing house Paso de Gato. She is vicepresident of the newly founded Asociación Mexicana de Traductores Literarios (Ametli).
Note:
All programs, faculty, dates, fees, and offers of financial assistance are subject to change. Program fee is subject to applicable taxes. Non-refundable fees and deposits will be retained upon cancellation. Any other fees are refunded at the discretion of Banff Centre. The application deadline is 11:59 p.m. Mountain Standard Time.