Banff Puppet Theatre Intensive
Program Information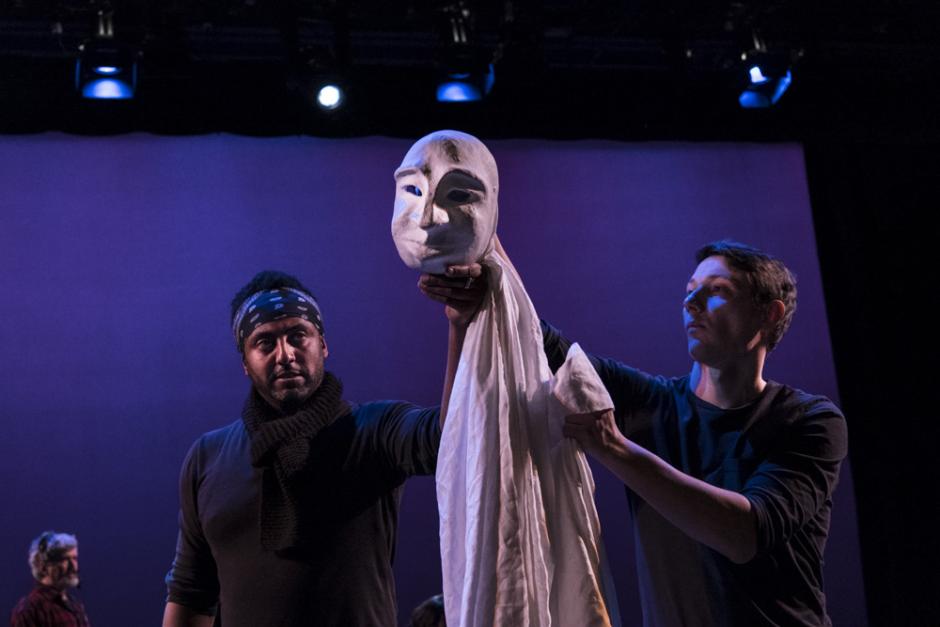 Program Overview
In this workshop, the Old Trouts will share their techniques and experiences gained from working in a collaborative consensus-based ensemble, and participants will apply these strategies throughout.
What does the program offer?
This workshop explores the creation and performance modalities connected to the work of the Old Trout Puppet Workshop, as well as additional, abstract approaches to the art of puppet and mask-orientated performance through collaborative consensus-based ensemble practice.
Participants will build, create, and collectively explore new facets of their work with the focus on discovery, rather than definite results. Participants will also work through exercises based in physical theatre theory and mask work, among others. These exercises will support the foundation of original theatrical puppet performances. 
Participants will create individual puppets, engage in small ensembles, and collaboratively create short experimental projects for public presentation. Please see the itinerary section below for more information on the intensive's themes and activities.
Who should apply?
The workshop is open to puppeteers, actors, dancers, directors, designers, teachers, visual artists, writers, and anyone with a willing spirit.
Itinerary
Banff Puppet Theatre Intensive - Components
Component One: A Physical Approach to the Art of Puppetry
A strong sense of physicality is an essential component to the art of puppetry – the movements of the performer translate to the puppet. During the workshop, you'll participate in exercises designed to develop your physical awareness of space and connection to character, drawing on the methodologies of Japanese director Tadashi Suzuki, and Kaz Piesewaski's Impulse Break Theory.
Physical mask exercises will also be used to help you translate movement from your body to that of a puppet. Through this work, you will bring physical clarity to the silent narrative. You will develop a common language within the collective, allowing you to discover your identity as an individual within an ensemble, but also finding the ensemble as a singular entity.
Component Two: Collaborative and Devised Creation
This component focuses on how to approach the big picture and the creation of a performance. In small groups you will work through exercises to devise a show scripted in the silent narrative. You will regularly convene to discuss each other's progress and challenges, and how to address them. The emphasis is on collective creation: how best do ensembles work, how do they overcome ego and stimulate open inspiration? The result is a public presentation of a small work-in-progress puppet show – fully supported through the theatre department of the Banff Centre.
Note: Some puppets and masks will be provided, but participants are also encouraged to bring their own items. Additionally, rough puppets can be built and found objects used to present the story ideas.
Component Three: Open Studio
Open Studio explores puppet design and build. The fewer rules applied to define a puppet, the greater the possibilities. Working through a process that begins with simple materials, discover the organic evolution of character instead of adhering to a concrete idea of what the final product ought to be. You are encouraged to embrace your ingenuity: a puppeteer's greatest strength.
The fully-equipped studio is divided into smaller individual workspaces, creating an artist hub-like atmosphere where you can collaborate, support, and inspire each other throughout the workshop.
Fees & Financial Assistance
Banff Centre application fee: $35 
A non-refundable deposit of $100 towards the workshop fee will be charged upon registration.
Full payment of fees is due December 2, 2019. Banff Centre reserves the right to cancel your place if full payment has not been received by this date. 
Single rooms may be available upon request for an additional fee.
Banff Centre reserves the right to cancel a program up to seven days prior to program start date if there is insufficient enrolment. If the program is cancelled, the application fee and non-refundable deposit will be retained, but all other program fees will be refunded upon cancellation. Please note that Banff Centre is not liable for any personal/travel expenses incurred. 
How to Apply
While this program is not adjudicated, we request the following support materials to support program planning and design.
All programs, faculty, dates, fees, and offers of financial assistance are subject to change. Program fee is subject to applicable taxes. Non-refundable fees and deposits will be retained upon cancellation. Any other fees are refunded at the discretion of the Banff Centre. The application deadline is 11:59 p.m. Mountain Standard Time.