Learn more about Banff Centre's COVID-19 Vaccination Requirements and on-campus measures here.
Please subscribe to our mailing list to keep informed on upcoming programs.
Supported by the Gail and Stephen A. Jarislowsky Outstanding Artist Program
Program Information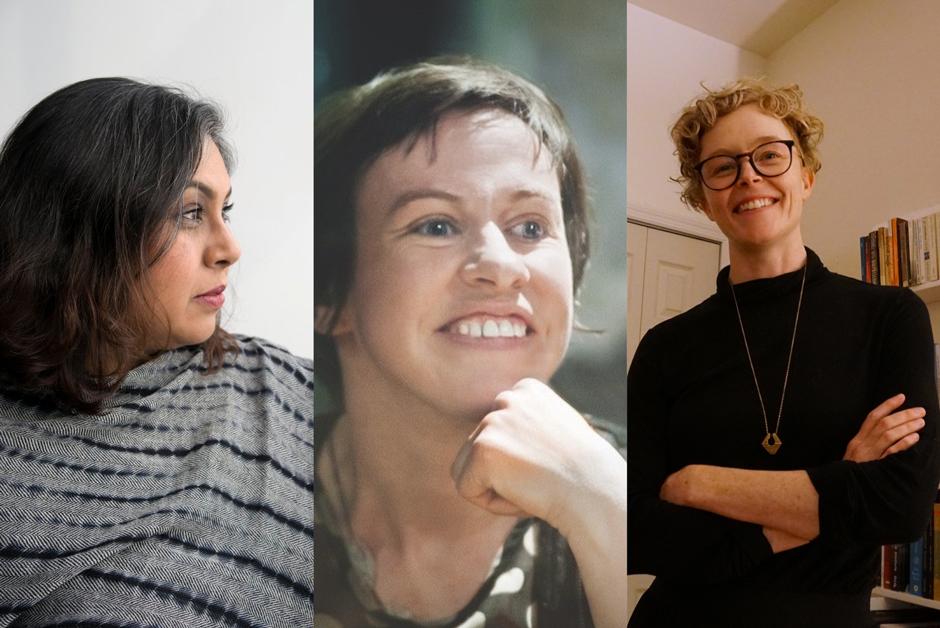 Overview
The Banff International Curatorial Institute (BICI) Curatorial Futures program will explore alternative realities for curatorial practice in a transformational world.  In response to the current social, political, ecological, economic, and global health situation we find ourselves in, this program will question and discuss recent shifts in the art world; unconventional and innovative artistic/curatorial platforms and structures; how we engage with technology; the shift toward local from global; and the systemic changes that need happen in the field to create more equitable ways of working for communities, artists, and curators. 
Throughout a period of four weeks, participants will connect with faculty who will share their knowledge, experience, and predictions, participate in discussion and debate, and engage with each other and build networks.  Participants are asked to write a 1500 word text around the program theme to be shared as a free digital PDF through the BICI program website.  Faculty will work one-on-one with each participant to provide feedback on their work, and participants will receive a writer's fee of $1,000 CAD upon completion.  
The Banff International Curatorial Institute  (BICI) encompasses a range of activities including events, residencies, symposia, and publications.  A program of the Walter Phillips Gallery, BICI provides discursive, research, and writing based programs for curators, arts writers, theorists, artists, and academics to explore curatorial pedagogy, practice, and criticism. BICI's long history of publications and writings on curatorial practice include Naming a Practice: Curatorial Strategies for the Future (1996); Beyond the Box: Diverging Curatorial Practices (2003); Making A Noise! Aboriginal Perspectives on Art, Art History, Critical Writing and Community (2005); Raising Frankenstein: Curatorial Education and Its Discontents (2008); and Great Expectations: Prospects for the Future of Curatorial Education (2016). 
What does the program offer?
This program offers dedicated feedback and mentorship to develop your curatorial writing, financial support through 100% tuition scholarship, and an opportunity to share your work.  The program cohort will be small so that online discussion can be easily facilitated.  Participants should be prepared to submit their completed text prior to the end of the program, and will receive $1000 commission on completion. Please see the Itinerary section for an approximation of the program schedule.  
What length of residency is available?
This program requires a dedicated commitment over a period of 4 weeks with the understanding that absence from weekly synchronous activities will be minimal. Alternative program dates cannot be considered.
Who should apply?
This program is open to individual independent curators exploring topics pertinent to the program theme, within the field of contemporary art. 
Applicants should have an established exhibition/publication record, have completed formal training in visual arts at the post-secondary level, or equivalent experience and recognition from their peers. 
 
Itinerary
Synchronous online activities will be scheduled between 8 am and 5 pm MST, Monday through Friday.  
Expect to spend up to 5 hours per week in synchronous activities spread across 2-3 days.
Plan to spend as many hours as you need working individually at home during the week and on the weekend.
A typical schedule is as follows: Residency group meetings will be held on Monday mornings, presentations and discussions on Tuesdays, and individual 1 hour consults with faculty scheduled throughout the rest of the week. Exact meeting times will be determined.
Online platforms to be used will include Zoom, Slack and Vimeo.
Due to the condensed nature of the program, pre-work may be required (readings, and presentation preparation).
What's Included
Opportunity to Showcase Your Work
$1000 Commission on Successful Completion
Fees & Financial Assistance
Application fee: $25
*Financial Aid of 100% of the program fee is available for this program.

*A Commission Payment of $1000 is available on successful completion of this program.
How to Apply
Participants  are selected by impartial adjudicators on the basis of their submitted material. In addition to artistic merit, consideration will be given to the likelihood that the artist's work will benefit from the program.  
Applicants will be notified of their status as soon as adjudication is complete.
Eligibility
All programs, faculty, dates, fees, and offers of financial assistance are subject to change. Program fee is subject to applicable taxes. Non-refundable fees and deposits will be retained upon cancellation. Any other fees are refunded at the discretion of the Banff Centre. The application deadline is 11:59 p.m. Mountain Standard Time.