Program Information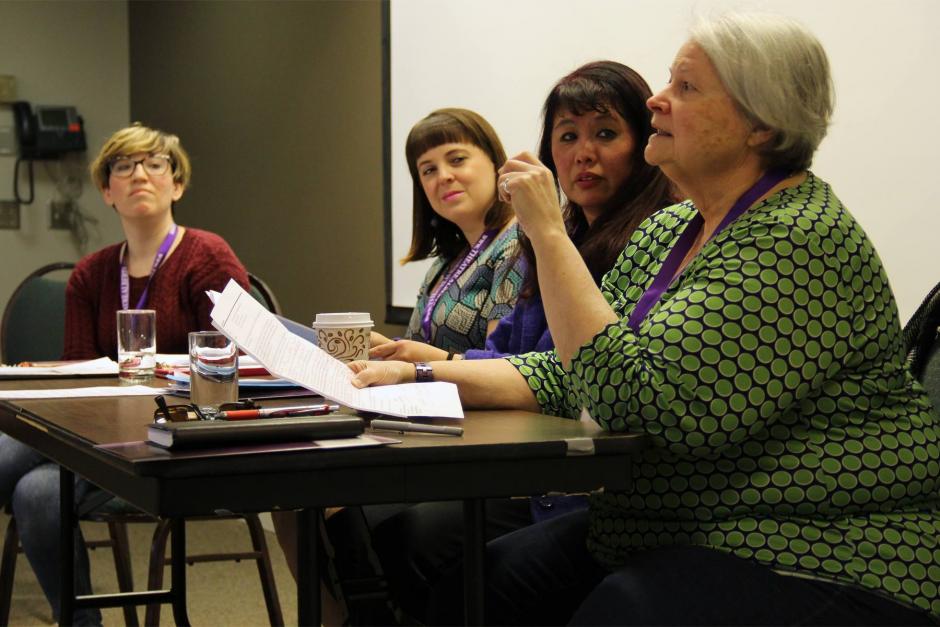 Overview
Theatre Alberta, Calgary's Alliance of Community Theatres, and Banff Centre for Arts and Creativity are pleased to invite community theatre producers and artists from across the province to join us for the second iteration of the Community Theatre Summit.
Gather with peers from around Alberta to explore a variety of topics through keynotes, workshops, and panel discussions. If you are involved in community theatre, this is a must-attend event!
What does the program offer?
Learn from keynote speaker Carole Williams, a 25-year veteran of the amateur theatre community in Scotland and current National Drama Advisor at the Scottish Community Drama Association. Carole's talk will examine questions such as: How can we take risks in amateur theatre? What do our audiences expect of us and how does that affect our choices? Can we challenge ourselves and bring our supporters on that journey with us?
The summit will also feature additional local speakers and facilitators for various plenaries, workshops, and panel discussions. Topics may include volunteer recruitment and retention, fundraising and finance, marketing, consent in rehearsal and performance, playwriting, and design and technical theatre. Participants may attend two or three breakout sessions per day based on their field of interest. We also plan to hold Theatre Alberta's 2019 Annual General Meeting on Sunday, October 20.
Visit the Community Theatre Summit 2.0 website for additional information on programming and speakers/facilitators.
Who should apply?
The Community Theatre Summit 2.0 is intended for producers, artistic directors, general managers, and board members. Please note this program is not adjudicated; applicants will be accepted on a first come, first served basis. There are no restrictions on who can apply to this program. 
Albertan community theatre organizations are encouraged to bring two or more participants to take advantage of all programming. For more information contact Theatre Alberta at 780-422-8162 or email jake@theatrealberta.com 
"The instruction was inspiring and crucial to the development of my skills, and Theatre Alberta keeps the program affordable for artists." - Workshops by Request: Rocky Mountain Series participant
This summit is presented by Theatre Alberta, Banff Centre for Arts and Creativity, and Calgary's Alliance of Community Theatres as part of Theatre Alberta's Workshops by Request: Rocky Mountain Series.
What's Included
When applying, choose between staying in a single or a shared bedroom on the Banff Centre campus for the duration of your program.
Get connected with other artists on campus and focus on your projects in a creative environment while we take care of the day-to-day essentials.
Using a credit-based system to dine on campus, our flexible meal plans allow you to select meals according to your own needs during your stay.
Packages include the Full Flex meal plan, which includes $40 credit per day, equivalent to breakfast, lunch, and dinner in Vistas Dining Room.
Enjoy special artist rates for ticketed performances or complimentary access to events.
Enrich your experience and get to know other artists on campus by taking advantage of the activities and support provided by our Participant Resources team.
Fees & Financial Assistance
Banff Centre Application Fee: $35
A non-refundable deposit of $100 towards the Tuition Fee will be charged upon registration. 
Arrival and departure dates are flexible and accommodation choices are subject to availability. 
Banff Centre reserves the right to cancel a program up to seven days prior to program start date if enrolment is insufficient. If the program is cancelled, the application fee and non-refundable deposit will be retained, but all other program fees will be refunded upon cancellation. Please note that Banff Centre is not liable for any personal/travel expenses incurred. 
Current Theatre Alberta members who are residents of Alberta can apply for financial assistance to cover 25% to 75% of the tuition fee. To apply for financial assistance, please visit Theatre Alberta's website or contact jake@theatrealberta.com. 
How to Apply
Step 2:
In preparation for the Community Theatre Summit 2.0, Theatre Alberta asks that each participant please fill out the above Survey Monkey questionnaire once registered.
The survey is very short and will help the program team more accurately address the needs of participants and their communities.
Adjudication
Please note this program is not adjudicated; applicants will be accepted on a first come, first served basis. 
All programs, faculty, dates, fees, and offers of financial assistance are subject to change. Program fee is subject to applicable taxes. Non-refundable fees and deposits will be retained upon cancellation. Any other fees are refunded at the discretion of the Banff Centre. The application deadline is 11:59 p.m. Mountain Standard Time.