Convergence Residency: Electronic Music + Visual Art
Visual + Digital Arts, Performing Arts
Program Information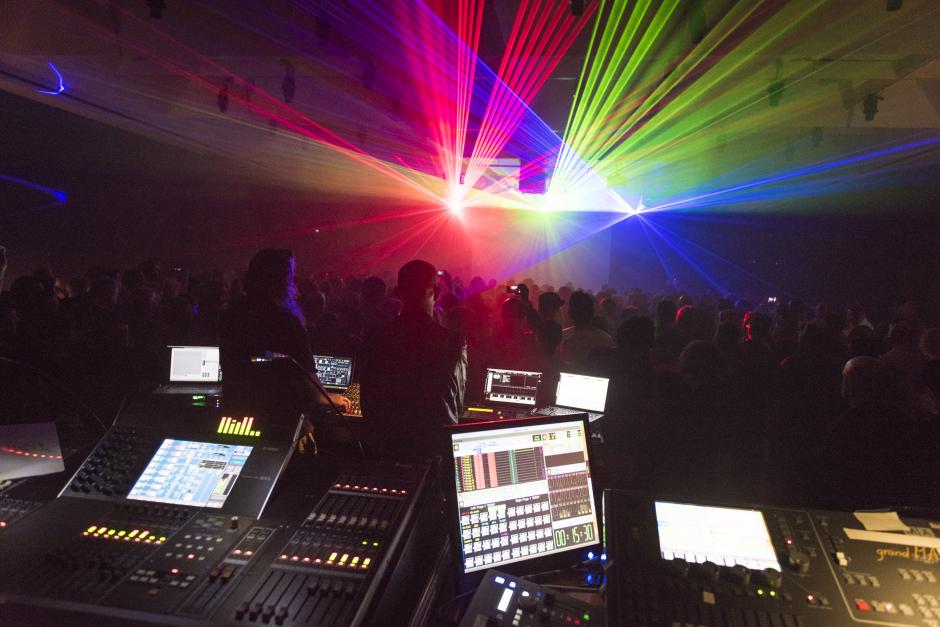 Overview
We have entered into a post-instrument era in which music and visual art born of technology produce contemporary, dynamic and convergent new forms. Traditional apparatus and techniques are displaced by computer based processes, virtual instruments, electronic hardware and custom machines, stems, patches, waveforms and midi. This inaugural residency welcomes artists working in rhythmic and experimental electronic music realms, digital visual artists, and those pursuing work that creates synergies between sound, music and art.
This residency provides the context for artists to research, conceive, prototype and present new artistic works, tools, techniques and perspectives for electronic music, sound, and visual creation. Under the artistic direction of Patti Schmidt and Jen Mizuik, and led by faculty Robin Fox and Uwe Schmidt with guest faculty who are specialists in their fields, the program will offer sessions and workshops on modular synthesizers, electronic music software and hardware, visual creation software and methods, artistic process and philosophy, and the nature of live performance in these technologically dominated fields. Together artists, peers, and world-renowned faculty will exchange knowledge, discuss ideas, experiment with processes, create, collaborate, perform, and share artistic experiences.
Artists will have the chance to present their works-in-progress throughout the program. The nature of the practices involved will determine the presentation format and may range from a live performance, an informal presentation, an installation, a talk or workshop, or something else entirely. Artists will receive technical and artistic guidance during the development of their projects and research.


What does the program offer?
Sessions and workshops on related software, equipment, processes, techniques, and project conceptual development.  A personal studio space available 24 hours a day is also provided. Production spaces are shared among all participants in the residency. Participants have the freedom to structure their time around the needs of their projects within a supportive community of their peers, and develop their work through interaction with the Artistic Directors, faculty mentors, and guests, and presentation.
In addition, there is an opportunity for one or more projects to be identified for future commissioning support by Banff Centre and MUTEK, with a public presentation in Banff and at the MUTEK festival in Montreal. 

Financial Aid is available. Please see below.  

Who should apply?
Open to applicants worldwide, this residency is a call for individual artists and collective groups of musicians, composers, visual and media artists, sound artists, inventors and mavericks that have an established professional practice in one or more relevant fields. Artists should have produced an independent body of work, and received recognition through public presentation in performance or recordings, and from their peers. Projects that demonstrate a transformative and innovative quality and approach will be prioritized.

View our Convergence Residency trailer here. 
Fees & Financial Assistance
Application fee: $60 for each individual or group application. Group members must pay an additional registration fee of $35 on acceptance.
Financial Aid up to 64% of the program fee is available, based on shared occupancy and regular meal plan. If you would like to be considered, please complete the Financial Aid section when uploading your supporting materials.
Help fund your experience at Banff Centre! View a compiled list of national and international opportunities here.
How to Apply
Groups and Collaborators: a group leader must complete a single application and upload supporting materials on behalf of the entire group. Portfolio materials (visual and recording) should be provided for the group, and individual resumes and bios should be provided for each member. Collaborative groups share studio space.
Adjudication
Participants are selected by impartial adjudicators on the basis of their submitted material. Assessment criteria include artistic merit with consideration to fair representation of artistic specialization, gender, and the various regions and cultures of Canada and the world. Banff Centre's ability to technically support proposed projects is considered in adjudicating applicants. In addition, consideration will be given to the likelihood that the artist's work will benefit from the program. 
Applicants will be notified of their status as soon as possible following completion of adjudication.
Note:
All programs, faculty, dates, fees, and offers of financial assistance are subject to change. Program fee is subject to applicable taxes. Non-refundable fees and deposits will be retained upon cancellation. Any other fees are refunded at the discretion of the Banff Centre.