Program Information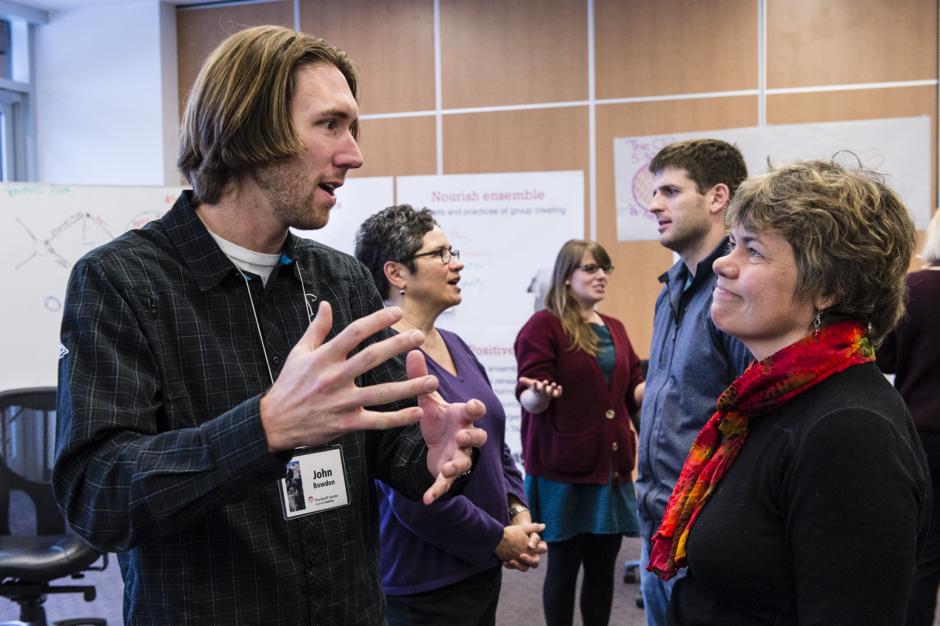 Overview
To thrive in our fast-paced, interconnected world, organizations are struggling to bust silos, accelerate bottlenecks, and get people across the entire organization to engage like owners. What's clear is that we can't just do what we have been doing faster, and succeed. There is a different way of working that can help us reach our goals.
Growing evidence suggests that unleashing collaborative intelligence in a team, division, or entire organization is "like getting a whole new superpower." In this program, along with other leaders, you'll explore, practice, and apply a set of interrelated mindsets, habits, and design elements to maximize your capacity to unleash the collaborative intelligence of your team.
You will leave with a fresh understanding of what it looks and feels like to create a collaborative problem solving system that draws on the richness of diverse perspectives. We will explore systems in which individuals act with autonomy while also interacting to produce intelligent, adaptive outcomes in service of shared purposes and goals. You will experience real time tools and processes to take back and apply in your team, organization, or community.
What does the program offer?
Special program features:
Fresh understanding of mindsets, practices & structures that radically increase collaboration in a team, organization or community
Real-time experience and practice with these 
New knowledge of ways to enact these as a collaborator and create the conditions for them with others
Group support to experiment and learn by using these new practices in a specific situation you care about
A post-program practice forum to continue to advance your initiative over 30 days of facilitated, web-enabled support and guidance
In this program you will learn to:
Draw on best practices from leadership and organizational scholarship
Gain actionable insights into the process of unleashing collaborative intelligence and methods for applying this learning within your organization or community
Apply practices for facilitating collaborative initiatives for building culture, leadership and teams
Increase comfort with creating positive change, even in uncertainty
Who should register?
You are committed to creating positive change in your organization or community, and you have an idea, project, or initiative that you are motivated to advance. Ideally, your initiative aims to impact an organization (i.e. corporate, non-profit, or government) or a social system, and its success will hinge on the collaborative intelligence of the people involved.
Presented as part of the Peter Lougheed Leadership Program. Banff Centre's leadership programs honour former Alberta Premier and Banff Centre supporter, the Hon. Peter Lougheed. This program is part of a joint leadership initiative with the Peter Lougheed Leadership College at the University of Alberta.
What's Included
All Leadership participants who choose the Accommodation and Meal Package are provided private rooms with ensuite washrooms in one of our two onsite hotels, the Professional Development Centre or Lloyd Hall. Room upgrades may be available upon request at an additional cost.
If you choose the Accommodation and Meal Package, all of your meals from the start to the end of your program are included; most of your meals will be at Vistas Dining Room, but there may be some special dining events scheduled as well. Please also feel free to visit the Maclab Bistro, Le Café, Three Ravens Restaurant and Wine Bar, but note that these outlets are not included in your meal plan, and thus will be at additional cost.
Enrich your experience and get to know other artists on campus by taking advantage of the activities and support provided by our Participant Resources team.
The Sally Borden Fitness and Recreation Centre is located in the lower floor of the Sally Borden Building, and provides all guests with access to our swimming pool, hot tub, steam room, climbing gym, fitness centre, spin studio, and gymnasium. Massage and physiotherapy appointments may also be booked ahead of time.
Fees & Financial Assistance
Additional nights' accommodation are available; please contact us for details.
The above fees do not include applicable taxes, such as GST, the Alberta Tourism Levy, and the Tourism Improvement Fee as needed.
Group Savings
Enroll four members of your organization or community in a program and your fifth member will receive a free tuition. Special restrictions may apply.


Financial Assistance
Financial Assistance may be available to subsidize some of the costs to attend your program.
Funding opportunities

Call our toll-free number for more details at 1.888.255.6327

Contact us

For more information please contact: