On-Campus Programs between January and March 2021 will be either canceled or shifted online. Participants who applied to in-person programs will be contacted directly. Programming that had been planned for online delivery will continue as anticipated.
---
To hear about upcoming online programs, subscribe to our mailing list.  We are pleased to roll out our new student system and application experience. If you have any questions or feedback, please contact admissions@banffcentre.ca.
The Creative Gesture - Choreographic Lab
An Intersection of Dance and Physical Theatre
Program Information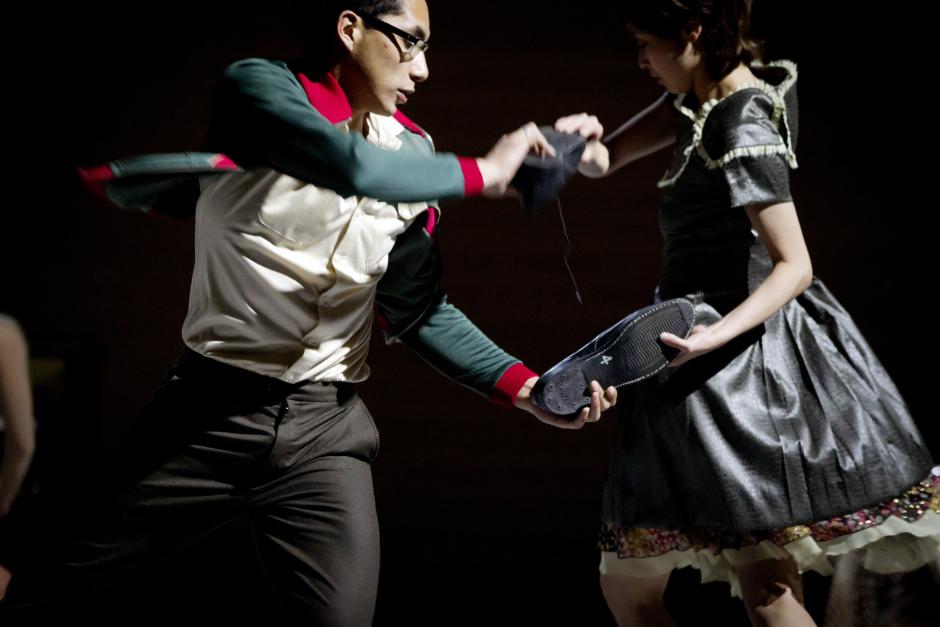 Overview

The aim of The Creative Gesture is to create a rare space in the dance world for today's curious and elite dance artist. Under the artistic direction of Emily Molnar, it is a space for research, sharing, and the posing of questions around topics such as the creation process, daily training, somatic practices and the future of contemporary dance.
Led by an outstanding international faculty of dance and physical theatre artists, the five-week program provides training and mentorship for twelve dancers in a "company" environment, exploring various training methods and techniques, alongside the creation and performance of an original work. The fifth week of the program is a week-long choreographic lab where six choreographers work with the company dance artists, focusing on the development of improvisation as a choreographic tool.
What does it offer?
Choreographic Lab (Aug 1 - 6)
All participants will move on to working as interpreters for six invited choreographers in a weeklong intensive with a focus on improvisation. Moderated by internationally acclaimed dancer and choreographer Michael Schumacher, the course will provide a positive and concentrated research space, where both choreographers and dancers can learn more about the discipline of improvisation and how to enhance their own creativity with its use. These sessions will include the study of pre-existing methods of improvisation and composition, as well as exercises and tools that will help the participants develop new systems and modalities of their own. The six choreographers will be guided through tasks and scores that enhance their memory and composition skills; bringing chance, adaptation, and repetition into a unified field of study.

If you are interested in applying to The Creative Gesture as an emerging or mid-career dance artist, please click the preceding links.

Who Should Apply?
Choreographers at any stage of their careers, who want to develop an understanding of and ability to use improvisation in the creative process, to expand and deepen their artistic vision, as well as generate new and innovative movement materials. International and Canadian dance artists are invited to apply.
Banff Centre is grateful to The Globe and Mail/Thomson Reuters for supporting the 2016/17 and 2017/18 Dance program
What's Included
Your program fee includes a single bedroom on Banff Centre campus for the duration of your program.
Get connected with other artists on campus and focus on your projects in a creative environment while we take care of the day-to-day essentials.
Using a credit-based system to dine on campus, our flexible meal plans allow you to select meals according to your own needs during your stay.
The Full Flex meal plan includes $38 credit per day, equivalent to breakfast, lunch and dinner in Vistas Dining Room.
Enjoy special artist rates for ticketed performances or complimentary access to events.
Enrich your experience and get to know other artists on campus by taking advantage of the activities and support provided by our Participant Resources team.
Fees & Financial Assistance
Application fee: $60
A non-refundable fee of $60 will be charged upon application.
*Significant financial assistance is available for this program. 

Financial Assistance is available to cover 100% of the total program fee.
How to Apply
Adjudication
Participants are selected by impartial adjudicators on the basis of their submitted material. In addition to artistic merit, consideration will be given to the likelihood that the artist's work will benefit from the program. Applicants will be notified of their status as soon as adjudication is complete.
Eligibility
This program is open to choreographers at any stage in their careers. Both Canadian and international artists are invited to apply.
Note: All programs, faculty, dates, fees, and offers of financial assistance are subject to change. Program fee is subject to applicable taxes. Non-refundable fees and deposits will be retained upon cancellation. Any other fees are refunded at the discretion of Banff Centre.