The Creative Gesture - Designing for Dance 2019
An Andrea Brussa Master Artists Program
Program Information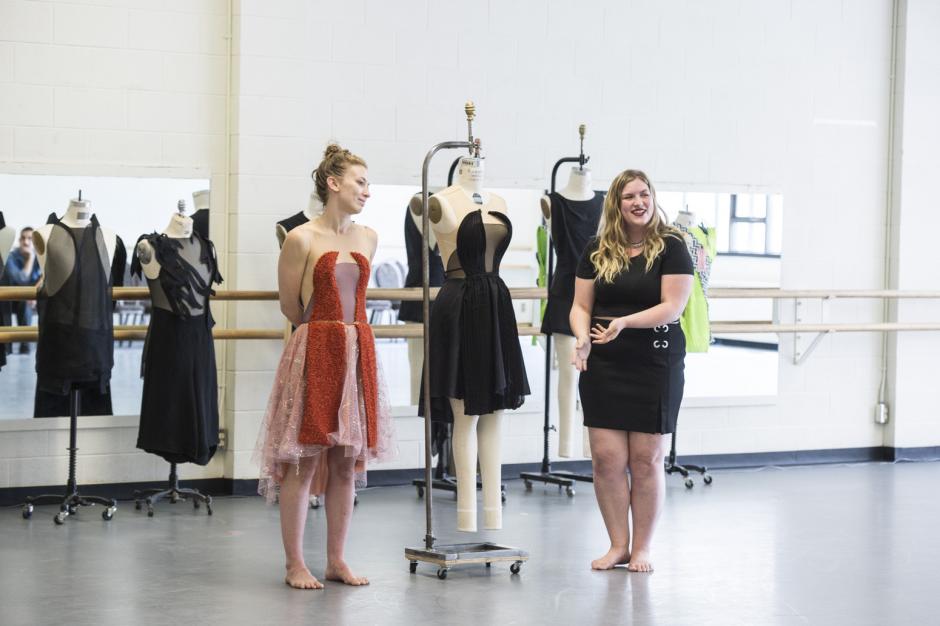 Overview
This workshop is part of The Creative Gesture dance program. From Pablo Picasso for the Ballets Russes to choreographer Damien Jalet's collaboration with Marina Abramovic, more and more visual artists, architects, fashion designers, and product designers are working with dance-based concepts and performers. 
This program will introduce designers of all disciplines to the fundamentals of designing for dance. Participants will utilize their own artistic ideas and concepts to transform the presentation of dance to future audiences and dancemakers.
What does the program offer?
The program will be led by the Andrea Brussa Master Artists, Canadian designer Liz Vandal and theatre and fashion designer from Norway, Stine Sjøgren. Participants will work with summer dance faculty, including choreographers, costume and wardrobe designers, and technical specialists of the craft of costume fabrication to realize and prototype their design ideas on dancers.
Using the ongoing creation process as an inspiration, participants will work on thematically designed tasks, as well as the chance to interact with the dancers of Alberta Ballet. Participants will conceptualize, design, and fit a costume on a dancer. Participants will see how a costume moves on a dancer and how their work can affect a dancer's experience. 
Who should apply?
Post-graduate students interested in expanding their understanding and developing skills in costume and wardrobe design for dance are encouraged to apply. The majority of applicants will have significant experience or formal training in visual art, fashion design, or theatre. 
Applicants from other disciplines who are skilled in visual expression are also invited to apply. Please mention any skills or techniques that you may have that would be of interest to dance choreographers in your application.
This program is generously supported by Andrea Brussa
Itinerary
Week 1
•    Introduction to designing costumes, and the philosophy/mentality mandatory to be receptive to the needs of the client
•    Insights about experiences: each participant shares their experience, what they would like to achieve, and why they are interested in this program
•    Observing rehearsal, and participation in a dance class
•    Analyzing methods to achieve design with fabrics/existing costumes
•    Building a prototype, first fitting of prototype on a dancer
•    Working on costumes with seamstresses 
Week 2
•    Select dancers improvising with costumes for three to four minutes
•    Finishing prototype and preparing costume for presentation and feedback
•    Sharing of process by each of the participants
•    Working with costumes in theatre space with lighting designer
What's Included
Your program fee includes a single bedroom on the Banff Centre campus for the duration of your program.
Get connected with other artists on campus and focus on your projects in a creative environment while we take care of the day-to-day essentials.
Using a credit-based system to dine on campus, our flexible meal plans allow you to select meals according to your own needs during your stay.
The Full Flex meal plan includes $38 credit per day, equivalent to breakfast, lunch, and dinner in Vistas Dining Room.
Enjoy special artist rates for ticketed performances or complimentary access to events.
Enrich your experience and get to know other artists on campus by taking advantage of the activities and support provided by our Participant Resources team.
Fees & Financial Assistance
Application fee: $65
*Financial Aid up to 100% of the program fee is provided
How to Apply
Adjudication
Participants are selected by impartial adjudicators on the basis of their submitted material. In addition to artistic merit, consideration will be given to the likelihood that the artist's work will benefit from the program. 
Applicants will be notified of their status as soon as adjudication is complete.
All programs, faculty, dates, fees, and offers of financial assistance are subject to change. Program fee is subject to applicable taxes. Non-refundable fees and deposits will be retained upon cancellation. Any other fees are refunded at the discretion of the Banff Centre. The application deadline is 11:59 p.m. Mountain Standard Time.